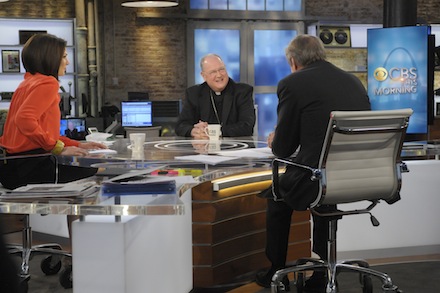 Yesterday I lamented the paucity of media coverage regarding the lawsuits filed by 40+ Catholic groups. It appears that the media outlets had some backing and filling to do. CBS again seems to be leading the way, at least in terms of getting the story out to the public and bringing in folks to get to the roots of it.
Here is Timothy Cardinal Dolan speaking with Charlie Rose on CBS This Morning. Charlie Rose and Erica Hill do a great job asking pertinent questions, while His Eminence is in his element explaining the whys and the wherefores of the lawsuit. He also discusses the controversy surrounding Catholic college commencement speakers and such. Have a look (please pardon any attempt to sell you beer and shampoo),
As I mentioned yesterday, birth control pill packages, etc. will always be floating in the background. Read more over at CBS.
Obviously, Cardinal Dolan can't be everywhere, and on every network at the same time, but he lands on his feet and is a cheerful witness whenever he does.