There are times when I run into someone who is so much better at something than I am that I can't even get my head around what's going on.
This is one of those times.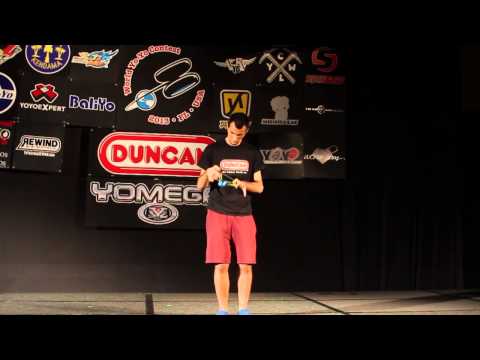 That's Janos Karancz. He's 18. And…yeah. I don't even know what's going on in there.
I've always enjoyed yo-yoing, but I'm very much a "straight-line yo-yoer." Up and down, and up and down, and be careful not to breath lest everything become hopelessly tangled. So, Janos is so much better with that little round thing than I will ever be (at anything, probably), I find myself falling back on this MSN story's reaction: "Check out Janos' tricks, which, judging by the audience's reactions, are really difficult." That's me. I end up having to go by others reactions, because I can't actually comprehend what he's doing. It's too mind-blowing.
I wish they had closeups, though. There are time when I can't even tell if Karancz's yo-yo is still spinning. It is, I'm sure. But that's my head talking, not my eyes. (There is actually a slo-mo version of Karancz's performance available, which helps. And an Alternate Go-Pro Angle. Next stop, ESPN!)