You know those times when you stumble across a premise for a film that sounds hyper-clichéd and unpleasantly treacly on paper and yet you still watch it (for some inexplicable reason) and it turns out that you were almost entirely wrong and it miraculously avoids a great many of the obvious pitfalls and manipulative missteps inherent in its premise and you actually sort-of end up liking it?
Yeah, I love it when that happens, too. And yes, The Chorus (Les choristes) is streaming on NETFLIX INSTANT. And YOUTUBE($). And AMAZON INSTANT($), GOOGLE PLAY($), SONY ENTERTAINMENT NETWORK($), ETC.($). (Sorry. Maybe a bit paralyzing.)
A music teacher lands a job at a boys' boarding school populated by delinquents and orphans, and sets out to rein them in through the power of song.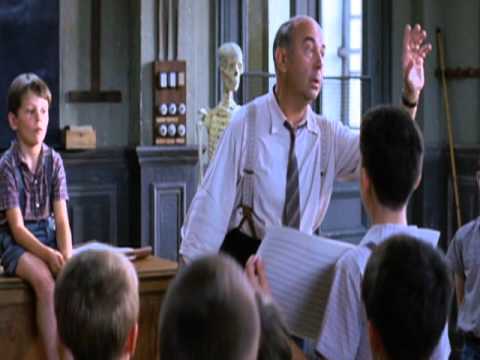 The brilliance of casting Jean-Baptiste Maunier, then-soloist for Les Petits Chanteurs de Saint-Marc (The Little Singers of Saint Marc) as one of the troubled youths cannot be overstated. Nor can the decision to use that very same choir for the film's soundtrack. I suppose it comes as no surprise that our ability to accept and embrace a film with such a title sinks or swims on the quality of its score. Happily, Maunier and composer Bruno Coulais are up to the challenge. The music is really wonderful. …but it is also a story-telling tool, not a "Be-All/End-All." Thanks to Christophe Barratier, the director (and one of the screenwriters), the music is used to superb storytelling effect.
Like so. (SPOILERS, of course. And no subtitles. But still, powerful stuff):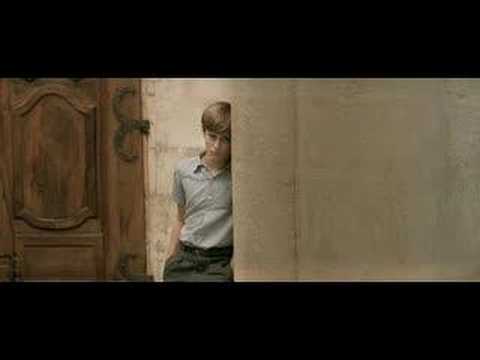 On display in that clip is one of the things that I believe makes the film really click: It has humor and heart, in abundance. But more interestingly (and effectively), it's brave enough to put them in close proximity to one another. VERY close proximity. That's not always an easy thing to do, and requires a bit of courage (or a lot of self-confidence). In a film about adolescents, though, I think it's essential.
Given my nearly-non-stop immersion in the world of boys, I'm amazed at how closely the hilarious and the consequential follow upon one another. Sometimes, almost impossibly, they're one-and-the-same. (Speaking of being a film about kids, this one's a film about 13-year-old boys, "delinquents and orphans" all. So, the PG-13 rating covers pretty much exactly what you'd expect.)
Also on display in that clip is the other thing (or person) that makes the film work: Gérard Jugnot. Not only does he light up the screen with his turn as Clément Mathieu, the choirmaster who has as much to learn from his students as they have from him, but (as the story goes) his willingness to mortgage his home in an effort to finance the film was essential to its creation. Fittingly, he earned a happy ending, as well. When The Chorus became the highest-grossing film at 2004′s French box office, Jugnot become the "highest-paid French actor in 2004," (overtaking a pair of legends: Jean Reno and Gérard Depardieu).
When it's all said and done, the film is clichéd. And treacly, as well. Yet it somehow rises above many previous permutations of the tired "Teacher as Savior" trope, for reasons that are still a bit unclear to me. I blame Jugnot, mostly. And the music. (And my ever-increasing susceptibility to the demulcent power of cinema. Fatherhood does that to one, apparently.)
VIOLETTE: Do you have children?
CLÉMENT: No. Well, yes, I have 60.
BONUS: Remember how much I love The Secret of Kells? And how much I love its soundtrack? Well, that's Bruno Coulais again. And he's doing Song of the Sea, as well. Man, I love it when all my loves collide like this!
BONUS II: It's a remake of/inspired by another French film. Which means I must (am happy to) hunt down that one, as well. Oh, and isn't A Cage of Nightingales (La cage aux rossignols) is a much better title? Much, much better.