Reader Charles asked my take on Herman Cain?
UPDATE: Read my SECOND thoughts on Cain, here
I have to see more. I am waiting to see someone I really want to vote for, and that hasn't happened yet, but Cain is certainly interesting and he deserves to be noticed. A pizza box may be flat and square, but Herman Cain does not appear to be.
What I'm liking so far:
Cain is undoubtedly a smart fellow; he seems to have a prodigious business sense, and I like the fact that he is up from ordinary multiple-job-carrying folks, as am I.
I like that he knows how to manage people and meet a payroll, although I am not yet sure how that translates into managing a government.
I like the fact that he majored in mathematics in college and took a graduate degree in Computer Science in 1971 — it shows me that he is forward-thinking; he was able to tune into a wave of the future while a lot of people were still wondering if 8-Track cassettes would last forever.
I like the fact that he was a member of the STRATCOM Citizen's Advisory Board; it speaks to engaged citizenship and a servant's spirit, and a curious mind that wants to continue to learn. This suggests to me that he may not believe he has all the answers. That's important in a president.
I like that he can speak fluently but is not glib; he appears to speak from the heart, and is not afraid of taking heat for it.
I like that he is happily married to the same lady for over four decades, and that he has faced down serious illness. Having faced one's own mortality often sharpens perspectives as to what is really important, and what is peripheral chaff. If it perhaps gives one a set-ness to one's opinion, it also burnishes a sense of humor and playfulness. I miss having a president with a sense of humor and a touch of playfulness.
I like the fact that when his microphone went dead a few days ago, he burst into song with "The Impossible Dream." Not so much for the song, itself, but for the fact that he is man capable of bursting into song — that he has that in his heart. It suggests to me a fearlessness and an interior freedom that perhaps we need to see more of.
If we want the nation to have an expansive soul, rather than a shriveled one, we need a president who has an expansive "chest" as it were — one that can breathe in the larger air we share, instead of the rarefied stuff, and let it out productively, with a song, rather than a sigh of disdain.
Then again, Ferdinand Marcos was known to sing, too!
That's a joke, but I suspect Herman Cain would get the joke and laugh, rather than become defensive. And that would be a good thing.
I haven't decided yet on Cain. I don't worry so much about his not having held public office, before, although it might be an issue. I do think he overdoes his simplistic-sounding 999** plan almost unto self-parody. And the "electrified fences" thing? Not loving that idea, so I'm still checking the craze-o-meter.
There is a lot there to like, and some stuff to be leery about, but I haven't closed the door on Cain yet, and I'm going to keep my eye on him. I mean, our current president had a lot less to recommend him, in '08, but people voted him in. And these folks before our eyes do appear to be the only choices we'll have. Sigh.
Besides, I love a baritone who can really wail it!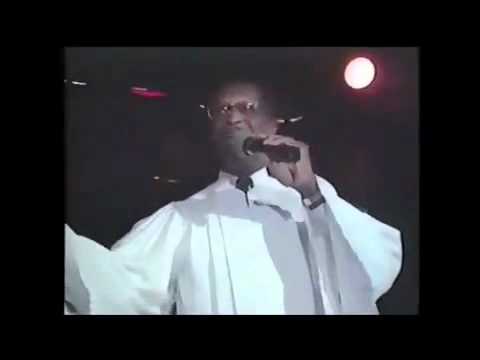 UPDATE: Instapundit links! Thanks, Glenn!
UPDATE II: Jennifer Rubin says Cain messed up and ended his candidacy during last night's debate:
Here's a problem: A candidate with no public experience bases his entire presidential campaign on a gimmicky tax plan that proves to be ill-conceived and objectionable to his natural base of supporters. He then goes on national TV, advocates exchanging all the Gitmo detainees for a hypothetical captured American, denies in a debate that he said it and then afterward admits he "misspoke." How does this candidate come back?
Must admit, when he walked back his Gitmo statement so weakly last night, I tweeted, "O dude, you didn't misspeak…" And my husband, who'd been liking Cain a lot, winced.
Btw, if you want to follow me on Twitter, I'm @TheAnchoress
**Some folks on Twitter can back me up when I say I was the first to suggest — many weeks ago — that 999 sounded like a Pizza Deal, but it's okay if others have used it! I'm generous like that!