Over at Word on Fire Ministries, Rozann Carter notes a Mormon celebrity putting his career on hold to make a two-year "mission" and wonders why Catholics don't have a similar mechanism in place to encourage religious vocations:
I don't agree with the theology of the Church of Jesus Christ of Latter Day Saints. Nor am I advocating that charity, service, and evangelism should be mandated, like some sort of religious draft. But, there is something here, something in the Mormon faith, that speaks of another era, something that we, as Catholics, would do well to recover.

It seems to me that somewhere along the line, between what journalist Tom Brokaw termed "greatest generation" and today, duty and responsibility lost their mundane-ness, their everyday quality, their non-complicated expectedness and began to be valorized and assigned a level of heroism that would have seemed utterly foreign to the "responsible" and "dutiful" of an earlier day. Doing what one should do, rather than being something praiseworthy, was commonplace. I would argue that living in the "should," even if subconsciously, was a majority position—there was a general consensus on what was expected and these expectations went relatively unquestioned. Working hard, accepting blame for shortcomings, loving loyally, and committing to tasks and relationships independently of emotive fulfillment were characteristics that were, at least as a cultural norm, accepted without fanfare. The commonplace was not revered; rather, what is praiseworthy now was commonplace then.
It's a very well-done piece and I urge you to read the whole thing. Carter acknowledges that a Catholic vocation to the religious life or the priesthood is very different from a two-year mission, but wonders:
. . . what if every young Catholic . . . gave the religious life a year of their time? . . . What if we, as Catholic mentors, parents, and even young people, changed the course of our Catholic conversation to allow this consideration, now deemed the stuff of bing-ing halos and adoration chapel whispers, of hush-hush spiritual director meetings and nervous confrontations with grandchild-ready parents, to be posed, somewhat dutifully and with a sense of healthy responsibility, by every Catholic parent to their child.
It's a good question and one I've wondered about, myself. Some will naturally argue that a postulancy is a religious "try-out" and it is, but it is also a very formal sort of try-out. Something structured but less formal, I think, is what Carter means, but I wonder if it can be designed in a practical manner that is not terribly disruptive to the ongoing life of a community? I'm not sure how such a situation would work.
Many religious orders do have "associate" programs whereby young lay people can spend some time volunteering and working with communities — particularly in active apostolates — but again, it attracts those who are already vocation-minded, and they are a distinct minority.
It seems to me that if the idea of a religious vocation is to be "normalized" then what is needed is more serious (and regular) encounters between our CCD students and the professed religious who are actually living the vowed lives.
That might be easier to do in the Mid-west, where vocations are on the rise, but in some places, it's a tall order. Here on Long Island (and throughout the coastal regions) there is a real dearth of religious vocations. How do you attract young people to the idea of such a life, when it is profoundly aged-and-gasping and barely represented around them?
It's certainly an idea worth discussing, though, don't you think? As is the notion of teaching about marriage as a true, vowed vocation, and call to holiness, too.
Speaking of vocations, the Vatican has received its final report on women religious in the US:
A three-year survey of women's religious life in the United States has concluded with the filing of a final report by the Vatican-appointed Apostolic Visitator Mother Mary Clare Millea.

"Although there are concerns in religious life that warrant support and attention, the enduring reality is one of fidelity, joy, and hope," Mother Millea said in a Jan. 9 release . . . Along with her comprehensive report on women's religious communities, Mother Millea is presenting individual reports on nearly 400 religious institutes to the congregation's secretary Archbishop Joseph Tobin. These reports are likely to be completed by the spring of 2012.
It's a rather quiet end to what began as an issue full of paranoid high drama:
Coupled with the cynicism that dismisses out-of-hand the possibility that the visitation could be anything less than a hostile takeover (with an ever-present threat, apparently, of "violence"), Schneider's "new form of Religious Life . . . Religious who are not cloistered and ministers who are not ordained" sounds like it promotes a selective sort of openness–one so narrow that the Holy Spirit may have to suck in His breath and slide in sideways to get access.
Meanwhile, the Benedictine Nuns of St. Cecilia's Abbey, in Ryde, on the Isle of Wight (who, along with Stanbrook Abbey, helped Rumer Godden write her brilliant and unforgettable In this House of Brede) have been fortunate in the regular reception of young vocations; they have just celebrated the solemn profession of Sr. Elizabeth Burgess, OSB
St Cecilia's Abbey, Ryde is a cloistered community of Benedictine nuns of the Solesmes Congregation. . . They have been blessed with a number of young vocations who have persevered to solemn vows in these last years. This week saw the profession of Sr Elizabeth Burgess. She made her solemn (life) vows as a nun and received the Consecration of Virgins. Our abbot was delegated by our bishop to preside at the Mass and concomitant ceremonies. The liturgy took over two hours and was sung in Latin in exquisite Gregorian Chant.
I understand Sr. Elizabeth is all of 25 years-old, having entered the abbey at 19. That used to be quite a normal thing. Nowadays we tend to think any lifelong vow made at "only 25″ years of age to be rather an unusual and foolish thing. Everyone is supposed to hold out, keep the options open and wait until all the worldly things have been done.
But there is nothing more radical than following the call of the Holy Spirit, wherever one is led, to the exclusion of all the world's conventions.
You can read the homily of Sr. Elizabeth's solemn profession here
As Archbishop Timothy Dolan has said, "His call trumps our Curriculum Vitae; His grace lifts up our natures…"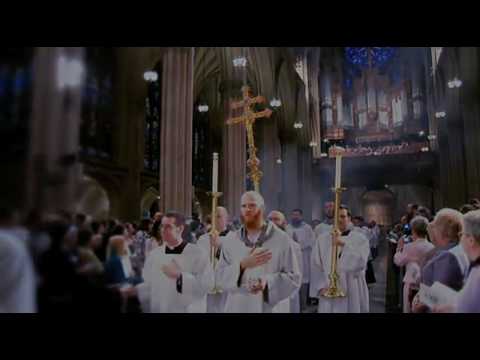 Related: The Dominican Nuns at Summit will soon be celebrating a solemn profession, too