If you did not see the standing ovation given Newt Gingrich when went "smackdown" on John King during last night's debate, here it is: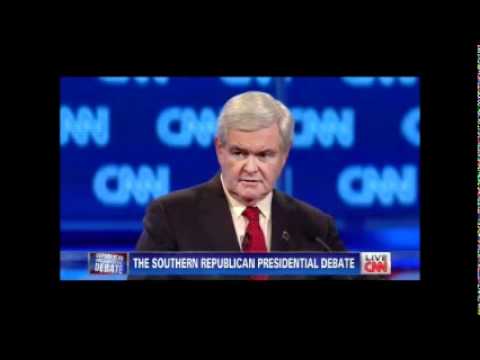 I came to the debate a few minutes late so I didn't see it live. At the end of the debate, when CNN replayed "highlights" the standing-O wasn't included (it certainly seemed like a "highlight" whether one liked it or not), so I only became aware of it thanks to the internet, and social media.
This morning I got an email from a friend who scours the papers, and he wrote:
AP and others did not even mention the standing O
I took a quick look around at various mainstream reports and discovered that my friend was correct. Even pieces identifying themselves as analysis of "winners and losers" or "views from the bleachers" made no mention of the standing ovation that accompanied Newt's smackdown of King. From the bleachers, this is what it looked like to CNN:
He opened by offering Newt Gingrich a chance to respond to his allegations from his ex-wife in an interview on ABC. Gingrich delivers a flat "No" and the segmented crowd becomes uniform in its applause as Gingrich attacked the media.
The writers, Soledad O'Brien and Rose Arce (two sets of eyes!) were in the bleachers and saw the crowd "become uniform," but they can't bring themselves to report what they actually saw.
Several reports did make mention of the other unusual moment of the night, when John King asked Santorum, Gingrich and Romney about their pro-life positions and then then moved on. The audience (and even my husband and I at home) yelled at the moderator, "what about Paul! He's a doctor!" And King was forced to allow Paul to be part of the discussion. The press was right to mention the moment, but — as my friend said — they seem to be determined to ignore Newt's standing-o, which is something completely foreign to debates; in my memory it has never happened before. That alone makes it news-worthy and yet it's not considered mentionable. To the press, it was not a "highlight."
Which means we must ask, why is that?
Perhaps they are in denial. They have a very tidy playbook about how to go about destroying Republican candidates: you call them stupid; you call them crazy; you feature ugly or unflattering pictures of them; you delve into their trash and their college transcripts (but only theirs) or you expose their sins (but only theirs), confident in the knowledge that people are sheep, susceptible to gossip and the media's leading leash; conservatives, after all, are judgmental "values voters" who will (according to the playbook) be repelled by tawdry stories of narcissistic (Republican, only) politicians who serially cheat on their wives!
And last night, John King asked a question about Newt Gingrich's past marriage issues — this is a big gun that's supposed to do serious damage — and the thing backfired on them; it blew up in their hands as the audience "became uniform" in expressing its disgust not for the tawdry politician, but for the press that has become so nakedly overt in its bias, and so selective in what it finds newsworthy and what it does not.
The standing ovation for Newt's remarks were not an endorsement of his behavior — many conservatives are troubled by Gingrich's past and character does matter to them, while other conservatives are remembering their own sins and falling back on what they know of mercy, for the time being. No, that ovation was an endorsement of Gingrich's disdain for the mainstream media, which they share, and a declaration to that same media that their playbook is played-out. It said:
"We are done responding like Pavlovian dogs to your bells; we no longer trust you; we understand that you are no longer a press that is free, but one that is enthralled to its own ideologies and agendas. From this point on, a candidate is going to rise or fall on the substance of their ideas and abilities, not on your prosy gushes about his brilliance, or stern warnings about her stupidity. You savaged George W. Bush you savaged Sarah Palin and you got away with it. You carried your own preferred, utterly inexperienced, passionate ideologue into the White House with over-effusive rhetoric and you have buffeted him from inquiry (tax returns? Hell, we'd just like to see Obama's college transcripts!), or what you perceive to be damaging stories, but you elevated your favorite at the cost of your own credibility, and now it comes back to bite you. Because a press with no credibility has nothing to offer us. It has nowhere to go, now, except into the arms of the political machine it has loved. Just like Pravda, actually."
The mainstream press does not want to discuss last night's standing ovation because it shakes their worldview. They were supposed to be able to control the narrative; they were supposed to be able to corral the sheep. And last night, the sheep indicated that they're no longer willing to be herded, no longer going to allow their own moral judgments to be exploited in a time when the nation is facing serious issues. They've decided they're going to make up their own minds, thank you, about who they think is up to dealing with those issues. They're looking at the press and saying, "Scallywags, heal thyselves!"
This has to be a true shake-up for the press. No wonder they don't mind, so much, the idea of the government being able to shut down the internet at will. Without it, it will be so much easier to hide what they'd rather not have to discuss.

Which is precisely why we really need to make sure the internet remains unencumbered. Shutting it down may be the only play the mainstream media has left.
Understand, this is not about loving or hating Newt; this is simply a look at the press and where it's at and how it got here.
UPDATE: In the combox, Kathy Shaidle from Five Feet of Fury has a different interpretation of the ovation, one that I admit did not occur to me, likely because I am (as usual) part of the stone-throwing rabble, and I think her point is certainly one that is worth consideration:
To me they are the equivalent of the OJ jury:

Yeah, we know he's guilty, but THIS is for all the innocents (we think) were "wrongly accused"/roughed up by cops, etc

That is not the dignified, intelligent position, no matter how deeply tempting it is and no matter whose side adopts it.

The response was one of a team scoring a touchdown. And the Blue/Red "team" mentality of electoral politics is part of what's wrong with it, not something to be encouraged.

Yes, the media is hopelessly biased and corrupt. I've been blogging for 12 years and bow to no one in my championship of alternative media. Everything you're saying about them is 100% true. I don't even believe in "not stooping to their level" — I say stoop away. Anything else is a mug's game.

And yet: that standing o was so "reptilian brain" it curdled my stomach.
A bit of conscience-singe for Christians? Perhaps. As I said, it's worth pondering, and asking, "is it me, Lord?" We are, after all, supposed to be better than all that.
UPDATE II:
Meanwhile Francis Beckwith, who before the debate wondered if some think it's better to be an adulterer than a Mormon, has a followup: on Gingrich, Romney and the Evangelicals
The slings and arrows of Christianity, kids — we have to ask these questions seriously and answer them honestly. Otherwise we're just clanging gongs.
A look back: at how we got here
More reactions to last night, as I find them:
Rich Lowry: An overview
Ross Douthat: So what are Newt's big ideas?
Ed Morrissey: Santorum Wins: is it too little too late?
Krauthammer: GOP Suicide March?
Barone: A good night for Santorum and Romney
James Taranto: "No-Fault Newt?"