Okay, this morning, I wrote:
Rick Perry is out.

Ron Paul is still in the game, and may yet run as a third-party candidate. But he won't be the GOP nominee.

It is down to Obama vs. Romney, or Obama vs. Gingrich, or Obama vs. Santorum.

So, the White House has to be feeling pretty good about things, just now. Not that Perry ever had the president's re-election campaign at all quaking, but they must be thinking, with the field narrowed, "we can easily beat any of these guys."

Now, having watched the South Carolina debate — which was a pretty good debate; it helps having fewer people on the stage — I find I am still not loving any of these guys, but I respect them a bit more. And while the press will still do all it can for Obama (so maybe he should treat them better, but really, why would he?) I think perhaps it won't be the cakewalk I was thinking, for the president.
I still don't think Ron Paul can be the nominee. I respect him and I actually like the fact that he thinks in surprising ways — his ability to do so suggests he might actually be able to work with both sides of congress — but on foreign policy, alone, there is no way the GOP will have him.

Santorum is a good man, but his manner still bugs me. It's easy to see when he's been pricked; he sometimes seems like he's talking from between his teeth and — worst of all — there was a moment tonight, fairly early in the debate, when he reminded me of Al Gore at his most unlikable, during the 2000 debates, when he sighed and shook his head through a debate. And he loses me on illegal immigration.
Romney and Newt: so much baggage. But I came away from tonight's debate actually liking Romney more than I ever have — I really appreciated his clear but temperate anger when he was defending his pro-life record; I liked that he could be angry without getting snippy. And Newt, well…he's certainly larger-than-life. I actually liked his response to the illegal immigration question. I still think someone needs to talk to me about creating an Ellis Island West and the complete overhauling and reform of the NIS, which is utterly broken. Lizzie has ideas!
I don't know who I would vote for were I a Republican voting in a primary. But it was a good, substantial debate. The group is stronger for being smaller.
Still, as my husband said, all these debates certainly are giving the Obama team lots of talking points and tape for their commercials. Do they end soon?

By the way, I missed this exchange with King and Gingrich. What did you think of the question, and the answer? Is the press overplaying the hand?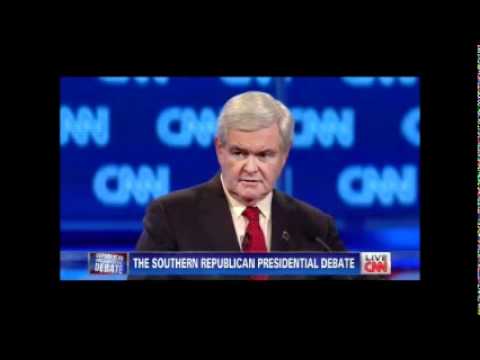 Related: a take on the SOPA question, and a story from Drudge

Hey, an Insty link! Thanks, Glenn!
More reactions as I read 'em:
Ira Stoll