(Photo by Sergio Dionisio/Getty)
Well, slap my face and call me Sally, what a surprise to read this in a secular paper, where Michael Brendan Dougherty and Pascal-Emmanuel Gobry write:

Painting the Catholic Church as "out of touch" is like shooting fish in a barrel, what with the funny hats and gilded churches. And nothing makes it easier than the Church's stance against contraception.
[. . .]
Here's the thing, though: the Catholic Church is the world's biggest and oldest organization. It has buried all of the greatest empires known to man, from the Romans to the Soviets. It has establishments literally all over the world, touching every area of human endeavor. It's given us some of the world's greatest thinkers, from Saint Augustine on down to René Girard. When it does things, it usually has a good reason. Everyone has a right to disagree, but it's not that they're a bunch of crazy old white dudes who are stuck in the Middle Ages.

So, what's going on?

The Church teaches that love, marriage, sex, and procreation are all things that belong together. That's it. But it's pretty important. And though the Church has been teaching this for 2,000 years, it's probably never been as salient as today.

Today's injunctions against birth control were re-affirmed in a 1965 document by Pope Paul VI called Humane Vitae. He warned of four results if the widespread use of contraceptives was accepted:

– General lowering of moral standards
– A rise in infidelity, and illegitimacy
– The reduction of women to objects used to satisfy men.
– Government coercion in reproductive matters.

Does that sound familiar?

Because it sure sounds like what's been happening for the past 40 years.
Read the whole thing
Also surprising, as Frank Weathers points out, Rand Paul is quoting an encyclical!:
In his 1991 encyclical Centesimus Annus, Pope John Paul II delivered a scathing critique of socialism, declaring that "the fundamental error of socialism is anthropological in nature. Socialism considers the individual person simply as an element, a molecule within the social organism, so that the good of the individual is completely subordinated. . . . Socialism likewise maintains that the good of the individual can be realized without reference to his free choice, to the unique and exclusive responsibility which he exercises in the face of good or evil."

Pope John Paul II's indictment of socialism is illustrated in the Obama administration's recent edict requiring nearly all employers — including Catholic hospitals, schools, and charities — to cover sterilizations and contraception in their employees' health-care plans.
Kathryn Jean Lopez gives us a helpful primer: Mandate 101
Meanwhile, speaking of K-Lo (who is currently at-large) you might enjoy hearing a couple of Catholic chicks sittin' around talking HHS Mandate
Ironic Catholic sets up an alternative scenario to this current saga
And then there is this: Eric Metaxas, award-winning author of Bonhoeffer: Pastor, Martyr, Prophet, Spy, on what he sees happening to America, and how it resembles what once happened in Germany: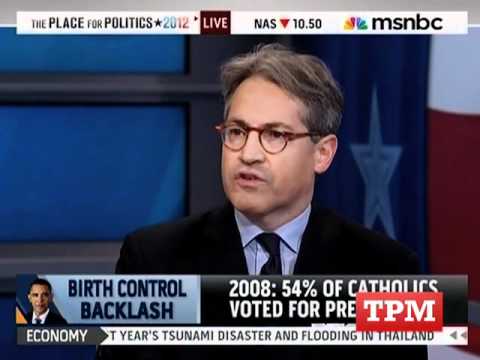 More:
Michael Sean Winters: Compromise? Not so fast!
Thomas Peters: A helpful piece on Obama's choices and the consequences
Gerard Webster: "First, they came for…"
Catholic Libertarian: On Catholic Founding Fathers
WSJ: A Mandate Full of Red Herrings
Mark Shea: finding commonality with Glenn Greenwald. Hot Air has more