I'm seeing a lot of remarks on Twitter about this exchange between Newt Gingrich and David Gregory this morning.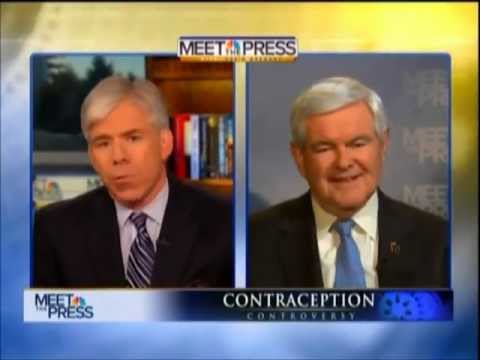 I'm seeing people saying Newt "schooled" David Gregory; that he "took it to" Gregory and so forth, but Gregory lets Gingrich speak for nearly two full minutes, uninterrupted, and in doing so he allows Gingrich to point out all of the issues that are going undiscussed, everyday, while the Democrats and the media promote the absolutely false narrative that anyone is trying to ban the use of contraceptives. Gingrich brings up the economy, gas-prices, unemployment, the president's assault on the free exercise of religion (as opposed to "freedom of worship"); he brings up Obama's support of infanticide and more.
And Gregory doesn't sputter or get loud and try to turn the subject, as Chris Matthews or George Stephanopoulos or any number of genuine hacks might.
In fact, even though he returns to his talking points, to me his heart doesn't seem to be in it. I imagine while Gingrich was speaking, some producer was screaming in Gregory's ear to cut him off, to interject something, to "change the subject, get him back on Limbaugh and Fluke and Contraception" because it's all the Democrats have right now. It's all the media has, and I suspect they are convinced — not without reason — that their non-stop talk about the bishops "taking away women's rights" is working among the unthinking and those quick-to-embrace-victimology.
I don't think Gregory is a hack, and I don't think he got "schooled." Gregory has talked about the importance of his Jewish faith to him and his family. As a person of faith, he has to be concerned about what he sees going on in the country and within his party and profession — which has abandoned its own freedom for the sake of ideology and political enthrallment.
Our "free press" is no longer free. It's becoming more like Pravda — the house organ for the party to which it is enthralled — every day. If you look at the Gingrich/Gregory exchange from that perspective, then that was a pretty remarkable segment. Sometimes, what someone in the press does not say, or where they do not interrupt is as telling as what they bellow.
I hope I have not outted Gregory for possible targeting. I've never much cared for his style, but I have to defend the guy. I don't think what we're seeing here is hackery. I think it's quite the opposite.