When Mitt Romney selected the Catholic Paul Ryan to be his running mate, he probably thought it would lock in "the Catholic vote" in one neat move.
He couldn't possibly understand that what he's really done is revealed a few trenchant truths about Catholics in America, to whit:
1) We are not monolithic in our thinking. This should not surprise anyone; a quick Facebook turn through the timelines of Catholics in-various-degrees-of-obedience to Rome will demonstrate keenly that Catholics run the ideological (and sometimes theological) gamut.
2) Most Catholics are not represented by Nancy Pelosi's extreme liberality or Bill Donohue's extreme conservatism but fall somewhere within the sane middle of the spectrum. Insofar as sanity is possible.
3) Catholic Social Teaching is complex, nuanced and does not lend itself to accurate representation in 140-character tweets, 5-word bumperstickers or 30-second soundbites, which tend only to distort and dilute. Which is why we all buy the bumperstickers and listen to (or provide) the soundbites and tweets that suit our individual agendas.
For a Catholic politician to successfully capture the so-called "Catholic Vote" would require that he or she nimbly traverse these mine fields and somehow come through with limbs-and-heart-and-soul intact after various Catholic factions have done their explosive best:
— Be ardently and womb-to-tomb pro-life
(Rating: Difficult but but do-able. The pol must not strident about it, nor be especially anti-contraception although he must support Catholic's rights to not have the exercise of their religion impacted by policy)
— Support comprehensive Immigration Reform
(Rating: A gift. Easy-peasey)
— Support legislation meant "to help the poor"
(Rating: KA-BOOM! Nearly impossible, because Catholics have very different ideas about how to best serve the poor (and because those ideas are often tied to political leanings) they are vocal about it and quick to break into spittle-flecked hissing factions. Our teaching on the principal of Subsidiarity is helpful here, but it is little-understood and, unfortunately, as ripe for agenda-basketed-cherry-picking as anything else.
Given the above, it might seem like the selection of "Conservative Catholic" Paul Ryan on the GOP ticket will be as impactful among the Papists as the selection of "Liberal Catholic" Joe Biden on the Democrat side, except for one issue that has the potential to divert the entire presidential campaign into a distracted (but possibly determining) debate on Ayn Rand and her disconnected Objectivism.
I find the prospect cheering; if discussed in good faith (as far as "good faith" is still possible amongst us) a round of Rand-focused discourse could have the beneficial impact of forcing the candidates in this very important election to leave off with the easy, cynical, and excessive use of red-meat hype and negative ads, to actually engage in the exploration of vital ideas, and in this way Subsidiarity may finally get looked at
The thing is, most Catholics are repulsed by Rand's philosophies. In the middle of reading Atlas Shrugged, my husband tossed the book at the wall and said "that's enough of that; my soul can't take anymore. And her prose is terrible."
He objected, as most of us do, to Rand's philosophy of "rational self-interest" which she takes to arid, inhuman and inhumane extremes. Objectivism, she claimed, is "the concept of man as a heroic being, with his own happiness as the moral purpose of his life, with productive achievement as his noblest activity, and reason as his only absolute." Or, as one character in Atlas Shrugged vowed, "I swear by my life, and by my love of it, that I will never live for the sake of another man, not ask another man to live for mine."
It follows, of course, that such a philosophy would also refuse to die for the sake of another man's life.
Nothing could more clearly delineate the chasm between Rand and Catholicism, particularly today, when Catholics remember Saint Maximillian Kolbe, the priest who died at Auschwitz, so that another man could live.
The proudly misanthropic (and non-Catholic) Florence King wrote of Rand, "She carried misanthropy of the naked intellect further than it has ever been carried before or since."
Paul Ryan has been quoted in the past as saying:
"I grew up reading Ayn Rand and it taught me quite a bit about who I am and what my value systems are, and what my beliefs are. It's inspired me so much that it's required reading in my office for all my interns and my staff." [...] The reason I got involved in public service, by and large, if I had to credit one thinker, one person, it would be Ayn Rand,"
I suppose some could argue that Ryan meant that he found Rand's ideas so repellent they helped form him in an opposite direction, but disingenuity is not helpful.
Also not helpful is the new narrative that Ryan's praise of Rand is a myth, or an "urban legend".
Matthew Archbold has a sensible take on the question of Ryan and Rand: Read, and then read more:
Rand diagnosed the problems we are seeing today incredibly well. Socialism, according to Rand, dictates that the individual has no right to exist for his own sake and that the sole justification of existence is what they can offer to society. I think many Christians would express this similar concern about the culture of big government today.

I, however, strongly differ with Rand on the solution as I'm sure would Paul Ryan. She would advocate selfishness and I would argue love.
My own view is that if Barack Obama is allowed to "evolve" on gay marriage, and his evolution must be taken at his word, then Paul Ryan is allowed to "evolve" on Ayn Rand, and we must take him at his word, as well. Common sense dictates that one can read someone else's philosophy and find a kernel or two worth keeping while rejecting the rest. Even the least-generous of opponents must concede that — and, as we saw in 2008, the Obama/Biden ticket can be as ungenerous as any Randian hero, when they want to be.
It does no good to pretend one has never said what one has said, so Ryan would do well to get out there and define his own ideas on Objectivity and the egregious Rand before others (with the prompt help of the Obama-assisting press) succeed in doing it for him. In the process he might lead the nation into a serious discussion of what sort of people we are, and by what means we best serve "the least among us" — where are our limits in service to the poor, and how far are we willing to go to justify "practical" means toward such worthy ends?
The fact is, some conservatives might applaud some of Rand's notions, but they would also recoil at a story of medical care rationed to the more mentally-fit, which the icy Rand would probably applaud with vigor. Likewise, many progressives might similarly support such rationing as a "practical" matter", while finding Rand's extreme individualism repulsive.
So, in Ayn Rand, there is a lot to hate, and everyone can join in, but there are, unfortunately, those "kernals" that line-up with philosophers on the left and the right. But there is so much chaff amid her few stalks of wheat, they seem to me to be best left wholly unplucked.
There is a lot of good writing out there on this issue of Ryan and Rand. Here are some links, in no particular order:
Thomas L. McDonald: Ryan, Rand and the Catholic Angle
Mark Shea: Having none of it but notes "my concern about Ryan is not about Ryan"
David French: Ryan is no Randian
Dwight Longenecker: Catholic Ryan loves Atheist Rand?
Instapundit: Is Ryan's Budget Radical? Far from!
Ryan: Writing last April
Can Ryan's Candidacy: energize exploration of Catholic Social Teaching?
Ed Kilgore: St. Ayn and St. Thomas
Frank Weathers: What Ayn Rand Missed
RCP: Ryan taking on (holy) water
MSW: Enjoying Ryan's Randian problem
More Frightening for Dems: than Rand's notions
Ryan on the USCCB's reaction to his budget plan: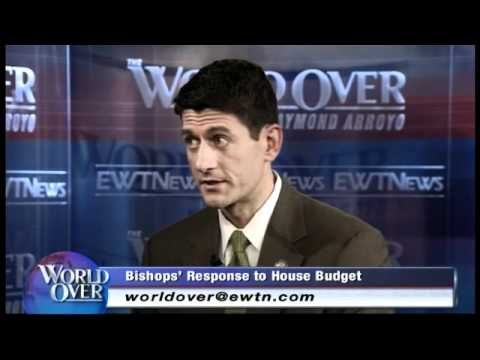 UPDATE: Irony of the day via Facebook, where a "progressive" friend who routinely disagrees with the bishops on most pelvic matters ranted "how dare the National Catholic Register go against the Bishops". Too funny. This was the piece that inspired it.
Pat Archbold: Bishops wrong on Ryan
Meanwhile Chris Matthews: as hyper and hyperbolic as usual.