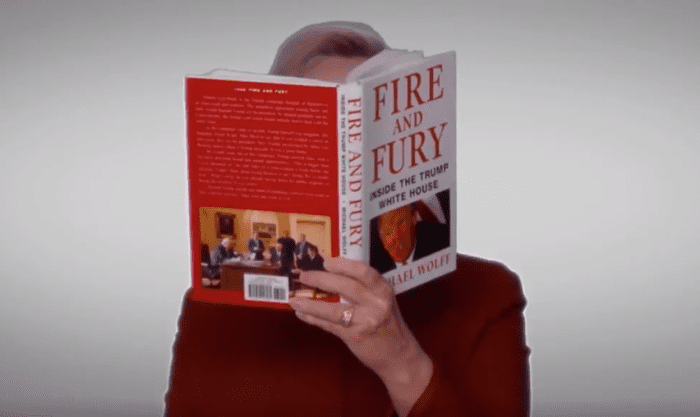 You didn't think the Grammy's would be broadcast without some sort of political drama, did you? CNN reports that Hillary Clinton made a surprise appearance just to troll the President of the United States. (For those still unable to face reality, our President is Donald Trump… not Hillary.) Anyway, her little skit took aim at the President. Nothing like a sore loser, amirite?
The former presidential candidate, along with Cher, Snoop Dogg, Cardi B, John Legend and DJ Khaled were among those who read excerpts from Michael Wolff's "Fire and Fury: Inside the Trump White House," the hit book about Trump's first year in the White House. The bit shows Grammy host James Corden holding auditions for the book reading in hopes of nabbing next year's best spoken word album with famous musicians trying out for the coveted role.
Nice.
The last "celebrity" to show up was Hillary, whose face was covered by the book. When she lowered the book and the the crowd could see her identity, the crowd cheered. Yay! That's the candidate who couldn't even beat Donald Trump! I'm sure they were thinking.
Clinton read this line from the book. "He had a longtime fear of being poisoned. One reason why he liked to eat at McDonalds. No one knew he was coming and the food was safely pre-made," she read.
Isn't that just… well, they want you to think it was hilarious, but I'll let you be the judge:
On the hunt for a GRAMMY Award of his own, James Corden auditions celebrities for the spoken word version of Michael Wolff's "Fire and Fury." pic.twitter.com/SjTobAbv2N

— The Late Late Show with James Corden (@latelateshow) January 29, 2018
Ugh.
These celebrities and their political preening… Will it ever end? I can't even imagine what this did for the book sales of Fire and Fury… not that it needed any help:
"Fire and Fury" has sold 1.7 million copies, according to publisher Henry Holt & Co. The book has had remarkable staying power. It held onto the No. 1 spot on Amazon's best selling books list for almost the entire month of January. Over the weekend, it slipped to No. 2 — but the Grammys may give it another shot of publicity.
I guess they're really happy to give that book more press. Can you imagine them ever doing that for a conservative book?
Me either.
Image Credit: Twitter Screen Cap
Hat Tip: CNN