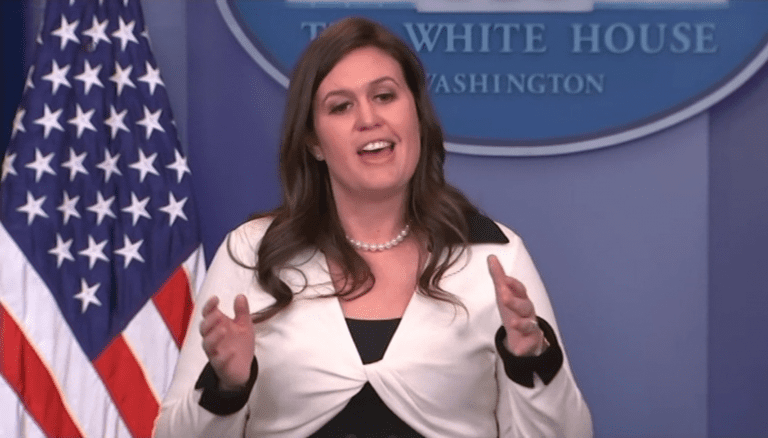 The White House Correspondents' Dinner is supposed to celebrate free speech and the high state of journalism.  However, this year, it was an embarrassing display of mean, leftist politics.  Comedian Michelle Wolf's jokes were full of sex, insults, and rude comments about President Donald Trump and members of his administration.  Namely, she insulted Sarah Sanders, who had to sit onstage while being berated in front of all of America.  During the onslaught, she maintained a strong, steely gaze.  She looked more disappointed than furious.
Wolf had many many jabs at Sanders, but she was most brutal when she said that Sanders "burns facts and then she uses that ash to create a perfect smokey eye."  She also said, "Is it Sarah Sanders, is it Sarah Huckabee Sanders, is it Cousin Huckabee, is it Auntie Huckabee Sanders? What's Uncle Tom but for white women who disappoint other white women?"
Even people in the media thought this was the wrong way to supposedly celebrate the First Amendment. Now, Sanders is finally speaking out about the evening, and — not surprisingly — she's taking the high road.
"Look, I think that evening says a whole lot more about her than it does about me," Sanders said . "The people that were my friends before that evening are my friends today, and I'm going to continue doing the job that I came here to do every single day.  She then added, "I'm very proud of the fact that I work in this administration for this president, and we're going to keep pushing forward and doing everything we can to make America better."
Amazingly, she even managed to wish this comedian well.
"I think we've had a great first year and a half at doing that. A huge success story that we're proud of. I hope that she can find some of the same happiness that we all have, because I think she may need a little bit more of that in her life, because the rest of us here are doing great."
If you missed the comedian's bit, you can watch it here.  And you might want to, since even the liberals are saying that maybe next year, they shouldn't hire a comedian to speak in such politically charged times.
Image Credit: By VOA News [Public domain], via Wikimedia Commons
Hat Tip: IJR