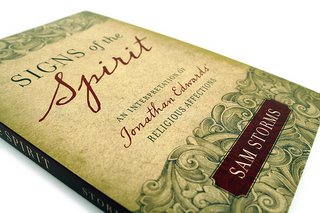 My buddy, Jesse, has recently completed a nine-part series of posts on Signs of the Spirit, in which Sam Storms interprets Jonathan Edwards' classic work on experiential Christianity, The Religious Affections. Here are the links:
1. True spirituality is a hunger for God
2. Public gathering, prayer, preaching, and singing
3. You're not a Christian just because you…
4. Sign 1) A new spiritual 'sense'
5. Sign 2) A love for the things of God
6. Experience, emotion, Edwards and public worship
7. Signs 3-5) Moral excellency, right understanding, conviction.
8. Sign 6) Genuine, evangelical humility
9. Remaining 6 signs of genuine religious affections
Book photo courtesy of Tony S. Reinke, The Shepherd's Scrapbook. Used by permission.