There is a brand of muscular faith that is promoted by some today. According to this school of thought you will be healed or blessed by God if you can only believe strongly enough, shout loudly enough, deny the realities facing you robustly enough, refuse to listen to the diagnoses of doctors stubbornly enough, and basically be positive enough.
If you are anything like me, your faith is not strong enough for that. Perhaps your faith is weak like mine. Maybe you even struggle with doubts about God from time to time. Perhaps you find it hard to believe that God will act for you. Maybe your faith is barely strong enough to keep you holding onto hope during the challenges you face.
But the most critical thing about faith is not how strong it is, but how strong the person is who you are putting your faith in.
Perhaps your faith has given way to fear. Maybe, like the disciple Simon Peter, you have even fallen, and denied your Master. You feel that you have lost your salvation. You are in despair.
Whether you have hit rock bottom like Simon Peter or not, I have good news for you.
Jesus knows how weak we can be. Simon Peter was one of his closest friends and dearest disciples. But he could see that he would deny Jesus horribly, and through fear lie that he didn't know him. The words he uses to predict this are moving:
Simon, Simon, behold, Satan demanded to have you, that he might sift you like wheat, but I have prayed for you that your faith may not fail. And when you have turned again, strengthen your brothers (Luke 22:31-32).
When we struggle or become weak, Jesus prays for us too that we will not fail. Sometimes the candle might seem like it is almost out and only smouldering, but instead of snuffing us out he breathes his Spirit on us to strengthen us so we too, like Peter, can strengthen others.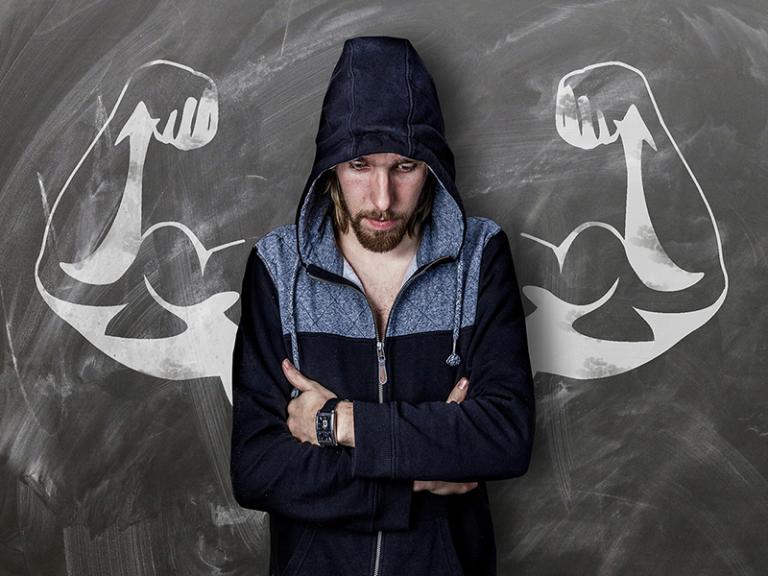 I wonder if Peter's mind was cast back to that moment all those years ago when he wrote the words of the verse from his epistle that we have been looking at together. One thing we do know is he used exactly the same Greek word Jesus did when he promised him all those years ago that his fall would not be final:
And after you have suffered a little while, the God of all grace, who has called you to his eternal glory in Christ, will himself restore, confirm, strengthen, and establish you (1 Peter 5:10).
If you are faltering, God promises to make you firm.  He does that often through the means of others. Even as you are still feeling weak, but beginning to be strengthened, ask yourself: Who can I strengthen today?
It is said of the Apostle Paul that he went about from place to place, "strengthening all the disciples" (Acts 18:23).  Similarly, it is said of Jonathan that he went to David, when he was being pursued by Saul and "helped him find strength in God" (1 Sam 23:16, NIV).
Don't try and help someone find strength in themselves.  Don't tell them to pull their socks up. Don't try and get them to put on a brave face. Tenderly, acknowledging their weaknesses, lead them back to the God who is the true source of strength.
More Posts from Adrian on how to suffer as a Christian