I want to share an enthusiasm. I'd also like to point to some very useful resources that are now readily available on the Internet.
Last year, I posted on the work of the English scholar Montague Rhodes James (1862-1936), whose work I have been quite unintentionally shadowing for much of my life. Since my teenage years, I have loved his terrifying ghost stories. All these classic tales are now available online.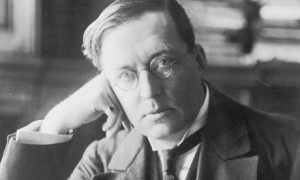 Incidentally, living in Cambridge during the 1970s, his nephew Robert Rhodes James was my Member of Parliament! (This James too was an excellent historian in his own right).
My full appreciation of M. R. James, though, came when I began working on apocryphal and alternative scriptures, on which he was a masterly authority. Among other writings, his 1924 book on The Apocryphal New Testament was for many years the standard work on the subject in English – it also makes nonsense of the idea that the modern rediscovery of Gnosticism had to wait for the Nag Hammadi document finds of the 1940s. Still today, thinking you have gained some acute insight, you turn to James and find that he knew it perfectly well a century ago
You can also read a brilliant essay he wrote on The Wanderings and Homes of Manuscripts (1919), which can be downloaded full text. Reading this, you wonder on every page how many lifetimes James must have lived to collect and assimilate this inconceivably vast hoard of information.
And now, here is yet another treasure. In the late nineteenth century, Lord Acton envisaged a grand multi-volume Cambridge Modern History, which eventually appeared in fourteen volumes, from 1902 onwards. Although the scholarship has obviously dated, we can still turn with great interest to James's chapter in the first volume, on "The Christian Renaissance." As this is now out of copyright, it has been posted online in full text.
If you have any interest in early Christian history or early Christian origins, then there are some obvious texts that you have to consult, mostly in Greek. But imagine a medieval world full of highly intelligent scholars, passionately interested in those matters, but who know basically none of those works. Moreover, contemplate a world struggling to make sense of the Bible without the slightest knowledge of Hebrew. That is the situation that James describes, and he portrays the desperate and even heroic efforts of scholars to return to those ancient roots.
He begins with an agonized quotation from English friar Roger Bacon, about 1271:
Numberless portions of the wisdom of God are wanting to us. Many books of the Sacred Text remain untranslated, as two books of the Maccabees which I know to exist in Greek; and many other books of divers Prophets, whereto reference is made in the books of Kings and Chronicles. … Numberless books, again, of Hebrew and Greek expositors are wanting to the Latins: as those of Origen, Basil, Gregory Nazianzen, Damascene, Dionysius, Chrysostom, and other most noble Doctors, alike in Hebrew and in Greek. The Church, therefore, is slumbering.
Particularly inspiring are the efforts made by medieval church leaders to seek out and bring home such Greek texts. Robert Grosseteste is one such heroic figure, a thirteenth century English bishop who learned Greek:
It is a matter of common knowledge [says James, optimistically] that Grosseteste brought Greek books to England (probably most of them came from Sicily and South Italy), and that in conjunction with at least two other men whose names are known – Nicholas the Greek, and John of Basingstoke – he gave to the world Latin versions of certain Greek documents. Foremost among these were the Testaments of the Twelve Patriarchs, a famous and early apocryphal book. … Of the same character was a book whose existence in a Latin dress is almost certainly due to Grosseteste – though his name has not until recently been mentioned in connection with it. This is the pretty Greek romance which treats of the life of Asenath, the patriarch Joseph's Egyptian wife. Though now forgotten, it was widely known to medieval men.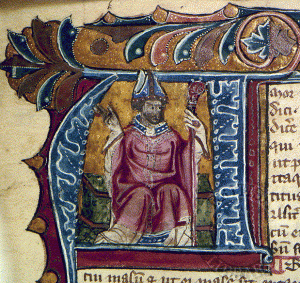 Very gradually, Grosseteste and his successors even gained a little knowledge of Hebrew. Writing of the fourteenth century, James notes that:
At Ramsey Abbey …. a small band of scholars were in possession of the whole of the Old Testament in Hebrew. They had bought up the libraries of the suppressed synagogues at Huntingdon and Stamford. One among them, Prior Gregory, had furthermore studied Greek: a bilingual Psalter remains to attest the fact. At a somewhat later date the stores of Hebrew manuscripts accumulated by his predecessors enabled Laurence Holbeach, a monk of the same House, to compile a Hebrew Lexicon.
Modern readers will enjoy James's insistence on writing readable and accessible prose, without descending into academese. I love his remark that "We have no right to inflict a complete patristic bibliography on our readers."
Most of the chapter concerns the outpouring of Greek and Hebrew texts during the fifteenth and sixteenth century, and the intellectual revolution they wrought in Christian scholarship. You can sense the lights being turned on all across Europe.
It's a thrilling story.