Grace Cathedral in San Francisco is one of my favorite religious structures in the US, and it is also home to a fine piece of modern spiritual art.
In 1988, the Episcopal Church elected its first woman bishop, Barbara Harris, who was consecrated the following year (Harris is also African–American). To celebrate the event, the Cathedral commissioned an icon from Robert Lentz, who is presently a Franciscan friar. Partly because of his Eastern Christian religious background, Lentz has a deep interest in the icon as a form, which he adapts to strictly contemporary themes.
Lentz's art reflects his personal political beliefs, which lean strongly towards liberation theology, and to gay and feminist concerns. This for instance is his icon of martyred Archbishop Oscar Romero: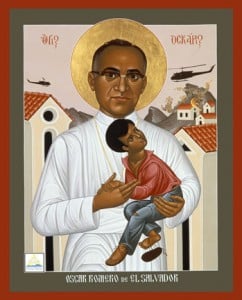 His icon for Grace then adopted a figure dear to the hearts of Christian feminists, namely Mary Magdalene. According to a traditional story, Mary preached the message of Jesus to the Emperor of Rome, who was strongly skeptical. Pointing to some eggs, he said that he'd no more believe in Christ's Resurrection than he would accept that those were really red rather than white. Mary picked up an egg, and it turned deep blood red.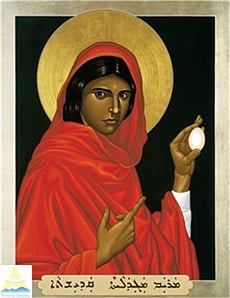 Mary here appears as a witness of the Resurrection, but also as a prominent Christian leader. The icon's inscription, in Syriac, tells us that she was "Equal to the Apostles." Lentz's message is that she recalls a lost and suppressed era of women's leadership in the early church, which is being restored in modern times. You can disagree with that argument on plenty of historical grounds – but the icon itself is still a lovely piece of work.
Incidentally, this Mary is physically a standard Middle Eastern woman, not the kind of European who so often stands in for Jesus's disciples in the great Renaissance tradition.
Mary's feast falls this week, on July 22.