Next month, the sixty-fifth meeting of the Evangelical Theological Society (ETS) will convene in Baltimore, Maryland.  In between eating blue crabs and searching for book deals, members will present papers, discuss present and future projects, catch up with colleagues, and network with other evangelicals.  Although the society maintains a pronounced focus on Bible and theology, a baffling array of topics will be covered in the planned sessions.  For instance, on a typical day, participants might attend a paper on the identity-shaping aspects of early Christian martyrdom accounts,  a panel discussion regarding the interplay between biblical and systematic theology, and a progress report on the archaeological efforts at Tel Gezer.  Papers from the disciplines of ethics, apologetics, spiritual formation and other fields also make the program.
Formed in 1949, the Evangelical Theological Society grew out of the same mid-century evangelical impetus towards cultural engagement that birthed Youth for Christ, Campus Crusade for Christ (now Cru), World Vision, Christianity Today, and a whole host of other efforts that captured the spirit of the "new evangelicalism."  Founding members of ETS such as Roger Nicole and Carl Henry imagined a society whose members produced top-notch scholarship in their respective fields while remaining firmly committed to biblical authority.  As a result, since its inception, ETS members have been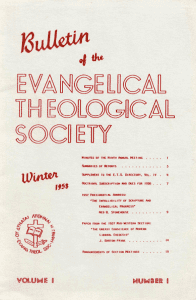 required to affirm biblical inerrancy.  For a long time, this affirmation served as the only doctrinal requirement of the society.  In the 1990s, however, the society added and a positive statement on the Trinity to its doctrinal basis:
The Bible alone, and the Bible in its entirety, is the Word of God written and is therefore inerrant in the autographs.
God is a Trinity, Father, Son, and Holy Spirit, each an uncreated person, one in essence, equal in power and glory.
Special provisions are made for invited non-members to participate, and, in recent years stellar presentations have been given by non-members such as Robert Wilken (Atlanta, 2006) and N.T. Wright (Atlanta, 2010).
Not well known outside the evangelical subculture, ETS emerged at mid-century as a place for evangelical scholars to "foster conservative Biblical scholarship by providing a medium for the oral exchange and written expression of thought and research in the general field of the theological disciplines as centered in the Scriptures (Art. 2, Constitution)."  Largely confined to biblical and theological pursuits in its early years, the society gradually expanded to embrace evangelical scholars in other disciplines.  For instance, each year several panels are devoted to the broad discipline of church history.  Program unit sessions provide further opportunity for the construction of specialized sessions.  As an example, I serve on the American Christianity program unit committee.  This year, we organized an invited session that revolves around the conference theme–"Evangelicalism, Inerrancy, and the Evangelical Theological Society: Retrospect and Prospect"—as well as a second panel formed from paper submissions received from society members.
Late in life, along with his lament for the evangelical university that could have been, Carl Henry expressed grave disappointment that ETS never ascended to the status of first-rate scholarly society.  Even today, papers presented remain uneven, and at times, parochial.  At the same time, I have also attended some great papers at ETS meetings–papers that would comfortably fit on the program at NAPS, ASCH, or AAR/SBL.  In my own field of history, the papers of late have been outstanding, publishable-quality endeavors presented by senior academics and emerging scholars alike.  The overall quality of proposals we have received on the program unit committee on which I serve has improved each year.  Without a doubt, this increase in quality has been facilitated by the efforts of Michael Thigpen, who became the society's first full-time executive director in 2009.  Along with his assistant, Bonnie Thigpen, their efforts have significantly streamlined the membership, proposal, and program planning functions, helping to catalyze the overall observable upward trajectory of the Evangelical Theology Society.
As a result, if you are in the Baltimore area from November 19-22, you should make plans to stop by the Baltimore Hilton.  There are some really good items on the program this year.*
*These items will be the subject of my November 20th post, so if you are interested, be sure to stop by then.