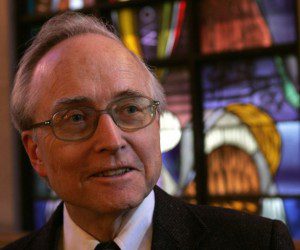 Feeling a vocational calling to teach, I completed all of the graduate school application necessaries in the fall of 2000.  I secured recommendations letters, practiced and sat for the GRE, wrote essays, ordered transcripts, and made contact with potential supervisors at the schools to which I considering applying.  Fatigued from the process and the other demands on my time, I considered not completing my application to Vanderbilt's Graduate Department of Religion.  At the eleventh hour, however, I completed my application, barely meeting the application deadline. Had I missed the deadline, I never would have had the privilege of knowing Dale A. Johnson.
By January, I settled into the waiting period, knowing that notifications of admission
or letters of regret would begin showing up in my (actual physical) mailbox beginning in March.  Even so, my anxiety level remained low as I was occupied with completing the final courses in my Master of Divinity degree while working full time in a fairly demanding job with enough anxiety of its own.
On Friday evening, February 16, 2001, I received a phone call that changed my life.  My wife and young son were outside while I cleaned up the kitchen.  When the phone rang, I answered it and heard Dr. Johnson's deep voice of for the first time.  Here is my recollection of that call from a letter I wrote for his retirement celebration in April 2006 (It was faculty/staff only, but I managed to sneak my letter into the mix.  It helps to be nice to the right people!):
Even though I did not enter the doctoral program at Vanderbilt until August 2001, I began to learn from Dale Johnson in February of that year.  Sometime during the second month of 2001, Dr. Johnson called my home on a Friday evening in order to inform me that I would soon receive an offer of admission to Vanderbilt.  He indicated that he wanted to contact me early in order to get me thinking about attending Vanderbilt.  From the moment I answered the phone, Dr. Johnson treated me with kindness and respect, making me feel like the important one in the conversation.  His efforts made an impression on me, and, in retrospect, greatly affected my decision to come to Vanderbilt. 
As I found out, that phone call was typical.  Dale was a friend to students, genuinely wanting them to succeed.  Again, from my letter.
I was privileged to have Dr. Johnson as my faculty advisor during my first two years of graduate school.  He deftly steered me through my program, helping me avoid several landmines and guiding me through some difficult decisions, including a fairly radical change of research focus.  All the time, he was concerned for my success as a student.
In the context of day-to-day teaching, Dale's accessibility and friendliness towards students often left his acheivements as a scholar understated.  With students, he did not brag about himself or speak of his accomplishments.  Instead he focused on them and urged them towards their own success: pursuing ordination, completing their program, publishing an article.   When I began teaching in the fall of 2006, I followed the example I had seen in Dale.  Once again from my letter:
In my own short time as a professor, I have aimed to treat all potential students in a similar manner, taking an interest in them and their hopes and concerns, and focusing on them rather than myself.  In my experience, Dr. Johnson nearly always conducts himself in such a manner: he has an open door policy, an attentive ear and a compassionate side that belies his directness.  For example, Dr. Johnson made a point to arrange a lunch meeting with each student in his classes.  Each semester, he met with groups of students in order to get to know them better.  He could have spent that time reading or writing… but he chose to spend it with students instead.  In my own short time as a professor, I have sought to implement this practice, arranging lunch meetings with students.  The fact that my students love this practice honors Dr. Johnson, from whom I learned it.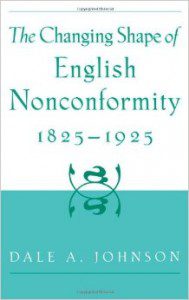 As a result of these practices, his scholarly acumen often went unnoticed by students.  But make no mistake, Dale Johnson was a first class scholar.  A Rhodes Scholar, he eventually earned a Ph.D. in Church History from
Union Theological Seminary
, working with Wilhelm Pauck at the tail end of its heyday in the 1960s.  He kept up with his field, successfully making the historiographical transition from "church history" to the "historical study of religion;" he edited hundreds of articles and published several significant books.  He was awarded the
Albert C. Outler Prize
, installed in the Buffington Chair of Church History, and was elected President of the
American Society of Church History
.  Although he studied Modern European History, he knew more about American religious history than most Americanists and comfortably taught Reformation era history.
At Vanderbilt, Dr. Johnson set a high standard for both doctoral and divinity students.  It was not easy to earn an A in his classes (although it was not impossible as some students complained).  At the same time, he was on their side.  Students knew that in Dale's office, they would be treated fairly, and that outside his office he would work towards the same goals.  He had an inherent commitment to fairness, even when he strongly disagreed with you.  As an evangelical in a decidedly un-evangelical institution, Dale made me feel welcome.  He did the same for hundreds of others from diverse backgrounds.
Dale passed away on August 10, 2014.  And, although I do not have lunch with students as much as I would like these days, I am proud to be known as a "friend of students."  It honors the memory of Dr. Johnson, from whom I learned so much.