On April 8, 1877, Brigham Young delivered a sermon on the occasion of his imminent departure from the St. George Temple. Many observers of Young's multifaceted career forget how significant temple-building was for him and for his legacy. "We shall build Temples over north and South America," Young declared in 1875 while planning the construction of a temple in Manti, Utah. Twenty years earlier, he had expressed his hope that men and women would one day work in "thousands of Temples" in order to redeem the world.
Young was not in the best of moods on this particular April day, which came after three months of ritual work and oversight in the temple, which the Latter-day Saints had completed in January. In late March, John D. Lee had been executed for his role in the Mountain Meadows Massacre, and Young remained fearful that he would be arrested in connection with the mass murder. When he spoke that April morning, Young asserted that the people had obstructed his efforts to establish the United Order, an attempt at economic consecration and cooperation. In the end, recorded doorkeeper Charles Lowell Walker, "Brother Brigham whipped and scolded the tradesmen and almost every body and every thing." Once he had completed his harangue, however, Young he asked the choir to sing Eliza R. Snow's hymn, "O my Father," a poem and song he had long loved. Given his increasing frailty, the closing verse may have taken on an even greater meaning than usual for him: "Then, at length, when I've completed / All you sent me forth to do, With your mutual approbation, Let me come and dwell with you."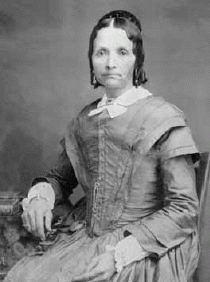 "O my Father" is one of my favorite Mormon hymns. Eliza R. Snow wrote the poem "My Father in Heaven" in 1845, about a year after Joseph Smith's murder and in the same month that her earthly father died. For Eliza Snow, the past several years had brought joy, tumult, and considerable sorrow. At the age of twenty eight, she became a plural wife of Joseph Smith in 1842. According to historian Jill M. Derr, Snow wrote countless poems expressing her attachment to and admiration for Joseph, then was entirely devastated by his death. She was sealed to Brigham Young in October 1844
When introducing students to Mormon thought, I often ask them to read and ponder Snow's words. I do so primarily because the poem concisely introduces ideas that are central to what Latter-day Saints refer to as the "Plan of Salvation." "In my first primeval childhood / Was I nurtur'd near thy side?" she asks in the first verse. Human beings, according to Snow, come into mortality with no recollection of their pre-mortal existence in the presence of God and other loved ones. In order to understand themselves and their relationship with their heavenly Father, they need "the key of knowledge," "restor'd" by the bestowal of the priesthood to the Church of Jesus Christ of Latter-day Saints.
Then, Snow proceeds to a topic much on her mind over the prior several years:
In the heav'ns are parents single?
No, the thought makes reason stare;
Truth is reason — truth eternal
Tells me I've a mother there.
The poem, writes Derr, "evoked the plan of salvation in its entirety: the existence of intelligences, the council in heaven, the foreordained mission of Jesus Christ and of each individual, the possibility of godhood, and an everlasting union of man and woman with eternal increase." [Derr, "The Significance of 'O My Father' in the Personal Journey of Eliza R. Snow," BYU Studies 36 (1996-1997): 85-126].
When my students encounter the notion of a "mother in heaven," they are often confused. They wonder if Snow looks forward to meeting her own mother. Then they are puzzled about what it means for God to have a wife, or if Latter-day Saints also worship a goddess. In an initial discussion, we do not usually proceed much farther than to note that the idea of a heavenly mother is a doctrine Latter-day Saints have been more prone to cherish than to describe in detail. It seems probable that the idea originated prior to Joseph Smith's death, as the first published reference to a "Mother" or "Queen" in heaven appeared in December 1844.
As Michael Hicks, an expert in the history of Mormon hymnody, explains, Mormons have set "O My Father" to a variety of tunes. [See Hicks, "'O My Father': The Musical Settings," BYU Studies 36 (1996-1997): 33-57]. Brigham Young preferred the tune of Stephen Foster's "Gentle Annie":
Following Brigham Young's funeral, at his burial a choir sang "O My Father," celebrating his life and announcing his return to his heavenly, divine parents. On this occasion, informs Hicks, the choir used the tune of Joseph Haydn's "Austrian Hymn." Haydn's music also became the setting for the German National Anthem and thus became associated with Nazism. Eventually, out of several competing tunes, Latter-day Saints settled on music composed by James McGranahan for the Protestant hymn "I Will Sing of My Redeemer." Like Brigham Young, I'm more partial to the "Gentle Annie" melody.