Of the reading of journals, there is no end, and yet much reading of them is a weariness.  
-Ecclesiastes 12:12, MAV*
In every vocation, some tasks bring joy while others seem like… work.  For academics, keeping up with the latest scholarship in your field is a must.  And yet sometimes the task feels like impossible work.  At times, the pile of journals at the corner of your desk mocks you, challenging your scholarly worth even as the thought of reading them seems an impossible obligatory task.  Even the best journals seem, at times, to be full of articles you must read.  Not so with Fides et Historia.
For me at least, the arrival of Fides et Historia, the journal of the Conference on Faith and History, always brings joy.  Under the editorial leadership of Donald Yerxa, each issue contains several solidly-researched, well-written, full-length articles of interest.  Roundtable discussions of various topics of relevance to historians with Christian convictions accompany them.  Essays, long reviews, and a solid book review section (edited by Bradley Gundlach) round out the journal, which is published twice a year.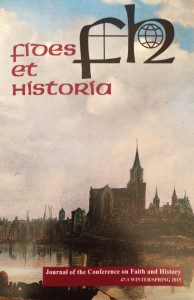 I received the latest issue of Fides et Historia about a week ago.  It contains worthy articles by Gary Scott Smith ("Changing Conceptions of Hell in Gilded Age America") and Lawrence J. McAndrews ("Before Roe: Catholics, Nixon, and the Changing Politics of Birth Control"), a round table on The Bebbington Quadrilateral, and a second roundtable, whose appearance surprised me.  It surprised me because in the midst of a helter-skelter season of life, I had completely forgotten about the roundtable that I had arranged on fellow Anxious Bench blogger David Swartz's Moral Minority: The Evangelical Left In an Age of Conservatism.  Originally organized as a session for the 2013 meeting of the Evangelical Theological Society, it deserves attention because of the eclectic mix of historians who engage David's work.
In the roundtable, the venerable Richard Pierard provides personal reflections on "Why the Moral Minority Could Not Become a Majority."  Weaving scholarship together with autobiography, Pierard's contribution sparks interest in a manner that only a participant-observer can.  Next,
Chris Gehrz
of Bethel University tells why the most important chapter in Swartz's book is the one that has the least to do with North America.  Along the way, he briefly familiarizes readers with the field of international history, pointing out its value for study of the history of evangelicalism–a subject too often myopically focused on the United States.  
Owen Strachan
of the Southern Baptist Theological Seminary follows Gehrz's article with one comparing the cultural engagement of the evangelical left with that of Strachan's area of expertise–the neo-evangelical movement–raising important issues related to evangelical identity. In response, Swartz wraps up the roundtable with his characteristic graciousness and insightfulness.
If you have any interest in religion and politics or evangelical history, I would encourage you to pick up the latest copy of Fides et Historia and read the roundtable.  If you are a Christian historian or simply interested in "the relationship between Christian faith and history," I would urge you to join the Conference on Faith and History so that you can receive the journal regularly.  It is money well spent.
*Mullin Academic Version (MAV).