In 1869, Lucy Stanton Bassett traveled from New York to Utah, possibly riding on the transcontinental railroad completed that May. When she reached Utah, she was reunited with her parents and children, and she met her grandchildren.
For tens of thousands of Americans and Europeans, the journey to Zion was a rite of passage, a momentous process of embracing new elements of an identity they had first chosen at the time of their baptism. Lucy Stanton, however, had a far more complex identity than that of most Mormon emigrants.
As of 1862, she was known as Madame Laahceil, an "Indian doctress" convicted of manslaughter because of the death of a patient who had died from complications related to an abortion. Newspapers accused her of running "a human slaughterhouse of the hugest proportion." Under the name of Celeste La Salle, she was convicted and sent to the female prison at Sing Sing for the next seven years.
Angela Pulley Hudson tells the story of Lucy Stanton and her husband Warner McCary — and their many identities — in Real Native Genius: How an Ex-Slave and a White Mormon Became Famous Indians. McCary, most commonly known as Okah Tubbee, is fairly well known to historians of nineteenth-century America because he published an account of his life (not terribly factual) in 1852. He is of particular interest to historians of Mormonism because he questioned Mormon leaders in 1847 about their stance on "color." McCary was born a slave in Mississippi around the year 1810, gained his freedom, then traveled north, and — along with his wife — gained ephemeral popularity as a traveling Indian musician in the late 1840s and early 1850s.
Real Native Genius makes two very noteworthy contributions to the prior literature on her subjects. First, Hudson trains much of her attention on Lucy. Why, she asks, did so many contemporaries and later historians cast doubt on McCary's claimed identity while accepting that "Laah Ceil" was who she claimed to be. "Her ability to pass as Indian in even very recent literature," Hudson concludes, "suggests the ways in which 'white Indians' are more readily accepted than 'black Indians,' even among modern scholars."
Hudson begins her account of Lucy's story in northeastern Ohio, where her parents Daniel and Clarinda Stanton were baptized in 1830s. In the town of Kirtland, the "Mormonites" "experimented with a variety of methods for experiencing and expressing their faith, including exuberant and even ecstatic exclamations of feeling, speaking in tongues, and trancelike states of possession." Adherents sometimes claimed to speak in Mormon dialects, envisioned the future conversion of native peoples, and — as Paul Reeve well describes in his recent Religion of a Different Color — were often accused of acting like Indians. In 1833, Lucy moved to Missouri, and she married Oliver Harmon Bassett. They had several children together, lived through the Missouri persecutions of the church, and took refuge in Illinois in 1839. In 1843, however, the couple separated, and Lucy met William McCary two years later. He represented himself as an Indian, and she married him almost immediately.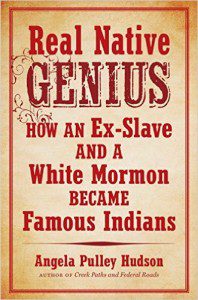 In Hudson's hands, Lucy Stanton becomes far more than McCary's "white wife" or the side act to her husband's career. Her story is fascinating. It ends with her rebaptism into the LDS Church in 1876, followed by her death two years later.
The second major contribution of Real Native Genius is Hudson's ability to integrate Mormonism into the broader historiography of racial identity in nineteenth-century America. As she writes, "that so many scholars knew either William McCary and Lucy Stanton or Okah Tubbee and Laah Ceil but not both suggests to me that our frameworks of inquiry are still too often isolated" from one another. Indeed, both religion and race provided sometimes risky means by which individuals could reinvent themselves in a nineteenth-century United States in which racial identities were presumed by most to be fixed and immutable. Warner McCary and Lucy Stanton were hardly alone in assuming new racial and religious identities. As Hudson comments, McCary/Okah Tubbee and Stanton/Laah Ceil at times found themselves "liberated in some senses by their performance of Native personae." At the same time, their "representation of themselves as Indians relied on popular cultural tropes and antebellum stereotypes that offered a narrow, inaccurate, and homogenized image of Indians and inherently limited the subversive potential of their actions."
Real Native Genius is a brisk and intelligent examination of a complex story of "identity performance." Students of Mormon history will learn much from her placement of McCary and Stanton's 1847 Winter Quarters appearance into the broader context of racial identity in mid-nineteenth-century America, and scholars familiar with such themes will benefit greatly from her careful application of that context to the story of Mormonism.