Sattler College, profiled in this Boston Globe article, has made a minor splash in the news for its audacious plans to launch a new Christian college in an era when many established schools are struggling. Its founders are banking that it can be done on a lean budget and low tuition (only $9,000 a year, which is a fifth the cost of a typical private college), an Anabaptist ethos that emphasized Christian community and discipleship, and a hybrid pedagogy that combines the liberal arts, professional degrees, and online education. While not all observers (like John Hawthorne) find this plan compelling, the chair of the Massachusetts Board of Higher Education called Sattler "fascinating" and "innovative."
Sattler's ambitions, however, pale in comparison to efforts in the 1950s to found Crusade University. It was a project driven by theologian Carl Henry, and it fit perfectly the goals of the larger neo-evangelical movement. Henry wanted more than just a new seminary (Fuller Theological Seminary), a new academic society (Evangelical Theological Society), a new magazine (Christianity Today), and a new bureaucratic institution (National Association of Evangelicals). He wanted an Ivy League-quality research university.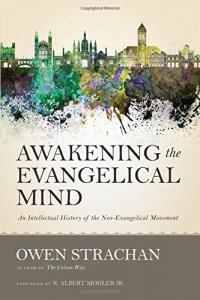 As narrated in Owen Strachan's lively book Reawakening the Evangelical Mind, Crusade University germinated in the 1950s as an attempt to make evangelicalism more culturally relevant. Less than a decade before, Henry had written The Uneasy Conscience of Modern Fundamentalism, a book that critiqued fundamentalism for its separatism and failure to engage modern culture. In an October 8, 1955, letter, Henry wrote to Billy Graham that fundamentalist colleges had "abandoned the effective articulation of Christianity in relationship to the great cultural issues—education, economics, politics, art, and even theology—to the non-evangelical groups."
The eminent Boston pastor Harold Ockenga also nurtured cultural ambition. In fact, his first presidential address to the National Association of Evangelicals (NAE), delivered a decade earlier, rivaled the grandiosity of Henry Luce's "American Century" speech. Offered to 1,000 delegates gathered at Chicago's LaSalle Hotel, the speech described the NAE as "the only hopeful sign on the horizon of Christian history today. If we who are gathered here meet our responsibility this week it may well be that the oblique rays of the sun are not the rusty red of its setting but are the golden rays of its rising for a new era."
Crusade University, meant to implement Ockenga and Henry's lofty prose in real life, was intended to be intellectually rigorous. Henry wanted to divert talented evangelicals who might otherwise go to Harvard and Yale. He wanted to train real producers of knowledge and experts in their field so that they could rival the "secular interpretations of our day."
Ambition soared through the 1950s as organizers brainstormed locations. Some wanted to locate Crusade University in the South, already a stronghold for conservative evangelicals. Ockenga proposed New England, the site of Gordon College, which potentially could be turned into a research university. (If that succeeded, a second university could be launched in the West.) Henry wanted it located in New York City near Grammercy Park. As Strachan puts it, this was "the center of the world, at least in symbolic terms."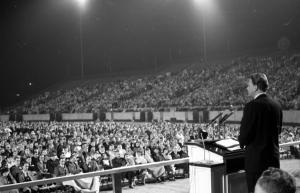 It was also insanely expensive. Henry enlisted the by-then-famous Billy Graham to raise money. The evangelist turned to John D. Rockefeller of Standard Oil, John Bolten (a German-born industrialist who had helped finance Fuller Seminary), Vice President Richard Nixon, Sid Richardson (an oil businessman from Texas), New York governor Thomas Dewey, and DeWitt Wallace (the founder of Reader's Digest). Archival records show that many of them expressed considerable enthusiasm.
Henry told potential donors that he needed $100 million for buildings, administration, faculty, and equipment. That would establish a liberal arts school. If that number grew, they would add a college of education and business—then engineering, law, and medicine. $300 million, explained Henry would "include sufficient endowment to guarantee its operation." For comparison, Harvard at the time boasted an endowment of $350 million.
These outrageous numbers reflected a dazzling vision that teased and frustrated Henry for the rest of his life. My next post will explain why Crusade University does not exist today—and why it never got off the ground in the first place. It's a story that suggests much about the nature of evangelicalism in the twentieth century.