I was sitting on a picnic bench outside of the Navajo Nation capital when I read Scot McKnight's tweet about Willow Creek. His comment that, "mismanagement, powermongering, threatening, and offering money for silence" should be themes "central to church leadership discussions" in seminaries really caught my attention. If you have followed my blogs for a while, then you know that pastoral accountability is important to me. For Christians who loudly proclaim the "priesthood of all believers" and that "all have sinned and fallen short of the glory of God," evangelicals are surprisingly quick to venerate pastors. Charismatic personalities and dynamic preaching—especially preaching that attracts thousands of new members—seems to make us forget that pastors are still frai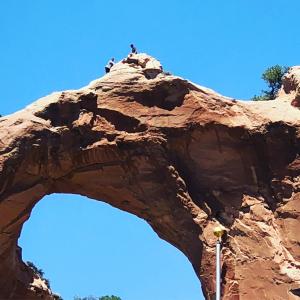 l humans. Our capacity to sin is their capacity to sin.
At that moment, however, my husband and son were waving at me from the top of Window Rock (I declined to climb with them) and my daughter was asking to look at the vendor stalls around us. So I put up my phone and waited to read more till we got back in the car.
We were making our way to Tohatchi Baptist Church near the eastern edge of the Navajo reservation. Established as a mission by First Baptist Church of Gallup around 1969, Tohatchi Baptist was constituted by the New Mexico Baptist Convention as a church in 2009. My husband learned about the c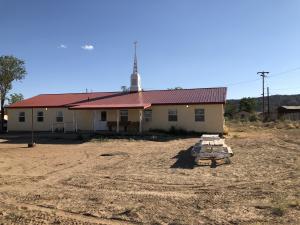 hurch through One Way Ministries, a mission organization based in Birmingham, Alabama, and led several youth mission trips to Tohatchi between 2010 and 2016.
The church does so much with so little. The pastor is bivocational, working in Gallup during the week and spending his evenings and weekends reaching out to the people in the community. Much of what they have at the church has been built by volunteer work groups, yet they still feed more than 50 people every Sunday morning. Most weeks, their congregation swells the small space with 70ish worshippers.
We spent our last night of vacation helping the pastor, his wife, and a church member load a pickup truck and SUV with backpacks full of school supplies for local children. Our kids helped us hand out some of the backpacks at a local boarding school, just up the hill from the church. When the children tried to thank the pastor, he shook his head. "Thank Jesus," he said. "Jesus loves you. This is all in the name of Jesus." I was moving out of the way of the children streaming toward the door, eagerly comparing their pencil cases and crayons, when one little girl—her bright blue backpack bouncing on her shoulders–ran up and threw her arms around my legs. She just smiled at me for a minute, squeezing my knee, before running off with her friends.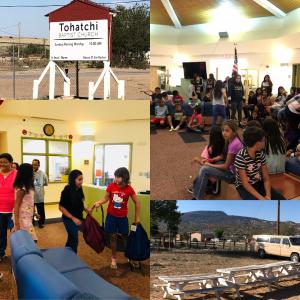 We left the Tohatchi church members in the parking lot, planning the next evening's delivery.
"In the Name of Jesus," the pastor told the children. This is the mission of Tohatchi Baptist Church. They are the hands and feet of Jesus in a place that needs so much.  "In the Name of Jesus" is etched in a bright banner over the baptismal door inside the paneled, multi-purpose sanctuary. "In the Name of Jesus" is painted on the picnic tables lined up in front of the church, ready to share meals with those in need. My husband actually has this scene in a canvas on his office wall—a picture he took several years ago when wildfires ravaged the nearby mountains and smoke billowed in the Tohatchi sky. It is a reminder of this tiny, beautiful church. It is also a reminder of what his job is as a pastor—to serve in the name of Jesus. Every time someone preaches at Tohatchi Baptist church, the wooden pulpit reminds the same.  John 12:21, "Sir, we would see Jesus," is hand-carved into the wood facing the speaker.
It is about Jesus. It isn't about the pastor.
Here, in Tohatchi, the world of Willow Creek felt so alien to me. I read about Bill Hybels, his personal assistant Pat Baranowski whom he exploited, his elders who shielded him, his congregants who cheered for him. I read the words of the woman he had so long abused, "How could he have done all this good," she asked, "when there were such dark things happening behind the scenes?" I read Scot McKnight's call for Willow Creek to answer.
It seemed so surreal to me as I sat in Tohatchi Baptist Church, the loud hum of the window units filling the air. I looked at the chairs stacked against the walls. They soon would be filled with local, mostly Navajo (or, as they call themselves, Diné) Christians.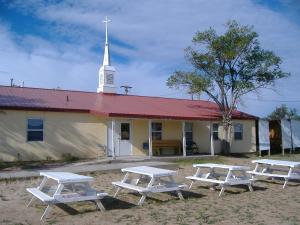 The resources of churches like Willow Creek are unimaginable here.  Like the widow in Luke 21, the people in Tohatchi give from their hearts, not from their wealth. They can't worry about peeling linoleum and doors that don't shut properly because they need to concentrate on caring for the elderly and feeding the children. They can't idolize their pastor, because they don't have the technical equipment to record his sermons and upload digital downloads. When they want to see their pastor, they have to do it at the church or his nearby home after work hours, because he doesn't have a beach home, private jet, or luxury yacht.  Their pastor has to work a separate job during the week so that he can help support his family. He doesn't have  food served to him by a personal assistant. When the members of Tohatchi Baptist interact with the pastor, there isn't a large stage separating them. There is no personal assistant or body of elders serving as gatekeeper. There definitely is not a coloring book featuring the pastor as a super hero. The pastor is loading his own pickup truck and handing out backpacks right alongside his church members. And, like his church members, no one is reimbursing his expenses.
In 2014, George Barna spoke about a study he was conducting on conservative American pastors. He found 5 factors that the pastors consistently used to rate the success of their church: attendance, giving, number of programs, number of staff, square footage. According to these measures—Willow Creek is wildly successful. Tohatchi Baptist Church is wildly unsuccessful.
Except it isn't. The smile on the little girl's face as she hugged my knees spoke volumes about the success—the true success—of Tohatchi Baptist Church.
I find Barna's insight about these five measure of success—attendance, giving, number of programs, number of staff, square footage–rather interesting. He said, "all of these things are good measures, except for one tiny fact: Jesus didn't die for any of them."
As I laid on my lumpy cot in the multi-purpose sanctuary (did I mention we spent the night there?), I thought a lot about the difference between Tohatchi Baptist Church and Willow Creek. I have been a Christian for thirty-five years. I have been in ministry for twenty-two years. I get the church. I get why middle-class Christians are more comfortable dropping their kids off in a safely protected children's unit that has computers and electronic cards checking you in and out than a small room with stained carpet and only two volunteers. I get why middle-class Christians like comfortable chairs and pretty bathrooms to accompany their well-orchestrated services. I really do understand that there are dedicated Christians serving Jesus at churches like Willow Creek just like the dedicated Christians serving Jesus at Tohatchi. I know this because I was one of them (not Willow Creek, but a similar style church). I get it, but I am becoming less and less comfortable with it.
I am also having more and more trouble understanding why Christians at any church idolize pastors and allow pastors free rein without accountability. As one of my good friends once said, when you build your pastor a privacy suite and give him all the keys, why would you not expect trouble?
The pulpit at Tohatchi points away from the pastor. "Sir, we want to see Jesus."  But when Bill Hybels resigned, his congregation groaned and shouted "No!". When Bill Hybels denied the allegations against him, his congregants stood up and cheered him. His elders rallied around him. When Andy Savage confessed his "sexual incident" with a teenage girl, the people gave him a standing ovation. Despite the outrageous behavior of Mark Driscoll and his clear abuse of his pastoral position, people are still attending his new church and reading his Patheos blog.
Haven't we had enough already?
Pastors, like all Christians, should point to Jesus—not to themselves. Churches should hold pastors accountable—not idolize them as saints.
Give me the churches like Tohatchi any day. At least for the time being, I am done with the Willow Creeks.