Worship was difficult this morning, in the wake of yesterday's mass shooting at Tree of Life Synagogue in Pittsburgh. "He will guard the feet of his faithful ones, but the wicked shall be cut off in darkness…" How lightly the words of Hannah's song fall on the ears of Christians who never need contemplate the need for a security system or armed guard at the doors of their church. "They speak the truth," said our preacher of the words of Psalm 23. "They speak words of comfort and hope." And I wondered if any of those words had come to the lips of men, women, and children terrified for their lives, as their morning was suddenly darkened by the same shadow of death that generations of their ancestors have known.
But we didn't dwell on any of that. The murder of eleven Jews only came up, briefly, in our closing prayers. After all, it was a day of celebration for us Protestants: Reformation Sunday.
Not just any celebration of Martin Luther, this one happened in the ELCA church that we now attend. A church that has a Luther League and a Luther Commons. A church full of graduates of Luther College. A church standing three miles from Luther Seminary, whose faculty provided today's guest preacher and adult Sunday School teacher.
That adult class started last week with a session entitled "Martin Luther: Source of Counsel and Consolation." But all I could think about today were some of the reformer's least pastoral efforts. Here's how the editors of the American edition of his complete works gingerly introduced the most infamous of Martin Luther's writings about the Jewish people:
The fact that Luther, during the last years of his life, wrote treatises harshly condemnatory of the Jews and Judaism is rather widely known. The treatises themselves, however, have not previously been available in English. The publication here of the longest and most infamous of them, On the Jews and Their Lies, will no doubt prove dismaying to many readers, not only because it shows Luther at his least attractive, but also because of the potential misuse of this material. The risk to Luther's reputation is gladly borne, since the exposure of a broader range of his writings to modern critical judgment is an inherent purpose of this American edition. However, the thought of possible misuse of this material, to the detriment either of the Jewish people or of Jewish-Christian relations today, has occasioned great misgivings. Both editor and publisher, therefore, wish to make clear at the very outset that publication of this treatise is being undertaken only to make available the necessary documents for scholarly study of this aspect of Luther's thought, which has played so fateful a role in the development of anti-Semitism in Western culture. Such publication is in no way intended as an endorsement of the distorted views of Jewish faith and practice or the defamation of the Jewish people which this treatise contains.
Written in 1543 and condemned by several other reformers at the time, On the Jews and Their Lies culminates with Luther's "sincere advice": that Christians burn to the ground Jewish synagogues, schools, and homes, take away Jewish prayer books and Talmuds, forbid rabbis to teach, give Jews no safe passage on roads, despoil Jews of their wealth, and force labor on young Jews. "This is to be done," he wrote of his call to terror, "in honor of our Lord and of Christendom, so that God might see that we are Christians, and do not condone or knowingly tolerate such public lying, cursing, and blaspheming of his Son and of his Christians."
If only on this particular Reformation Sunday, I hope that all those who celebrate Luther contemplate this stain on his legacy. "Very few Christian communities of faith," declared the ELCA twenty-five years ago, "were able to escape the contagion of anti-Judaism and its modern successor, antiSemitism." But Lutherans, it acknowledged, "feel a special burden in this regard because of certain elements in the legacy of the reformer Martin Luther and the catastrophes, including the Holocaust of the twentieth century, suffered by Jews in places where the Lutheran churches were strongly represented."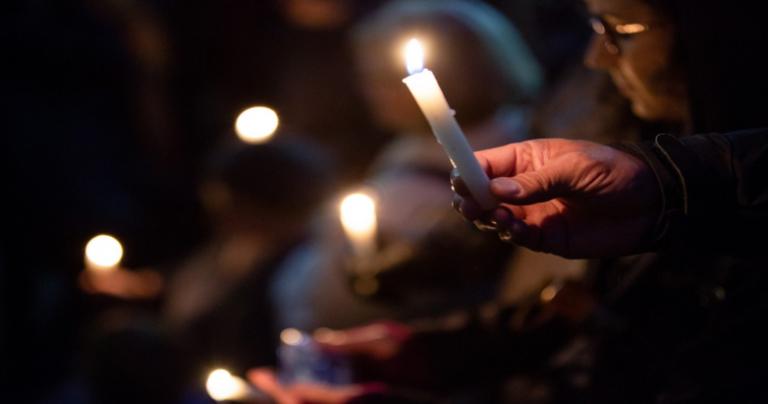 Here's the rest of that declaration, made to the Jewish community in 1993:
The Lutheran communion of faith is linked by name and heritage to the memory of Martin Luther, teacher and reformer. Honoring his name in our own, we recall his bold stand for truth, his earthy and sublime words of wisdom, and above all his witness to God's saving Word. Luther proclaimed a gospel for people as we really are, bidding us to trust a grace sufficient to reach our deepest shames and address the most tragic truths.

In the spirit of that truth-telling, we who bear his name and heritage must with pain acknowledge also Luther's anti-Judaic diatribes and the violent recommendations of his later writings against the Jews. As did many of Luther's own companions in the sixteenth century, we reject this violent invective, and yet more do we express our deep and abiding sorrow over its tragic effects on subsequent generations. In concert with the Lutheran World Federation, we particularly deplore the appropriation of Luther's words by modern anti-Semites for the teaching of hatred toward Judaism or toward the Jewish people in our day.

Grieving the complicity of our own tradition within this history of hatred, moreover, we express our urgent desire to live out our faith in Jesus Christ with love and respect for the Jewish people. We recognize in anti-Semitism a contradiction and an affront to the Gospel, a violation of our hope and calling, and we pledge this church to oppose the deadly working of such bigotry, both within our own circles and in the society around us. Finally, we pray for the continued blessing of the Blessed One upon the increasing cooperation and understanding between Lutheran Christians and the Jewish community.
Now, I don't mean to draw a straight line from Martin Luther to Robert Bowers, the man arrested for yesterday's murders. Abhorrent as it is, Luther's anti-Judaism is different from the racial anti-Semitism that became such a terrible force in the late 19th and 20th centuries — and lives on to make someone like Bowers see Jews as the "enemy of white people." But advocates of the latter hatred have made ample use of the former.
And they still do. What the ELCA declaration called "the appropriation of Luther's words by modern anti-Semites for the teaching of hatred toward Judaism or toward the Jewish people" continues to this day.
If you Google Luther's 1543 polemic, you'll see a link to this version. When I checked just now, it was in the top 75 of Amazon's books on "General History of Religion," keeping company with works by scholars like James Cone, Edwin Gaustad, Diarmaid MacCulloch, and Albert Raboteau. About half of its 126 Amazon reviews give this version of On the Jews and Their Lies five stars. "So accurate," writes one customer, "and so necessary for understanding what is happening in this day & age." Another warns that this particular paperback version has been abridged: "The longer version of the book is much better."
What you'll find on Amazon was reprinted in 2004 by something called Liberty Bell Publications. I first came across its work last year, when I was teaching an adult class of my own at a local church. One of the men who regularly attended brought me a bag of books and asked my opinion; it contained Liberty Bell's version of the infamous anti-Semitic fabrication known as The Protocols of the Elders of Zion, plus two other books written by Holocaust deniers.
The class I was teaching was a history of the Reformation, timed to coincide with its 500th anniversary. The man thought I would be interested in his books because I had mentioned Luther's On the Jews and Their Lies.
---
Incidentally, the translation of Luther's diatribe reprinted by Liberty Bell actually predates the version in the American Luther's Works. It emerged in the wake of the Holocaust, but not for the reasons you might think.
That translation was first published in May 1948 by the Christian Nationalist Crusade, founded by Gerald L. K. Smith, an anti-Semitic Protestant pastor who had served as the 1944 presidential candidate of the America First party. You can find the full text on Archive.org, where you'll read that Smith proposed "to give the reader an accurate translation of Luther's treatment of one of the delicate and dangerous subjects for a public man to discuss—the Jews." He hoped that sharing Luther's bile would reassure American Christian readers that "an alertness to the Jewish problem does not necessarily indicate that the individuals who are alerted are depraved or un-Christian."
See Philip's March 2017 post on "The Forgotten History of 'Christian' Political Activism" for more on Smith and his ilk.