Over the weekend I coordinated a one-day research conference that drew students from a dozen church-related colleges in Minnesota and Iowa. While it was great to hear undergraduates share historical research on everything from civil wars in Yemen and El Salvador to gender roles in ancient Greece and medieval Europe, I was most excited to introduce those students to our keynote speaker: Kent Whitworth, a graduate of David's university who is the new director and CEO of the Minnesota Historical Society.
After some opening remarks, Kent answered questions from students and faculty about the future of public history. It was a timely choice of topic: just this week, the Minnesota state senate voted to slash $4 million from the next two years of the MNHS budget.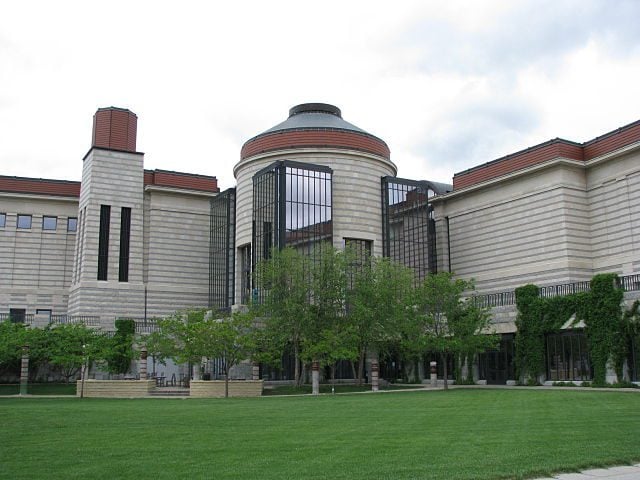 So deep a cut could lead to as many as 80 employees being laid off and visiting hours reduced at MNHS' twenty-six sites around the state. I shudder to think what it would mean for scholars like me, who rely on MNHS for research and may wish to publish with its press and journal. One Democratic legislator warned that so large a cut would "absolutely decimate" a "state gem," but an amendment that would have restored the funding failed.
Now, the Republican-backed proposal is unlikely to get anywhere with the Democratic-controlled state house and Democratic governor (a former social studies teacher). But it's still notable that GOP politicians would urge such a cut to the one of the country's largest state historical societies — a source of considerable prestige and pride for many Minnesotans.
What's going on? I'm sure there are many factors, but the proximate cause seems to be the MNHS decision to add new signs to a 19th century military installation that describe it as "Historic Fort Snelling at Bdote," adding the Dakota word for the site's location at the convergence of the Mississippi and Minnesota rivers.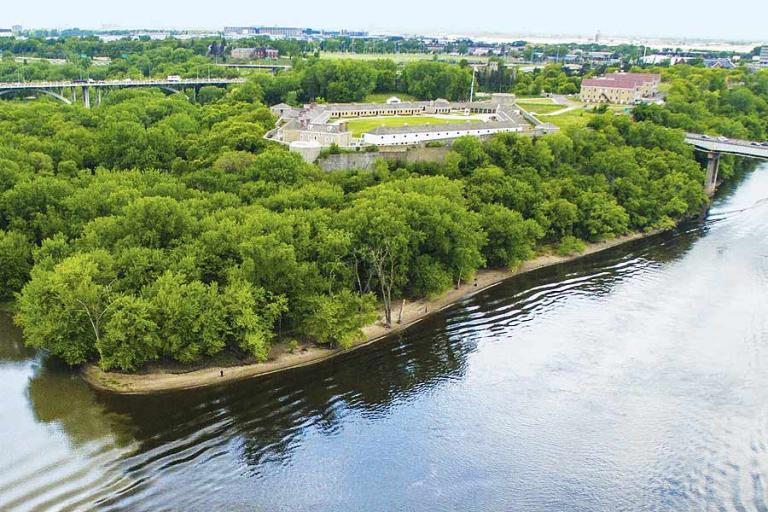 It's not the first such quarrel around Fort Snelling. MNHS hopes to build a new visitor center for the fort's bicentennial in 2020. In tandem with a 2017 push for $34 million in state support, it published Peter DeCarlo's brief book, Fort Snelling at Bdote. Local historian Mary Bakeman complained that the historical society was planning to focus on "a Dakota Indian story that is important but minor in comparison to that larger story of the military." She warned that MNHS was primarily heeding voices "wanting to erase — or at minimum revise — history." In the end, the project received only $15 million in last year's public works bill — and that was $5 million more than Republican state senators proposed.
In a Pioneer Press story on last week's budget vote, Sen. Mary Kiffmeyer (R-Big Lake) called adding "Bdote" to the Fort Snelling sign an example of "revisionist history." (Other reports attributed that comment to Kiffmeyer's GOP colleague, Scott Newman.) Like Bakeman, she was particularly concerned that adding the story of indigenous people in that way would complicate the meaning of a site that can stand in for Minnesotans' participation in America's wars:
Yes, we can add some of those additional pieces of information, but Fort Snelling is about military history, and we should be very careful to make sure that we keep that. It's the only real military history in a very unifying way amongst all Minnesotans. It is our premiere entity for military history.
In his remarks at Bethel on Saturday, Kent was diplomatic, praising the legislators' commitment to public service, and loathe to complain about friction that's an inevitable aspect of his work. "History involves sets of tensions," he quoted Lynn Hunt, "between the local and the global, between our own history and someone else's, between academic and popular forms, and even between past and future. The tensions cannot be overcome; they can only be navigated."
Moreover, Kent rightly emphasized the importance of public historians engaging as much of the public as possible. ("Many voices," says the Fort Snelling website, "many stories.") I don't know that Sen. Kiffmeyer is right that the Bdote sign has actually been "greatly objected to by many people," but it's not unfair to demand that a state historical society consider multiple perspectives as part of a transparent decisionmaking process. In his 1990 book on public history, Michael Frisch emphasized that "scholars and designers need better to respect, understand, invoke, and involve the very real authority their audiences bring to a museum exhibit, a popular history book, or a public program." With "shared authority," he suggested, would arise "a more profound sharing of knowledges, an implicit and sometimes explicit dialogue from very different vantages about the shape, meaning, and implications of history."
But these critics' voices have long commanded an undue share of attention. What's new — and, to them, apparently disconcerting — is that MNHS is trying to share authority with Minnesotans who were long pushed to the margins of the state's story. So the Minnesota History Center has recently featured exhibits dedicated the experiences of Hmong and Somali immigrants to the state. In 2012, MNHS did an admirable job of including indigenous and settler voices in commemorating the 150th anniversary of the U.S.-Dakota War, which started with Dakota raids on European settlements and ended with 1600 women, children, and older men of that tribe interned in a concentration camp at Fort Snelling.
In response to last week's vote, MNHS publicly affirmed its dedication "to telling richer, fuller history, including expanded military stories of soldiers and veterans, Native Americans, enslaved and free African Americans, and women―stories supported by strong historical documentation and research, which help us better understand our state's past and the Minnesota we live in today." The language of "military stories" is very important here, because it brings into relief a basic flaw in the Republican critique.
I'd agree with Sen. Kiffmeyer that Fort Snelling is Minnesota's "premiere entity for military history" (no offense to the Minnesota Military Museum at Fort Ripley), but I'm not sure she grasps the scope and complexity of a field that studies the relationship of warfare to social change, economic organization, intellectual life, cultural expression, religious practice, environmental impact, gender identity, and much more.
I teach classes on World War I and World War II, and I certainly would never describe military history primarily as "very unifying." Not surprisingly, histories of violent conflict are conflicted. They mean many things to many people. For some Minnesotans, a structure that housed generations of American soldiers evokes American exceptionalism and patriotic sacrifice; for others, American empire and white supremacy.
The key is that history is about making meaning of the past. History is not just the accumulation or alignment of facts, but the interpretation of such information. It is inevitably controversial, for interpretation is inherently subjective. It is necessarily conditional, subject to revision on the basis of new insights.
(Mentally underline the words vision and sight in the previous sentence: history requires us to see the past from different points of view. It's one reason I was so energized by Saturday's research conference: younger historians made me see familiar topics differently.)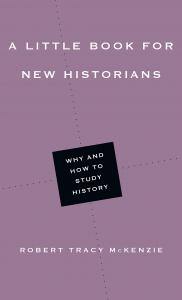 So those alleging "revisionist history" seem blind to the differences between history and, say, nostalgia or heritage. "The past in its pristine purity has not been revealed to us," argues historian Tracy McKenzie, "and history is not the past itself by the result of our efforts to make sense of the past in the ever-changing present…. The discovery of new evidence, the emergence of new questions and the development of new perspectives make revision 'the lifeblood of historical scholarship.'"
The fact that there are often very good reasons for historical revision does not negate the possibility of bad reasons. (McKenzie warns of occasions "when ideologues consciously rewrite history for political ends.") But before anyone levels that charge at an organization like the Minnesota Historical Society, they should be willing to consider the reasons — including their own "political ends" — they hold to their own interpretation of the past.
In particular, Christians should be sensitive to McKenzie's warning that interpretations are subject "to the human finitude and fallenness that define us all." An evangelical Christian who teaches at Wheaton College, McKenzie sees no interpretation of the past as infallible: "It makes no sense to view revision as intrinsically wrong unless we understand history as akin to Scripture, a special revelation delivered once for all to the saints to be guarded and transmitted unchanged across the generations." And no historical interpretation, let alone a name or sign, has that kind of authority.