In December of 1620, the Mayflower Pilgrims began to die. Eighteenth-century Boston minister Thomas Prince informs:
Dec 4 Dies Edward Thompson, Servant of Mr White the first that Dies since their arrival. Dec 6 Dies Jasper, a Boy of Mr. Carver's: Dec 7. Dorothy, Wife to Mr. William Bradford: Dec. 8 James Chilton.[1]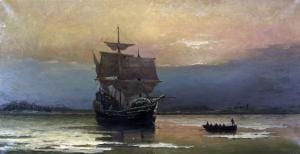 Jasper More was a bastard child, who along with his three siblings was taken in by Pilgrim families. James Chilton was most likely the oldest Mayflower passenger. Having survived an assault by a mob in Leiden, he died less than a month after seeing the tip of Cape Cod.
Given her husband's decades of colonial leadership, Dorothy Bradford's death is the most noteworthy. Prince's source for the above information is what he identifies as "Governor [William] Bradford's Pocket Book, which contains a Register of Deaths &c [etc.] from Nov. 6 1620 to the End of March 1621." In his history of Plymouth Colony, Bradford summarizes the later lives of Mayflower passengers. Of his own family, he said only this: "William Bradford, his wife dyed soone after their arrival; and he maried againe." In his 1702 history of New England, Boston minister Cotton Mather added that Dorothy Bradford "accidentally" fell overboard and "drowned in the Harbour."[2]
In 1869, Pilgrim descendant and Massachusetts author Jane G. Austin (not the English author Jane Austen) penned a rather maudlin short story about William Bradford for Harper's. Spurned by the object of his affections, Bradford settles for a young woman named Dorothy May who is infatuated with him. Just before the Pilgrims leave Holland, news arrives of the death of Edward Southworth, husband to the woman William Bradford once loved and still loves. "And that day she [Dorothy Bradford] began to die," narrates Austin.
Once the Bradfords reach Cape Cod, Dorothy's misery only increases. She is depressed by the frigid landscape that greets the Pilgrims. Meanwhile, her husband speaks of Alice in his dreams, and Dorothy dreams of her baby left behind in Leiden, fearing that it is dead and hoping to be reunited with it in heaven. "I wonder," she writes in her journal, "if I could win there [heaven] if I took my life in mine own hand, and so went begging entrance." She wonders if William will be sorry once she is dead. "God forgive me the awful thought, and yet—" The journal breaks off.[3]
Except for the fact that William Bradford did marry Alice Southworth some three years later, Austin's tale has no more historical value than Henry Wadsworth Longfellow's The Courtship of Miles Standish, which narrates a love triangle involving Standish, John Alden, and Priscilla Mullens. It's a fanciful fiction. As George Ernest Bowman observed many decades ago, Edward Southworth was still alive when Bradford and his fellow separatists sailed on the Mayflower.
Nothing wrong with a fun story, of course. Austin, however, skillfully lent her fiction a veneer of historical fact. "Had not other papers remained," she explained, "some precious letters, and a few leaves of a private diary in the faint and timid manuscript of a woman – this story had never been written, or had been based upon mere imaginings, instead of saddest and most undoubted fact." In addition to the extended quotation from Dorothy Bradford, Austin referenced "the journal of William Bradford" and included an epistolary exchange between the governor and Alice Carpenter Southworth. In keeping with a work of fiction, these sources do not exist. Again, nothing wrong with such literary conventions. However, because Austin deployed her fictitious sources so effectively, her explanation of Dorothy Bradford's death gained credence. As Bowman reports, "her deliberate insinuation that Dorothy (Mary) Bradford took her own life was accepted by the great majority of readers as a positive assertion that the death was a suicide."[4]
Readers are one thing. Professionally trained historians are a different matter. Strangely, though, even as historians have chipped away at many myths surrounding the Pilgrim story, they have regurgitated and reworked Austin's fiction. For instance, Samuel Eliot Morison speculated that Dorothy Bradford "took her own life," having "grown faint and sick when [she] first beheld that wild-looking northern land, so different from the green and cultivated England they had left." [5]
A half-century later, Nathaniel Philbrick was a bit more cautious, noting that Austin's "article" was "a fabrication." At the same time, he notes that "just because Austin misrepresented the facts does not eliminate the possibility that Dorothy Bradford killed herself." It is a possibility entirely undocumented in the historical record. If the wife of Plymouth's future governor had killed herself, surely the colony's critics would have circulated rumors of her suicide. It's not that Austin misrepresented the facts. She made them up! Philbrick notes W. Sears Nickerson's support for the idea and adds sources that point to the "psychic trauma of the immigration experience." There is no evidence that Dorothy Bradford suffered from such trauma.[6]
Cotton Mather clearly states that Dorothy Bradford fell overboard and drowned. Is it far-fetched that an individual weakened by scurvy, poor nutrition, and exposure could accidentally fall and drown? The weather had turned bitterly cold by early December. Why not accept the documented explanation rather than a reason invented for a work of fiction? If the wife of Plymouth's future governor had killed herself, the colony's critics would have circulated rumors of her suicide. Thomas Morton would surely have included the fact in his bitterly anti-puritan and anti-separatist New English Canaan. Is it possible that Dorothy Bradford took her own life? Yes, and it's also possible Rose Standish pushed her to her watery death.
Why, then, has Austin's conceit stuck? One reason is a genuine desire to know more about the women of the Mayflower. At least we know the name of William Bradford's first wife and something about her parents. The given name of James Chilton's wife remains unknown, although historians have discovered her involvement in the Sandwich, England, separatist movement. It is a frustration that the Mayflower women remain so much less well documented than the male Pilgrims.
When I discussed Dorothy Bradford with Donna Curtin, the executive director of Pilgrim Hall, she gave me another idea. The idea that Dorothy Bradford would grow weak and melancholic at the sight of a bleak landscape very much fit with notions about the emotional fragility of women. Had an author invented James Chilton's suicide, for instance, the idea would have gained less traction. All the more reason for historians to stop regurgitating the story!
It is difficult, though, to introduce the idea without planting it in the minds of readers. Therefore, I decided to relegate Austin's fiction to the endnotes in my forthcoming history of Plymouth Colony. Diligent readers might find it, and if they do, I hope they notice that I place no stock in the fiction that Dorothy Bradford killed herself.
[1] Thomas Prince, "New England Chronology," in A Chronological History of New-England In the Form of Annals . . . (Boston: Kneeland & Green, 1736), 76
[2] Magnalia, Book II, 4.
[3] Austin, "William Bradford's Love Life," Harper's New Monthly, June 1869, 135-140.
[4] George Bowman, "Governor William Bradford's First Wife Dorothy (May) Bradford Did Not Commit Suicide," MD 29 (July 1931): 97-102.
[5] Samuel Eliot Morison, ed., Of Plymouth Plantation (New York: Knopf, 1952), xxiv.
[6] Philbrick, Mayflower: A Story of Courage, Community, and War (New York: Penguin, 2006), 77, 379-380.