Next week Baylor's fall semester begins. Courtesy of the pandemic, stress among both students and professors is higher going into this school year than into any other one in recent memory. Nevertheless, I am excited to return to teaching. One of my favorite things to do at Baylor is offer my biennial graduate course "Women, Gender, and Sex in American Religious History"—and this semester is the lucky one out of four!
Every time I teach the course, I rotate about one third of the readings so as to include a sample of recent work in the field. Below are this year's five new books. I look forward to discussing them with my students!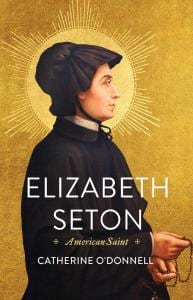 Catherine O'Donnell, Elizabeth Seton: American Saint (Cornell, 2018)
Seton, a Catholic convert, was the first native-born American citizen to be canonized as a saint in the Roman Catholic church. This biography illuminates both the richness of Seton's individual life and her significance as founder of a religious order and pioneer of the system of Catholic parochial schools in the United States.
Tracy Fessenden, Religion around Billie Holiday (Penn State, 2018)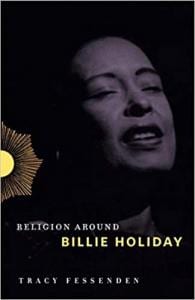 This biography of the jazz singer most famous for "Strange Fruit" examines "the spiritual and religious forces that left their mark on the performer during her short but influential life." Fessenden interweaves her narrative with the history of race, gender, Catholicism, black Protestantism, Pentecostalism, and Judaism.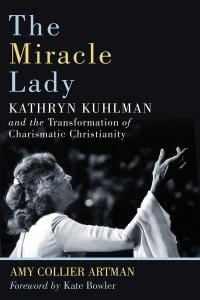 Amy Collier Artman, The Miracle Lady: Kathryn Kuhlman and the Transformation of Charismatic Christianity (Eerdmans, 2019)
The Miracle Lady recovers the life of a female charismatic preacher who was nearly as famous in the mid twentieth century as Billy Graham—but whom few know anymore. Artman uses Kuhlman's life to trace both the rise of charismatic Christianity in America as well as the challenges faced by female religious leaders.
Kristin Kobes Du Mez, Jesus and John Wayne: How White Evangelicals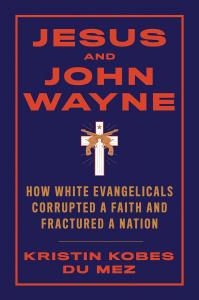 Corrupted a Faith and Fractured a Nation (Liveright, 2020)
Jesus and John Wayne is "a sweeping account of the last seventy-five years of white evangelicalism, showing how American evangelicals have worked for decades to replace the Jesus of the Gospels with an idol of rugged masculinity and Christian nationalism." Du Mez argues that white American evangelicalism is better understood through its popular culture than through its formal theology. The book seeks to demonstrate "that Donald Trump in fact represents the fulfillment, rather than the betrayal, of white evangelicals' most deeply held values."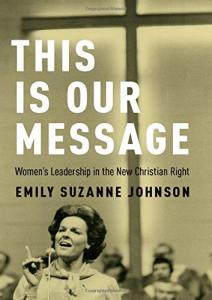 Emily Suzanne Johnson, This Is Our Message: Women's Leadership in the New Christian Right (Oxford, 2019) 
Johnson puts women back into the narrative of the rise of the Religious Right, which has historically focused on men. Specifically, she examines the "lives and work of four well-known women—evangelical marriage advice author Marabel Morgan, singer and anti-gay-rights activist Anita Bryant, author and political lobbyist Beverly LaHaye, and televangelist Tammy Faye Bakker."