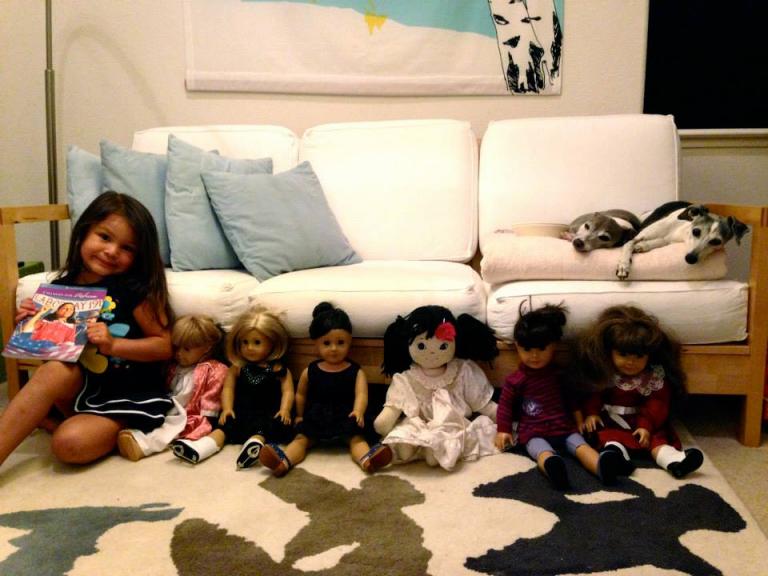 In case the popularity of Stranger Things and Cobra Kai and the renewed appreciation of Phil Collins' iconic drum solo in "In the Air Tonight" hasn't made it clear, the 1980s are in right now. And, riding this wave of nostalgia for the Era of Extravagant Bangs, American Girl just released its newest historical character this week: Courtney, a California girl who lives in 1986. She loves Pac-Man, Care Bears, and belt bags, and her hair is indeed glorious.
These features highlight one of the most compelling aspects of the American Girl books—their attention to historical detail. Although its books are meant for children, American Girl wins praise from many scholars for nuanced, carefully researched stories. Professional historians often serve as consultants. For example, when American Girl created the books about Melody, a Black girl living in Detroit in 1963, the series advisory board included the historians Tom Sugrue of New York University and Gloria House of the University of Michigan-Dearborn. The American Girl books address a variety of political, social, and cultural themes in American history, without shying away from difficult topics such as slavery, women's rights, and labor exploitation, and the characters are racially, geographically, and culturally diverse. "American Girl attempts to reflect a complicated and culturally rich story of America," observed Marcia Chatelain, a historian and African American studies scholar at Georgetown University.
American Girl offers a complicated and culturally rich portrait of American religion, too. Stories about religious beliefs, rituals, and institutions appear throughout many of the books. For example, Rebecca, a Jewish girl growing up on the Lower East Side of Manhattan in 1914, confronts the "December Dilemma" and wants to celebrate Hanukkah at the same time that she faces pressure at school to assimilate to Christian culture. Kirsten, a Swedish immigrant girl living in Minnesota in 1854, celebrates Saint Lucia Day, an example of how immigrant communities preserve their ethnic identities through home-based religious rituals. And Cecile and Marie-Grace, two girls living in New Orleans during the yellow fever epidemic of 1853, work with nuns at Catholic-run orphanages, attend Mass at Saint Louis Cathedral, and find solace and strength through regular prayer and hymn-singing as their community mourns the death of loved ones.
Since the Courtney dolls only appeared in stores this week, I haven't yet had a chance to read the Courtney books, but the American Girl website makes clear that Courtney's interests reflect the cultural, technological, and political developments of the decade. She plays video games, spends time at the mall, follows news about the Challenger launch, and has an ambitious mother who is running for mayor. But what about the religious developments of the period? As I reflect on how well American Girl engages in religion in books set in other times and places, I wonder about the possibilities for a character living in the 1980s. What were the key religious developments of this period, and how might they show up in the stories about Courtney, a Southern California girl living in 1986?
I posed this question to a few colleagues who study religion in the late twentieth century, and they generously shared their ideas for potential themes and stories, written in the form of blurbs. I'm not sure if American Girl will pursue any of these ideas, but perhaps an enterprising fan fic writer on the internet will.
Meet Courtney, a Conservative Pentecostal Girl Who Just Wants to Have Fun
Christopher Cantwell, a historian and scholar of American evangelicalism at the University of Wisconsin, Milwaukee, proposed a story that imagines Courtney as a girl immersed in the world of California-style conservative evangelicalism:
Courtney loves music, video games, and Bop Magazine, but her parents love the Lord. Her dad is a pastor of a local Calvary Chapel church, where her mother also helps lead the local praise band. Though the congregation's services are charismatic and the music upbeat, the church is suffused with an old-time religion. Many in the church are hopeful that famed televangelist Pat Robertson will heed the call of other charismatic and Pentecostal Christians and run for President in 1988 in order to restore the nation's morality. While Courtney just wants to be herself, her church sees her attire and musical tastes as a 'stumbling block' on the nation's path to purity. How will she navigate the tension between her family's insular community and her desire to be a part of the world?
Courtney—who lives in the fictional town of Orange Valley, California, which appears to be based on communities in Southern California—lives in a part of the country that was a hotbed of political and "relevant" evangelical conservatism in the late twentieth century. (Darren Dochuk and Lisa McGirr wrote about these intertwined religious and political developments.) By 1986, the Moral Majority was on its way out, and charismatic Pentecostalism was on the upswing, building to Pat Robertson's 1988 presidential bid. The Calvary Chapel, which was founded in Orange County in 1965, was growing exponentially in 1980s, and Rick Warren's Saddleback Church was founded there in 1980, as well. Living in 1986 in Southern California, Courtney might be part of the powerful evangelical subculture that emerged in this region and that would eventually shape the political and religious life of the nation as a whole.
Meet Courtney, a D& D Player (and Possible Devil Worshipper)
Emily Johnson, a historian of religion, politics, and culture at Ball State University, proposed a story that imagines Courtney as a girl accused of being drawn into a Satanism:
Courtney has been best friends with Sarah for as long as they can both remember. They have a secret handshake and a secret fort in the woods behind Sarah's house. Courtney sometimes goes to youth group at Sarah's church and loves the games they play on Friday nights. In the summer before 6th grade, a new girl moves next door to Courtney and introduces her to a fun game called Dungeons and Dragons. Courtney invites Sarah to play and is surprised by Sarah's reaction! Sarah says that Courtney has given her soul to the devil and refuses to speak to her if she keeps playing. Courtney is confused an hurt; she doesn't want to have to choose between her two friends. Is it possible she really is possessed by Satan?
Johnson, who is currently writing a book on the history of Satanism and the moral panics surrounding it, calls attention to a fascinating religious development of the 1980s: the "Satanic Panic" that gripped America during this period.
Some of the most intense outbursts of Satanic Panic emerged in California in the 1980s. In Kern County, unsubstantiated accusations of Satanic rituals that involved the sexual abuse of children sent 26 people to jail between 1984 and 1986. In Manhattan Beach, parents accused preschool teachers of Satanic ritual abuse in 1983, and the ensuing investigations and trials lasted until 1990. (In the end, all of the charges were dropped.)
The popular culture of the 1980s reflected Americans' fear of and fascination with Satanism. Take, for example, the role-playing game Dungeons and Dragons. Some Christian groups believed the game promoted devil worship and witchcraft, and one mother, Pat Pulling, blamed her son's suicide on the game. Pulling founded the organization "Bothered About Dungeons and Dragons" in 1983 and was successful enough in bringing national attention to her accusations that she appeared on 60 Minutes in 1985. Later in the decade, Devil Worship: Exposing Satan's Underground, a documentary by Geraldo Rivera, found an eager audience and record television ratings.
Meet Courtney, a Compassionate AIDS Activist
Anthony Petro, a scholar of religion, gender, and sexuality at Boston University, proposed a story that imagines Courtney as a girl from a conservative religious family that struggles to navigate the AIDS crisis:
Courtney's family belongs to the Baptist Church down the street. Her fun uncle used to join her family for Sunday services and even sang in the choir, but lately says he's been feeling ill and doesn't want to attend because he doesn't like the pastor. Courtney misses the times they'd dress up and dance around to Madonna and Prince songs, but now her parents won't even let her visit her uncle's apartment. One day, she finally asks her parents, 'when do we get to see Uncle Tommy again?' They ignore her question and ask her to finish getting dressed for church. Years later, when Courtney goes off to college in NYC, she joins the feminist group WHAM! and becomes a leader in sexual and health rights activism.
Petro, who wrote about religious responses to AIDS in his book After the Wrath of God: AIDS, Sexuality, and American Religion, points to two related developments in 1980s America: the AIDS epidemic and the culture wars over sex and morality. During this period, religious leaders and AIDS activists shaped national debates over sexual morality and public health, and the emergence of AIDS prompted American Christians across denominations and political persuasions to speak publicly about sexuality, especially homosexuality. Their efforts fostered a moral discourse on sex that spoke not only to personal concerns but to anxieties about the health of the nation. These debates would have a profound impact on future generations.
Meet Courtney, a Caring Friend in an Interfaith World
Samira Mehta, a gender studies and Jewish studies scholar at the University of Colorado, Boulder, proposed a story that imagines Courtney as a girl growing up in a religious world where interfaith families and friendships are common and where the meaning of being Jewish is changing:
Courtney and Rachel have always been good friends. Courtney has always spent Rosh Hashanah dinner with Rachel's family, and Rachel's family has always come over on Christmas eve because her mom misses having a Christmas tree. But now, Rachel is starting serious Hebrew school, and some of the other kids are saying that, because her mom is not Jewish, neither is she! Courtney does not know the rules (you do not need a Presbyterian mom to be Presbyterian) and does not know how to help Rachel, but it is really sad to see her friend so sad. How can she help?
Mehta, who wrote about the history of Jewish-Christian interfaith families in her book Beyond Chrismukkah, explains that a child who was born in 1978 to a Jewish father and a non-Jewish mother would not have been considered Jewish by the largest Jewish movements in the United States because interpretations of Jewish law at that time held that Judaism is passed down through the mother. That changed in 1983, when the Reform movement, the largest Jewish movement in the United States, decided to accept both patrilineal descent and matrilineal descent. Under these new rules, children counted as Jewish as long as they had one Jewish parent and a Jewish education. Courtney's friend Rachel would have counted as Jewish for the Reform movement and the much smaller Reconstructionist movement, but not for other Jews and not for the Nation State of Israel. Even in the Reform movement, however, this policy was controversial, and while it was accepted formally, there was plenty of "on the ground" talk about "patrilineal Jews not really being Jewish."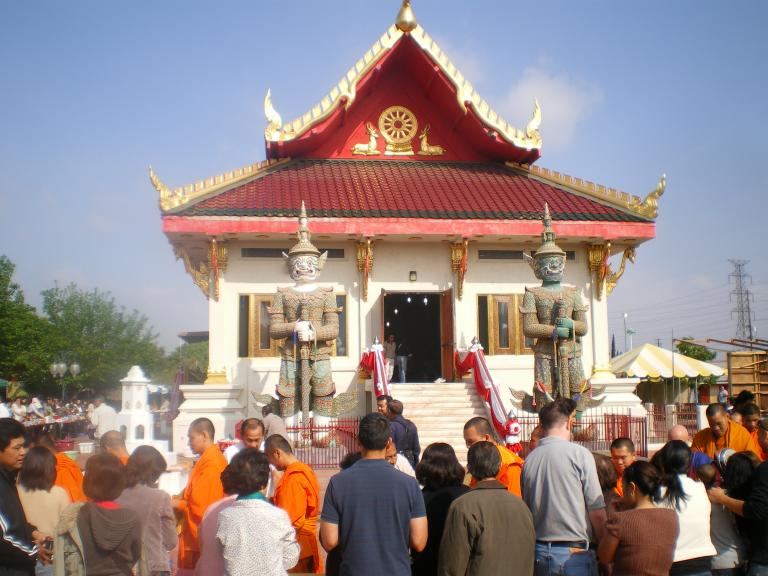 Meet Courtney, an Advocate for Refugees and Religious Pluralism
I couldn't resist the opportunity to write my own blurb, since my current book project about Southeast Asian refugee resettlement addresses how the arrival of new immigrants and refugees during the 1980s transformed the ethnic and religious demographics of Southern California and the United States as a whole:
A few years ago, Courtney's church decided to sponsor a Vietnamese refugee family for resettlement. Since then, many refugees from Vietnam have arrived in Courtney's town, and for the most part, people have welcomed them—until the Vietnamese refugees in her town begin to organize efforts to build a Buddhist temple. Many of her neighbors become upset and angry about the temple, and Courtney, who doesn't know anything about Buddhism, admits that their beliefs and rituals seem strange to her. But when vandals deface the temple attended by Tran, her Vietnamese friend, Courtney must confront an important question: what does it mean to be a good neighbor?
The last quarter of the twentieth century saw significant changes in the American immigrant population. In contrast to earlier in the twentieth century, when most immigrants came from Europe, the 1970s and 1980s saw many more Asian immigrants and refugees, who migrated because of changing immigration policies in the United States, as well as war, political turmoil, and limited economic opportunity in Asia. These Asian immigrants and refugees changed the ethnic, racial, and religious composition of American society, and it was because of them that the United States became home to unprecedented numbers of Buddhists, Hindus, Muslims, and more. These demographic changes were felt most acutely in California, which became home to many Asian immigrants and Southeast Asian refugees.
This new religious diversity was not always welcome, though, and some Americans reacted angrily, and even violently, to the presence of new racial and religious groups. Southeast Asian refugees, in particular, experienced harassment, vandalism, and other hate incidents because they were seen as an economic, cultural, and national security threat. In some places, violence erupted. In Texas, for example, the KKK skirmished with Vietnamese fishermen in the early 1980s, and in 1989, a man in Stockton, California, opened fire on the busy playground of Cleveland Elementary School, where he killed five people and injured thirty others. Nearly all of his victims were Southeast Asian refugees. (An important side note: hostility against Asian Americans is once again on the rise, as Asian people are being scapegoated for the coronavirus. If you or somebody you know experiences a hate incident, please report it to the Stop AAPI Hate Reporting Center.)
Although the 1980s saw terrible acts of hate against Asian Americans, personal relationships across boundaries of racial and religious difference did mitigate animosity. Many Christian and Jewish groups helped to sponsor and resettle Southeast Asian refugees, and they served as important local allies when refugees faced racist hostility from other members of the community. These refugee-sponsor relationships also provided people an opportunity to learn about different religions and to try to put new ideals of religious pluralism into practice.