Did you vote as you pray on Election Day,
Or like a cringing coward did you sneak away,
Leaving all the bums and rummies there to win the fray?
I voted that way.
Today I'm sure all American Christians would like to meet the expectations of that obscure temperance hymn and vote as they pray — that is, like they pray, consistent with their most deeply held principles. ("That way," in 1916, being "for Prohibition" and "the barroom's abolition.") But let's be honest: we all struggle to reconcile our politics to our faith, whichever candidate or party we prefer. So this Election Day, I hope we also pray as we vote — that is, while we vote.
First, for our leaders — those now in office and those who may succeed them. As I've noted here before, the biblical exhortation to pray "for Kings and all those who are in authority" was even honored by Roman Christians, sometimes on behalf of the same rulers who persecuted them. There's no reason we shouldn't do likewise, even if our political context is radically different from theirs.
But we should also think about that radical difference. Whether you want to think of the United States as a democracy or a republic, the people are ultimately "in authority." So I'd argue that a passage like 1 Timothy 2:2 chiefly means that we should pray for each other, for fellow citizens whose votes decide which women and men will temporarily exercise constitutional powers.
Above all else today, American Christians seeking to pray while they vote should pray for voters. "Lord God," begins one prayer in our church's hymnal, "you call your people to honor those in authority. Help us elect trustworthy leaders, participate in wise decisions for our common life, and serve our neighbors in local communities."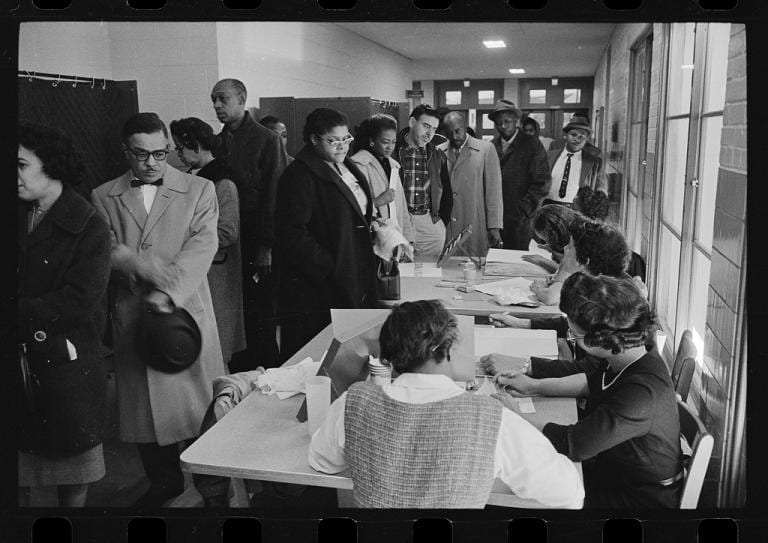 Perhaps such prayers come easily to your lips. But as I've aged, I've learned to accept the help of history, from those who wrote prayers in the past.
For example, in a year that we both mark the 100th anniversary of the 19th Amendment and realize how difficult it still is for many Americans to cast a ballot, we'd do well to start our election prayers as Presbyterian pastor Peter Marshall once did. In the aftermath of World War II, the U.S. Senate chaplain asked Jesus "to guide the people of this nation as they exercise their dearly bought privilege of franchise. May it neither be ignored unthinkingly nor undertaken lightly."
But lest we take today's decision too seriously, we might also echo Stanley Hauerwas' Clinton-era petition that God would "help us laugh at ourselves" and so dispel the illusion "that we can rule ourselves by selecting this or that person to rule over us."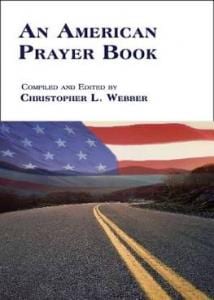 Hauerwas' and Marshall's are two of the prayers in the Election Day chapter of An American Prayer Book, edited by an Episcopal priest named Christopher Webber. His denomination, of course, has inherited the greatest English collection of written prayers, The Book of Common Prayer. Its first American version suggested that Episcopalians pray for Congress ("that all things may be so ordered and settled by their endeavours, upon the best and surest foundations, that peace and happiness, truth and justice, religion and piety, may be established among us for all generations") and for the restoration of public peace ("We bless thy holy Name, that it hath pleased thee to appease the seditious tumults which have been lately raised up against us"), but not for voters. (Not that there were too many of them in 1789.) Five years after the 1928 BCP came out — with those same prayers for Congress and public peace — a supplemental set of "Services of Praise and Prayer for Occasional Use in Churches" included this petition:
Almighty God, the fountain of all wisdom, guide and direct, we humbly beseech thee, the minds of all those who are called at this time to exercise the responsible duty of electing fit persons to serve in the government of this nation. Grant that the effect and right issue of their choice may promote thy glory and the welfare of this people; and to all those who shall be elected, give, we pray thee, the spirit of wisdom, courage, sympathy, and true godliness. And this we ask for the sake of our Lord and Saviour, Jesus Christ. Amen.
The current BCP of the Episcopal Church includes a shorter prayer for elections: "Guide the people of the United States in the election of officials and representatives; that, by faithful administration and wise laws, the rights of all may be protected and our nation be enabled to fulfill your purposes." Meanwhile, the new BCP for the conservative Anglican Church in North America echoes the older prayer more closely: "Guide and direct, we humbly pray, the minds of all those who are called to elect fit persons to serve [in _______]. Grant that in the exercise of our choice we may promote your glory, and the welfare of this nation."
If you're looking for election prayers this year, you can also find excellent models from the U.S. Conference of Catholic Bishops (for both before and after the vote) and the evangelical humanitarian organization World Vision. Let me just close with my own attempt at a prayer for the 2020 election:
O Lord, help us to feel the weight of this moment: the recollection that our right to vote was earned in struggles past and the awareness that it is denied too often in the present; our anticipation of what hinges on the decisions we make together and our expectations for the difference this election can make in our lives, and those of the neighbors and enemies you call us to love.
But in your mercy, release us from the burdens we bring to the polling place: the doubt that any single vote really matters; the uncertainty that imperfect people and flawed processes can ever bring justice and peace to this or any land; the arrogance that makes us dismiss the concerns of those who disagree with us; the fear that our nation and its institutions are simply not up to the task before them.
Give us gratitude for the rights and responsibilities we exercise today, wisdom to make the difficult choices before each of us, hope for better times for this country and all the world, and assurance that you will love and preserve us through it all. Amen.