The latest scandal to rock American evangelicalism is more of the same but with a fresh, updated feel. James MacDonald, Paige Patterson, Mark Driscoll, and Bill Hybels, to name just a few evangelical pastors caught up in abuses of power, feel so 2010s and downright frumpy compared to the glitz and glamour surrounding the recent downfall of Hillsong pastor Carl Lentz.
In a vividly detailed story that graced the front page of the New York Times this past Sunday, Ruth Graham recounted the rise and fall of the anything-but-frumpy Lentz. It was while on a sojourn to Australia that the former college basketball player came under the direction of Hillsong's founder, Brian Houston. Lentz then went on to help found Hillsong's New York church and East Coast branch. Lentz embodied the Hillsong brand. He "was known for his look: tattoos, edgy glasses and not just style but fashion": a "Saint Laurent leather jacket, ripped jeans and a low-cut T-shirt," and a Rolex. Often spotted in the company of his close friend and mentee Justin Bieber, Lentz himself was a celebrity worthy to minister to celebrities like Bieber, Selena Gomez, and Kevin Durant.
As is often the case in such situations, revelations that Lentz had been having an affair resurfaced previous allegations. In 2017, a volunteer had brought rumors of Lentz's "inappropriate" behavior to the attention of church leadership. Her concerns, however, were "brushed off" and she was soon deemed "unfit for leadership" and removed of her volunteer leadership responsibilities.
The church's response to Lentz's indiscretions is a textbook case of circling the wagons and protecting the brand. Lentz's celebrity profile, New York address, and possibly also a dose of Schadenfreude helped make the story front-page news, but this is nothing new in the world of American Christianity, a fact made abundantly clear in Scot McKnight's and Laura Barringer's important new book A Church Called Tov.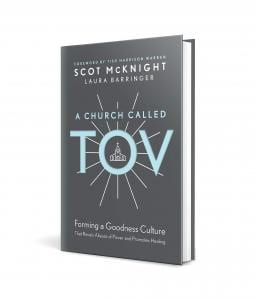 Inspired by the shocking allegations against Chicago megachurch pastor Bill Hybels that came to the public's attention in 2018, McKnight and Barringer offer a compact, lucidly written critique of the religious cultures that foster abuses of power. But theirs is not principally a work of deconstruction. Instead, they offer a guide for churches and communities seeking to guard against these abuses—to churches seeking to cultivate "a goodness culture that resists abuses of power and promotes healing."
Drawing on the Hebrew word tov, which connotes a wholistic sense of goodness, McKnight and Barringer show how tov nurtures empathy and grace and drives out fear. Unlike Lentz's Hillsong church that operated under a "hierarchy of coolness"—a practice members themselves recognized as "the opposite of the gospel"—a church formed around tov is at its heart anti-hierarchical. It is a church that puts people first, recognizing all people as made in the image of God. And it is one that fosters truth-telling, even when—especially when—the truth is inconvenient.
Too often churches suppress truth in the name of "brand protection" or in order to protect the church's "witness." Too often churches ask victims and their supporters to stay quiet, "to maintain the 'dignity' of silence." But as McKnight and Barringer point out, it is the perpetrators who want the truth covered up; those who have been abused want the truth to be told. For those who do come forward, however, the cost is often steep.
Barringer and McKnight describe the distressing experience of Vonda Dyer, one of the women who went public with details about Bill Hybels's indiscretions. Dyer hadn't wanted to do so, she recounted, but only did for the sake of the church that she loved, "even if it meant losing everything." And, she added, "Some days it feels as though I almost have. Coming forward was the hardest, most challenging, painful, life-altering decision I have ever had to make. What it has cost me is immeasurable." Dyer's own church first refused to believe her and the other women who shared their stories, and engaged in bullying, character assassination, and slander. "I did not know how crushing it would be to come forward," she reflected.
Yet Barringer and McKnight insist that speaking publicly in this way is "prophetic action." The prophets, they remind readers, "were not called to conference rooms or offices or the local coffee shop to converse and reconcile. They were called to the platform of public proclamation." Attempts to suppress the truth, they maintain, are "profoundly unbiblical."
Truth must be confronted unflinchingly. Quoting James Baldwin, they write: "Whoever cannot tell himself the truth about his past is trapped in it…unable to assess either his weaknesses or his strengths, and how frequently indeed he mistakes the one for the other." How frequently indeed.
For a church to be a place where the truth is proclaimed, it must be a church that pursues justice rather than loyalty to the leader. Too many pastors have placed a premium on loyalty, but a church pursuing a goodness culture "will be filled with courageous people who do the right thing," people who aren't afraid to take hits and go against their leaders. A church where a goodness culture prevails is also a church oriented around service rather than celebrity. Rather than focusing on leadership it is a church that cultivates followers of Christ—a Christ who, in the words of the apostle Paul, "being in very nature God, did not consider equality with God something to be used to his own advantage; rather, he made himself nothing by taking the nature of a servant, being made in human likeness. And being found in appearance as a man, he humbled himself by becoming obedient to death—even death on a cross!"
Lest the focus on Bill Hybels or James MacDonald or, as of this past week, Carl Lentz, mislead readers, Barringer and McKnight make clear that neither the size nor the prominence of the church makes a difference in this equation. "What matters is the size of the pastor's ego." But this isn't just a problem of outsized egos. The crisis pertains to an entire religious culture.
Barringer and McKnight remain focused on dynamics within churches, but there are broader implications of the toxicity that they describe, a toxicity that has come to characterize significant swaths of American Christianity. A Church Called Tov released just four weeks before the 2020 election, and it's difficult not to ponder how different our political landscape might look if more American Christians sought to cultivate in themselves and their communities this culture of goodness. If more Christians were known for their unflinching commitment to the truth, even when that truth comes at a cost. For their empathy and grace. For their refusal to succumb to fear and their refusal to pledge fealty to a charismatic leader. For the courage to speak prophetically and love selflessly.
Although these actions may not end up being touted on the front page of the New York Times, they would undoubtedly have a more profound and lasting relevance. Barringer and McKnight have given us the gift of imagining a different way.