This is a lightly revised post from last summer, placed where it belongs, at Eastertide.
One of my newly favorite Easter season texts is Rudyard Kipling's concise and poignant short story, "The Gardener." If you've never read it, it doesn't take long, but perhaps refresh your memory of John 21 first.
"The Gardener" narrates the grief and anguish of an Englishwoman named Helen Turrell, who for years has pretended that her out-of-wedlock son, christened Michael, is really her nephew. The secrecy surrounding his birth muddies their relationship. Michael is only allowed to call Helen "Mummy" at bedtime.
Michael enlists during the early months of the Great War, and after a few safe postings, finds himself at Ypres. With economy, Kipling narrates his death: "just after Michael had written Helen that there was nothing special doing and therefore no need to worry, a shell-splinter dropping out of a wet dawn killed him at once." A wall collapses on his corpse, which leaves him unaccounted for, missing.
It is Helen's relationship with the dead Michael rather than the living that is the marrow of this story, however. After the armistice, Michael's corpse is found and interred in a military cemetery. Helen goes to visit.
When she reaches Hagenzeele Third Military Cemetery, she looks out at the "merciless sea of black crosses" of its twenty-one thousand dead. Even with the information she has received about the location of Michael's grave, she struggles to find it. She sees a man, "evidently a gardener, for he was firming a young plant in the soft earth." He rises up when she approaches him: "Who are you looking for?"
"Lieutenant Michael Turrell – my nephew", said Helen slowly and word for word, as she had many thousands of times in her life.
The man lifted his eyes and looked at her with infinite compassion before he turned from the fresh-sown grass toward the naked black crosses.
"Come with me", he said, "and I will show you where your son lies."
When Helen left the Cemetery she turned for a last look. In the distance she saw the man bending over his young plants; and she went away, supposing him to be the gardener.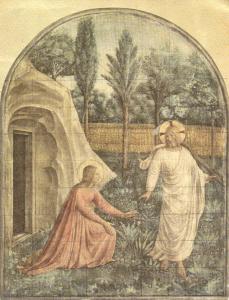 The passage draws on the account of the resurrection in John's Gospel. After Mary Magdalene discovers that the stone has been rolled away from Jesus's tomb, she runs to tell the disciples. Peter and the disciple "whom Jesus loved" race to the tomb and find linen wrappings and a cloth, but no corpse. After the disciples return home, Mary remains, "weeping outside the tomb." She sees two angels and then Jesus, but she doesn't recognize him at first. He asks her whom she is looking for. "Supposing him to be the gardener," she asks him where he has taken Jesus's corpse. When Jesus calls her by name, she finally recognizes him.
Many contemporary readers of Kipling's story would have recognized the allusions, and they probably would have connected Helen Turrell's secrets with the supposed past sins of Mary Magdalene. The Gospel of John does not mention Mary Magdalene until its account of the crucifixion, but for centuries Christians had conflated her with the "sinful" woman who anoints Jesus in the Gospel of Luke. The "gardener" in Kipling's story is at least a type of Christ, signaled at first by the gardener's "infinite compassion," a phrase commonly applied to Christ or God.
The economy of Kipling's ending is also poignant. In the Gospel of John, Mary is filled with joy after her encounter with the risen Jesus. "I have seen the Lord," she reports to the disciples. Readers do not know how Helen reacts to her encounters with either the gardener or her son's grave. She looks back one more time and then simply leaves. Does her trip to the cemetery fill her with long-sought solace? Forgiveness? Can one feel better about oneself, God, or the world when seeing endless rows of graves? We do not know.
The story becomes far more poignant with read in the context of Kipling's own biography. As the novelist Scott Spencer explains, Kipling's own son, John, was turned down when he volunteered for the war because of poor eyesight. The novelist intervened to reverse the decision. The result was John Kipling's death. He was killed in action even more quickly than Michael Turrell. Unlike Michael, his body was never recovered. There was no grave for Rudyard Kipling to visit. In Kipling's "Epitaphs of the War," he wrote: "If any question why we died / tell them, because our fathers lied." Surely Kipling longed for someone to look at him with "infinite compassion."
Kipling's jingoism and support for imperialism contribute to literary scholars assessing him without much compassion at all. Regardless, "The Gardener" is a beautifully crafted story. Some scholars disparage the ending, but it's a thoughtful and understated engagement with the Gospel of John, a reminder that when we seek Jesus, we will find him, if not in the ways we expect.