In 1907, a Mennonite farmer and builder named Ezra King "got the Holy Ghost." He had traveled in a horse-drawn carriage from his home in Hesston, Kansas, to Holiness Bible College in Hutchinson for some revival meetings. Soon after, he wrote in his diary, "I cleaned the stables and finished the garden fence. This eve to prayer meeting at C. Ruff's. Thank God tonight after earnest seeking, and full consecration to God I received the Holy Ghost. Hallelujah." This entry reflected thickening Mennonite connections with a burgeoning holiness movement in the Great Plains.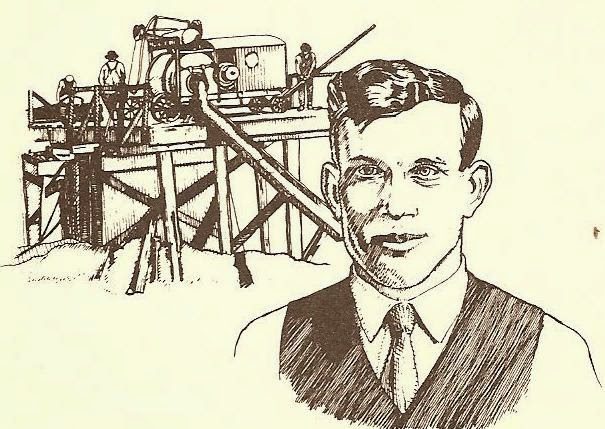 What did this mean for King's peace position a decade later as the Great war loomed? Did he succumb to the Christian nationalism of American Pentecostalism? Though his descendants may have, King did not. He embodied what to our twenty-first-century eyes was a peculiar mix of fiery end-times theology and pacifism. He both yearned for visitations of the Holy Spirit and applied for a draft exemption. Consider the following diary entries:
July 24, 1917: "Quite a few names out in paper, but mine has not appeared yet, thank God."
July 25, 1917: "My name seems to be toward the last in county, something to be thankful for indeed."
August 13, 1917: "Tests are coming on the people of God, but there's a bright side, in the thought that Christ may come any day. Even so come Lord Jesus."
August 15, 1917: "Had a special prayer meeting at JGLs in behalf of some of the men who are drafted. The Local Board seemed to accept by Huby Overholt and that is such a surprise to us."

August 30: Huby Oberholt is exempt from going to war. Thank God for it."
September 16, 1917: "Sermon on holiness in a.m. Missionary talk in p.m."
September 26: At Zooks; heard from Fannie that Irvin had to leave for camp; this awful war, but God's hand is upon this wicked world for their disobedience. May God use Irvin in the salvation of many souls is our prayer."
October 11: "Irvin received exemption certificate from the district board. Thank God for that."
October 20: "Got form back in good shape and filled. . . . Another week nearer to Christ's return, sure believe this age will soon close."
January 1, 1918: "By the help of my Lord, I expect to live so as to be ready when the last trumpet sounds to then go out and meet Jesus."
January 2, 1918: "Elmer not getting satisfaction from Local Board. The Lord only knows the tests and things just a little way ahead of us, but he knows how to take us through."
January 9: "Received by questionnaire this eve; feel I need God's help in answering it correctly." [paperwork asking for a rationale for his exemption request]
January 14: "Getting my questionnaire ready to hand in."
January 15: "Had questionnaire filled out and handed in to local board, with a prayer that God shall have his way and work things out to his glory."
February 10: Praise God for such men who are preaching the full gospel. Praise the Lord for victory."
February 19: "Found out today that Elmer is in class 1-E" [a classification that meant he was next up to be drafted]
February 20: "To Newton found out that we could not make an appeal for Elmer. Surely the testing times are coming fast, and God more than anything else."
February 21: "This world sure is in a sad condition war and bloodshed, strikes and all kind of troubles, but bless God, our redemption is drawing nigh. Lord Jesus, come quickly."
February 24: Elmer, also John Kennell came this morning trying to get some help out of Class 1, hope and pray the Lord will somehow overrule things to his glory."
April 12: "Meeting up with tests on line of liberty Loan, but feel that God wants me to stay out and put all money I can spare into Mission work, trusting God for results."
May 11: "Another week passed into eternity, a feeling of carelessness comes over me in these last days, knowing the end is near. Praise God for his keeping power over sin."
June 5: Registration day for those who have become 21 since last June 5 Final card, put in Class 4, thank God" [Class 4 meant that he was the least likely to be called up in the draft.]
June 11: "Found out I could not get Phil. W. to work as he I called for the Army, wonder if Elmer is not called also."
June 28: Did not go to school house for the meeting in regard to stamps." [He was refusing to purchase war stamps.]
September 13: World war is sure a sad affair these days. Oh Lord, hasten the day when men shall learn war no more."
November 11: Heard the good news this morning that the awful war with Germany has closed. Thank God all this is another mark in prophecy. Sure surprising how the people holler and tare around, If Christians would shout and go on like that they sure would be locked up."
Even during the entry of the United States into the Great War, King nurtured a still-strong Mennonite identity. Indeed, high numbers of conscientious objectors came from German and Russian Mennonite enclaves in south central Kansas. They understood the teachings of Jesus in the New Testament as precluding participation in the armed forces. Killing your pagan enemy, they believed, violates Christian standards of evangelism, and killing your Christian enemy violates Christian discipleship. Being Mennonite meant being a pacifist.
But for King—and many others in this era—being in the holiness movement also meant being a pacifist. As members of the Apostolic Faith in Bedford, Oregon, wrote in 1921, "It is our firm conviction, supported by the word of God, our consciences bearing us witness, that we cannot take up arms against our fellow man, however great the provocation or however just the cause might seem, it being the spirit of the gospel presented by Christ in His sermon on the mount." A local Pentecostal soldier, drafted against his wishes, was quoted as "thanking God for having heard his prayer to be transferred from a machine gun company to the hospital service." He said, "In that branch of service, I will not have to kill anyone." Adherents of "Christian perfection" often quoted Matthew 5:48: "Be perfect, therefore, as your heavenly Father is Perfect." Killing someone, they asserted, is an act of imperfection.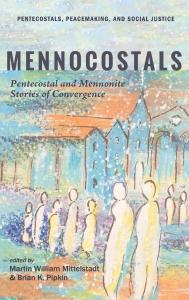 This convergence of the Anabaptist, holiness, and Pentecostal movements is the subject of a fascinating reflection by Jay Beaman entitled "Deconstructing My Life as a Mennocostal: What Has Los Angeles to Do with Kansas?" It's part of a larger volume, itself entitled Mennocostals: Pentecostal and Mennonite Stories of Convergence. The volume demonstrates the many similarities of the two religious traditions. Both imagine themselves as somehow "set apart" from mainstream groups. Beaman remembers speaking in tongues as a child, healing fellow parishioners, and being greeted as "Brother Beaman." His parents sent a note to the teacher explaining that young Jay "could not participate in square dance in class because it was against my religion." The girls wore old-fashioned dresses, and families did not keep televisions. Mennonites similarly defied broader culture in their idiosyncratic dress styles and in their refusal to say the Pledge of Allegiance. As in the case Ezra King, many of these communities integrated. There were many Pentecostals in Mennonite congregations—and many Mennonites in Pentecostal congregations. Such convergences happened in Kansas, Iowa, Oregon, Pennsylvania, and elsewhere around the country.
What I love about Mennocostals is that it demonstrates how lived religion often defies established categories. Liberal and conservative—not to mention mainline, evangelical, and fundamentalist—are not inevitable and inviolable categories. It's possible to be a Pentecostal social justice warrior or a tongues-speaking pacifist.
That's true in Kansas, and it's especially true in the many non-American and nonwhite cases discussed in this volume. César Garcia, the general secretary of Mennonite World Conference writes fluidly about "life in the spirit," "a preferential option for the poor," and "a new society characterized by forgiveness and reconciliation"—all in the same essay! Ryan Gladwin, a white theologian at Palm Beach Atlantic University, describes how his preaching style was shaped by a Colombian Brethren in Christ pastor "whose oratory style was more Pentecostal than Anabaptist." Rick Waldrop, a career missionary with the Church of God (Cleveland) World Missions, whose essay is titled "My Journey to Anabaptist Progressive Pentecostalism through Experience of a Liberating Latin American Mission," describes similar themes. He ends his essay proclaiming "the great possibility of the emergence of the mighty streams of dynamic pentecostal spirituality and counter-cultural Anabaptist peace witness moving together as a great river flowing with justice for the oppressed."
It's a beautiful vision. But for all the hope represented in these essays of Pentecostals and Mennonites reinforcing the best of their respective traditions, it's hard to escape the historical reality that peace is usually a casualty of these encounters. The holiness movement—like the Pentecostals and the Disciples of Christ—lost its pacifist leanings. Though his bridge-building company, King Construction, became very large—and constructed the first buildings of the Mennonite Hesston College—Ezra King moved ecclesiastically in another direction, joining a Nazarene church. His son became a soldier in WWII. Indeed, nearly all Mennonites touched by the holiness movement—like most in the Missionary Church and some in the Brethren in Christ—eventually lost their pacifism. Nevertheless, the contributors to this volume insist on pressing ahead in their efforts to bring Anabaptists and Pentecostals together as "scandalous partners in protest."