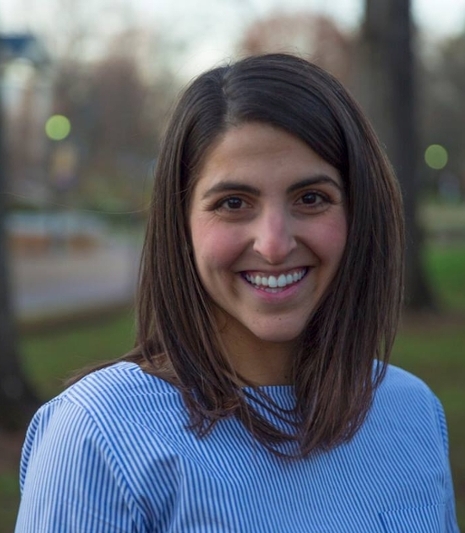 I have known about Ansley Quiros ever since I read her insightful Washington Post op-eds on Christians who support Trump and on the controversies surrounding kneeling during the national anthem), but it was my three-year-old daughter who officially met her first. As events were wrapping up on the first day of this spring's Conference on Faith and History meeting at Baylor University, Mercy was running wild around the room, with all the energy of a preschooler who had spent the previous two days cooped up in the car on the long road trip. Next thing I knew, she was playing airplane with a historian, who kindly took the time to twirl her around and talk to her, all while everyone was trying to catch up with friends they had not seen since pre-Covid. That kind historian was Ansley. As a quick aside, while the point of this post is to introduce Ansley and tell you why you absolutely should read her work, this aside is also a plug for the Conference on Faith and History. If you ever hear CFHers talk about what a genuinely welcoming and caring group of people it is, this is just one example of ways in which this kindness manifests itself.
It is now a wonderful privilege to welcome Ansley to the Anxious Bench! Her first post is coming on Monday, September 5th. Ansley received her PhD from Vanderbilt University and is currently Associate Professor of History at the University of North Alabama. Her book, God With Us: Lived Theology and the Freedom Struggle in Americus, Georgia, 1942-1976 (UNC Press, 2018), is an innovative and moving study of the Civil Rights movement in the town of Americus in South Georgia.
Instead of just summarizing all of the amazing things that she has been able to accomplish in just a few years (and about which everyone can read on her faculty website and on her personal website), I thought it would be more helpful for readers to get to know her current interests and her broader vision as a historian in her own words. What follows is a brief email interview with Ansley.
NW: Your first book is a powerful study of lived theology in the history of the Civil Rights movement in Americus, GA. What were the most important takeaways for you personally from writing this book?
AQ: In initially researching the book what struck me was how Christians invoked the same faith, the same Bible, the same God to wildly different ends. And that they did so in community and in proximity with each other–not Christians screaming across the ages, but a theological contest lived out in the neighborhood of a small town. In some ways that seems patently obvious now in our current moment. But it's humbling, too. As historians we are able to look back and see how fervently people believe things that come to seem obviously evil or politically motivated. The devoted are often especially blinded. On that point, the other takeaway– one that I remain captivated by – was the prophetic vision and faithful witness of Black Christians. In the bleakest of circumstances they held onto the truth that they were valued, known, and loved by God and they insisted upon their dignity on earth as it is in heaven, at great cost.
NW: What are your current projects?
AQ: Well, I've just finished up a couple of smaller pieces. One was a theological biography of Florence Jordan, a co-founder of Koinonia Farm (an integrated pacifist farming community in Southwest Georgia founded in 1942) and the wife of Rev. Clarence Jordan who wrote the Cottonpatch Gospels. The other was an exploration of lament in the funeral dirges for Emmett Till, James Chaney and Jimmie Lee Jackson. Now, I am turning my full attention back to a book on Charles and Shirley Sherrod. It's a biography of these two remarkable figures in the long Black freedom struggle but also an exploration of the notion of commitment—to a place, to a theological vision, to another person.
NW: Like most members of the Anxious Bench, you are an active member of the Conference on Faith and History. In what ways do you see your faith inform your historical research and writing?
AQ: Oh goodness! Unlike some of the more esteemed members of the CFH, ahem Kristin Kobes Du Mez with her Reformed Kuyperian tradition, I did not go to a Christian college or graduate program where I received a robust training in faith's role in the historian's craft. So my answer to this will be devotional and rather simple, I'm afraid. Jesus calls us to speak the truth in love. And, to be God's witnesses. In practicing doing history, I try to listen to what the characters and events and spaces from the past are saying and with empathy and courage relay that in the present. My mom used to always say something many of the readers I'm sure have heard in various contexts: "All Truth is God's Truth." That idea emboldens me to go into the unknown with both curiosity and trust. My Christian faith also calls me to listen to those voices that have been overlooked and marginalized–they often have the most profound lessons for us. For me, anyway.
NW: As historians, we keep saying that we do not exist in a vacuum. We are deeply influenced by the people we study, and also by the work of other historians. As you reflect on your own intellectual and personal journey, what historical figure and/or historian has been the most influential on your thinking and writing so far?
AQ: I love this question! We do exist in communities and I owe an enormous debt of gratitude to mine. I had wonderful history teachers, always, men and women who delved deeply into the complexities and ideas and contradictions of the past with compassion, diligence, and humor. They inspired me to study history at all. In terms of intellectual influences, certainly Charles Marsh. I'm amazed at historians who write beautifully–Isabel Wilkerson, Kevin Boyle, Tomiko Brown-Nagin, too many to name here. I suppose, too, the American South is also an important influence, as my life so far has kept me there.  I've found in the South the most bewitching questions, the complex contradictions, the most beautiful and ghastly stories, told and untold. And many saints too. I remain absolutely compelled by the folks who participated in the civil rights struggle, people like Fannie Lou Hamer and Bob Moses, John Lewis and Penny Patch, and hundreds of others, many unknown. The creativity and joy they embodied while engaged in the courageous work of calling their neighbors to "let America be America," is astounding.
NW: What should the readers of this blog expect from your posts here? Is there any particular way in which you would like to challenge/comfort the readers?
AQ: Readers can expect explorations of themes I'm working on, perhaps biographical sketches, an occasional book review. Oh, and interviews! I have many weaknesses as a scholar, but I have been blessed with an abundance of brilliant friends. I hope to loop as many of them in as possible for reflections on their work and what it means to be a Christian scholar, much like this. We have so much to learn about each other and so much to be gained in communion and conversation. As a reader of the Anxious Bench, it's just a delight to learn from others–in manageable doses–about such a range of  eras and figures and debates, to be able to catch a glimpse of medieval women preaching or Phillis Wheatley  or the relationship between South Korea and evangelicalism !  I hope to add just a small voice to that already mighty chorus.