In my last post, I mentioned that I would write about the embattled evangélicos who are not part of the overwhelming conservative majority in Latin America. More specifically, I said I would address some of the translated works that continue to empower evangélicos in Brazil who attempt to resist the sharper edges of Brazilian theopolitical conservatism. It is this type of conservatism that, among other things, helped embolden president Jair Bolsonaro and his allies. But before talking about translations used by those who resist ultra-conservatism, I'll say a few words about the larger issue of how translations have historically enabled and sustained the conservative evangélico majority.
I began paying closer attention to the politics of evangelical translations in seminary during a conversation between two prominent thinkers from within the evangelical world. I asked one of them if he thought the shift in Christianity's center of gravity to the Global South would change the power dynamic of global evangelicalism. His response was quick and carried an unmistakable (and, I suspect, unintentional) sense of pride: "we still control the publishing, and as long as that happens, our influence will remain strong regardless of numbers." I took his "we" to be White evangelicals in the United States, and his answer resonated with what I had seen and experienced. Although that scholar might not have calibrated his point for precision, he was generally correct. Translation and publication have been incredibly significant ways used by White evangelicals to create and maintain their hold on Latin American evangelicalism.
A brief search of books published by evangélico presses in Brazil will paint the picture of the translation issue well. Translated books by evangelical authors such as Wayne Grudem, James Dobson, John Piper, Charles Colson, Francis Schaeffer, R.C. Sproul, Al Mohler, Tim Keller, Charles Swindoll, and Tim LaHaye abound. Authors like these often come up in conversations with pastors and church members alike. They are commonly quoted in sermons as if they carried almost unquestionable spiritual and academic standing. They are often used in theological seminaries and exams for pastoral ordination. United States-based evangelicals have, via translated works, a much stronger voice in countries like Brazil than some of them realize.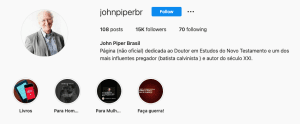 The initial justification for translated publications of works written by White authors from the Anglophone evangelical world was not its potential for market success; it was an intentional strategy of theological formation. Evangelical publishing in Latin America was not always profitable. U.S. missionaries in the region often traced strong connections between translating, publishing, evangelization, and theological training. Take Baptist missionary William Entzminger, for example, who was deeply involved in denominational publishing in Brazil. When threatened with the withholding of funds for the publication enterprise he managed, Entzminger wrote his superiors saying, "At this juncture, it appears that the question is not whether to have or not to have a printing plant, but whether or not it is worthwhile to have publications. And it would be easy to decide this question by deciding whether or not it is important, whether or not it is worthwhile, to continue the work of evangelizing in Brazil. If we should close up the enterprise, the publication enterprise, it would be because we should abandon the whole evangelization enterprise."[1] In this context, missionaries created publishing houses to publish the translated works of their particular denominations into Portuguese and Spanish. First, translations appeared prominently in seminary syllabi and pastors' bookshelves—then, as the number of evangélicos grew, strategies shaped by a profit motive emerged and informed the diversification of publishing. Generally speaking, when local evangélicos with formal theological education began writing their books, they mostly assumed their translated interlocutors to be holders of authoritative knowledge. When they didn't agree with their White "parents in the faith," local evangélicos risked not being published by publication houses dependent on foreign or missionary support.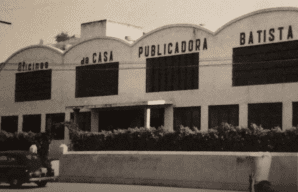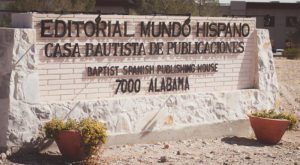 The diversification of publishing, however, increasingly opened room for more complex arrangements. On the one hand, as publishing became cheaper and the market expanded and complexified, profit increasingly came alongside religious ideology as a justification for translations. On the other hand, the expanding book market encouraged the creation of niche evangelical publishers focusing on a progressive clientele, which could be a profitable minority.  In this context, famous authors such as Tim LaHaye, John Piper, James Dobson, and Francis Schaeffer were increasing joined by more progressive-leaning translated material encouraged by both the profit motive of conservative presses whose "bread and butter" remain works for the conservative majority and by smaller presses catering specifically to a progressive minority.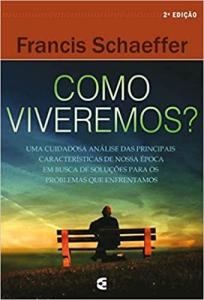 Although local authors are also producing more or less conservative options in the Brazilian evangélico book menu, translated works generally do better in that market. The legitimacy and appreciation granted to translated works in evangélico settings are partially why translated works from progressive-leaning authors are essential, even if they might carry, as some point out, lingering aspects of U.S. imperialism. The Brazilian progressive minority generally welcomes such translations to counterbalance the long history of conservative- and fundamentalist-leaning publishing and expand their theological, political, and historical arsenal for research and activism in and outside the church.
In the last few years, these translations have included works geared towards an evangélico market. Some of these books have never been translated, while others can be new versions of formerly-translated works by non-evangelicals in the United States. For example, Walter Rauschenbusch was translated into Portuguese for the first time in 2019. James Cone's formerly-translated books A Black Theology of Liberation and God of the Oppressed were out of print for several years and are now available again since 2020. Historians, of course, are also featured in this translation market.
Kristin Du Mez's Jesus e John Wayne is one key positive example of the diversification of translated works. Because of the continuing influence of White U.S. evangelicalism in Brazil, such works are immediately significant in that context. Afro-Brazilian theologian Ronilso Pacheco wrote that Du Mez's book provides "[a] much-needed re-examination of one of the united, Jesus and John Wayne subcultures [showing] that, along influential biblical principles, American Whites re-created their faith with lasting consequences for an entire tradition. Du Mez's insights will certainly make us more careful about the Christianity lived and preached in the Brazilian context." Beth Barr's A Construção da Feminilidade Bíblica adds to translations that, by dealing with crucial issues in White U.S. evangelicalism, are immediately relevant in a Brazilian context drowned in remarkably similar dynamics and debates.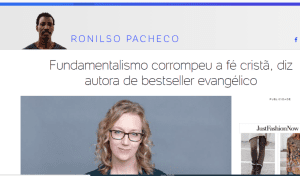 In Brazil's Amazon ranking in the "Christian History and Theology" category, Barr's book comes in number 42—an extraordinary feat, especially since it was released not too long ago. Barr's Costrução da Feminilidade Bíblica is behind three translations of books by John Macarthur, the translation of Michael Haykin's 8 Women of Faith, the translation of Noël Piper's Faithful Women and their Extraordinary God, and a few others. The top five authors in that list include Sarah Young (member of the Presbyterian Church of America), James H. Hamilton (Southern Baptist professor), Thomas à Kempis, and John Macarthur (who comes at both #5 and #6). Nilton Bonde, a Brazilian rabbi trained at Jewish Theological Seminary in New York City, is the only voice that dissonates more clearly from the White Evangelical camp in the top 5 in this category. Conservatism is still a safe market choice.
Du Mez's book does not rank as high as Barr's in the "Christian History and Theology" category but is #1 in Amazon's Church and State category. Du Mez's book tops the Benny Hinn Collection; no one tops the Benny Hinn Collection!!! If you look up "Jesus e John Wayne" on the Brazilian Amazon, you will see another translation as a suggestion for purchase as a package: the translation of Scot McKnight's and Laura Barringer's A Church Called Tov. That reminded me of the scholar who said, "we still control the publishing, and as long as that happens, our influence will remain strong regardless of numbers," in response to my question about the shift in Christianity's center of gravity. Scot McKnight said that—though it has been so long he might not even remember. [2] McKnight said that during a conversation at Truett Theological Seminary in 2011, when I was a student there, between him and evangelical theological Roger Olson, whose works have also been translated into Portuguese and are pretty popular in many circles–including with the Brazilian Assemblies of God, which counts with several million members.
Publishing in the evangélico camp in Latin America is often strange like that—its colonial roots run so deep that they appear on different sides of the translation spectrum. But the diversification of the publishing market might mean that, paradoxically, the translation tendencies that helped establish and sustain conservative evangelicalism might also help loosen the hold that a particular form of evangelical White supremacy still has in the evangélico context. If Du Mez beat the Benny Hinn collection, we can hope confidently for more good trouble!
[1] From W.E. Entzminger to Willingham, November 2, 1909.
[2] After this piece was published, Scot McKnight reached out to me directly to clarify what might have been a misunderstanding on my part. Scot told me that when he answered my question 11 years ago, he was lamenting the kind of books that were being published in places like Brazil. Scot sees the translation of his "A Book Called Tov" as part of a move in a more positive direction, and many Brazilians share this sentiment.