In the recent scholarly debate over presentism, Keeanga-Yamahtta Taylor, in conversation with Tera Hunter and Austin McCoy, made a comment that struck me as particularly poignant. She wrote: "We [those referred to as 'presentist'] are not imposing our contemporary views on the past, we are finding the voices & activities of those opposed to the existing order in their own time…voices that have otherwise been ignored or suppressed."[1]
One of the most striking things about conducting historical research is precisely this discovery– how often figures in the past speak directly and unflinchingly to their moments, and ours. To read W.E.B. DuBois or Jarena Lee or Clarence Jordan or James Baldwin is to know this instantly. In fact, their critiques of white supremacy and systems of oppression are often much bolder than our own. (And often better written!) These men and women were clear-eyed about the worlds they inhabited and vocal in their prophetic critiques, though most were ignored or derided in their days.
Becoming acquainted with these forgotten voices is one of the great obligations and delights of the historian's practice. And for Christians, it is often also a source of deep encouragement. We can hear in these voices the same convictions we share about who God is and what God has done. These offer a sort of creedal comfort. But we can also hear sharper calls for charity and discipline that arrest our consciences in powerful conviction. The saints still whisper across the ages.
One such voice belongs to George D. Kelsey.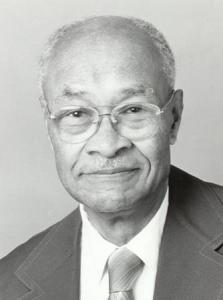 Born in 1910 in Georgia, the brilliant Kelsey graduated as valedictorian of his high school class before attending Morehouse College in Atlanta. After graduating in 1934 with honors, Kelsey left Atlanta for Massachusetts and Andover Newton Theological School, where he earned top marks and a Bachelor of Divinity. Then, in the late 1930s, Kelsey pursued a path reflective of his special call. He was ordained as a Baptist minister in at Providence Baptist Church in Atlanta where he had accepted a job as a professor of religion at Morehouse, and also began Ph.D. in Philosophy at Yale. For the rest of his life, in academia and in ministry, Kelsey applied his fierce theological intellect to issues in American life.
At Morehouse, Kelsey influenced a new generation of young Black scholars, one of whom would come to embody his teachings about Christian obligations to justice and righteousness. Martin Luther King, Jr. was a sociology major who took one of Kelsey's Bible classes, which riveted the young man with its exploration of the Scriptures. Kelsey explored the nature of Christian ethics, which, in a 1948 article, he characterized as "theocentric" in its appeal to loving community. "The Christian ideal of love," Kelsey explained, "involves the recognition and appreciation of the individual as a while because he is a child of God, because God loves him. The point of reference is God."[2] King was listening.
The connection was personal as well as theological. Kelsey served as one of King's character references on his application to Crozer.[3] Years later, as a young pastor in Montgomery, King preached a sermon "Christ, the Center of our Faith," in which he stressed the profound effect humans have on one another. The handwritten outline from which he preached included a heading, "We discover that it is persons who most influence our lives," under which a telling personal example was bulleted: "Experience in college with George Kelsey."[4] Later, King elaborated, telling Redbook in 1956 that Kelsey, along with Morehouse President Benjamin Mays, "made me stop and think." "Both were ministers," he went on, "both deeply religious and yet both were learned men, aware of all the trends of modern thinking. I could see in their lives the ideal of what I wanted a minister to be."[5]
As Dennis Dickerson argues in his 2005 article "African American Religious Intellectuals and the Theological Foundations of the Civil Rights Movement," there was a "cadre of black religious thinkers," Kelsey and Mays among them, who "proposed in the 1930s and 1940s both concepts and methods" for the freedom struggle.[6] These "organic intellectuals" developed a "praxis" of resistance that borrowed from A. Philip Randolph's grassroots organizing and Gandhi's nonviolence, and rooted the practices in a distinctly Christian theology. Activist ministers of the 1950s and 1960s were the inheritors of this innovative tradition of faith and struggle. For instance, after the Montgomery Bus boycott, King and Kelsey corresponded, with the elder minister "encouraging" the younger and giving a financial contribution to the "momentous struggle for justice."[7] When King was set to publish his first book, Stride Toward Freedom, he sent a draft to Kelsey who returned extensive notes. "The main thrust of my suggestions," Kelsey wrote, "is directed toward the sharpening of the fact that the movement which you so nobly led was Christian in motivation and substance." "Christian love" was the main motivation and source of power while Gandhi "furnished the techniques," Kelsey clarified, an idea indeed he had been instrumental in developing.[8]
Just as remarkable as Kelsey's influence on the development of the Movement is his sharp theological critique of racism itself.
Racism and the Christian Understanding of Man was not published until 1965, though George Kelsey had been teaching the ideas contained in it for decades at that point. So he had something to say, and he just comes out with it.
The book begins, "Racism is a faith. It is a form of idolatry. It is an abortive search for meaning."
Subsequent pages explain: Those who hold doctrines of superiority and inferiority based on pigmentation have challenged God's creative authority and, in a modern enactment of the Fall, have tried to "be like God," imagining themselves superior. It is "self-deification" through whiteness. "Racist self-deification is devoid of any qualification," but yet, Kelsey says, "the racist presumes to procure life by his own power, to live from the self rather from God. [Therefore,] Racism is life 'according the flesh.' It presumes that man has his life at his own disposal, and also the lives of other men if they are members of out-races."
This idolatry is a danger not only for individuals, Kelsey continues, but especially for the church. While individual prejudices are known more or less, white supremacy in institutions can be harder to suss out, hiding in structures and other ideologies. After explaining that racism itself "arose as an ideological justification for the constellations of political and economic power which were expressed in colonialism and slavery," Kelsey charts how it became absorbed into white Christianity. "Racism is especially problematical not only because of the peculiar nature of the racist faith," he says, "but because it is a 'Trojan Horse' within organized Christianity and Christian civil communities." Though Kelsey wrote these words in the midcentury, he could easily be talking about our current moment, as institutions defend white supremacy and political power in the same terms and with the same fervor as they would Christian doctrine. For many, they are one and the same. Heretical, idolatrous ideologies justifying greed and exploitation have deeply infiltrated Christian communities, even been, in Kelsey's phrase, "blasphemously sanctified."
This racist idolatry also manifests in interpersonal relationships. "The racist, who is also a Christian, says in effect to the out-race person, 'Meet the criteria which I prescribe and relate to me on precisely the terms which I dictate and I will love you,'" Kelsey begins, presciently. "Racism is interposed…the terms of meeting are not love but power and submission. The neighbor never comes to be regarded as a member of God's universal community of creation or the Body of Christ." When Christian institutions tell Black members or visitors that they can come—with these proscriptions, to only say approved words, in a certain manner—you can be sure racism is interposing.[9]
Kelsey reminds Christians that we must understand white supremacy and its myriad ancillary commitments not exclusively as social and political, but as theological. It is an idolatrous faith of self-deification. And it must be rooted out of churches and institutions for us to bear witness to Christ faithfully.
George Kelsey knew this. He said it clearly decades and decades ago. And his old words come to us with profound wisdom for our current moment. We should take heed.
[1] Taylor, Keeanga-Yamahtta. Twitter Post. August 18, 2022, 10:29 AM. https://twitter.com/KeeangaYamahtta/status/1560287671024599040  https://twitter.com/KeeangaYamahtta/status/1560287671024599040
[2] George D. Kelsey, "The Nature of the Christian Ethic," Journal of Religious Thought, 1948. Special thanks to Hunter Tinsley in the UNA ILL Department for tracking this down for me.
[3] Crozer Theological Seminary Records, Colgate-Rochester Divinity School, Rochester, N.Y.; https://kinginstitute.stanford.edu/king-papers/documents/application-admission-crozer-theological-seminary
[4] Coretta Scott King Collection, In Private Hands, Sermon file, folder 70, "Christ the Center of Our Faith" / "How to Believe in a Good God in the Midst of Glaring Evil."
[5] William Peters, "Our Weapon is Love," Redbook [August 1956]: 72)
[6] Dennis C. Dickerson, "African American Religious Intellectuals and the Theological Foundations of the Civil Rights Movement, 1930-55," Church History, Vol. 74, No. 2 (Jun., 2005), pp. 217-235.
[7] George D. Kelsey Papers, In Private Hands; https://kinginstitute.stanford.edu/king-papers/documents/george-d-kelsey-0
[8] From George Kelsey, April 4, 1958, Martin Luther King, Jr., Papers, 1954-1968, Boston University, Boston, Mass.
[9] George D. Kelsey, Racism and the Christian Understanding of Man, (Scribner & Sons, 1965).