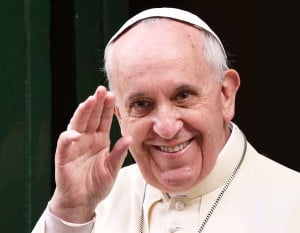 Pope Francis is coming.  He's using Cuba as his entry door.  Cuba.  For most of the past 50 years, America has considered Cuba to be a demon-led land.  Travel has been forbidden, not that people don't go, but they've had to go somewhere else first: say, to El Salvador; and then on to Cuba.
All that is changing, and the Pope has been part of this change, and his direct flight to DC from Cuba is historic in more than one way.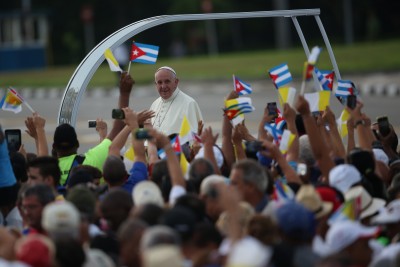 I'm excited about this papal visit because I admire this Pope.  Other papal visits have seemed to me to be pious public pageants, and they have left me unmoved, and at times turned off.  This time, though, I find myself eager to hear the Pope's words, hoping he will call for environmental action and for economic justice for the poor, and deferential to his role as the leader of the largest denomination in America.
I grew up in an era when there was real fear in Protestant America of a papal visit.  The Pope himself was seen as a demon then, a demon who wanted to 'interfere' with our freedom.  We've matured a lot, in respect to the Pope, and we can also hear a variety of Catholic opinions about this visit and about his points of view.  He is welcomed now, and even invited to address Congress, something unimaginable in 1960, when Kennedy was elected President.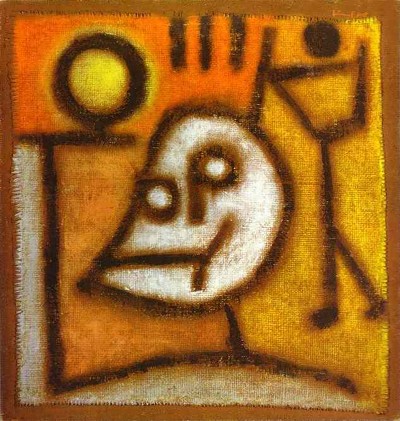 Everyone is listening intently now, for the Pope, while here in the US, is expected to call out, if not cast out, a few demons, and people are breathless with expectation.  Whose demons will he name?  The ones American conservatives can't stand, or the ones American liberals can't stand?  The ones devout Catholics want to hear, or the ones lapsed Catholics want to hear?
The Pope has just announced a year-long theme of Mercy.  Calling out demons is not a merciful activity, it's a righteous one, and all too often, a self-righteous one.  And yet, often our most zealous righteousness begins with an impulse to be merciful.  Both sides of the long-standing battle over women's reproductive rights began with pleas and tears for mercy, and then escalated.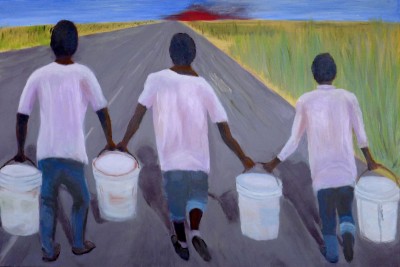 Most of our justice battles are both cries for mercy and failures of compassion.   And similar labels may be attached to the Pope, in the aftermath of his speeches.  Wise or misguided, overstepping his authority or at last speaking as Jesus spoke, are the names we will call him.  And really no one anymore will accept what he says as The Truth because he, the Pope, said it.  With this shift in the nature of power and authority, the Pope has lost power and gained power.  No longer do people bow before him or bow to his words.  And yet far more people eagerly listen:  Protestants of all sorts; Moslems, Hindus, Buddhists.  Even Jews.  I read an article today by a Rabbi who greatly admires this Pope.
The disciples came to Jesus, indignant, alarmed, complaining that there were people casting out demons in his name.  And Jesus said, if they are really casting out demons, let them be, this is good work they are doing.
But then Jesus went on to warn those who might do harm, that they were themselves to be sent to the devil.  And what harm did he mean?  The harm his over-zealous disciples might have done to these nameless demon casters?  Or the harm that might be done by over-zealous folks who were casting out demons in his name?  Is Mark, in his gospel story, throwing this warning at us, at all of us?  We are urged to care, and warned not to become stumbling blocks in the lives of others.  Sorting this out is still our task, and not easy.  It is our delusion to think the demons are simple to name.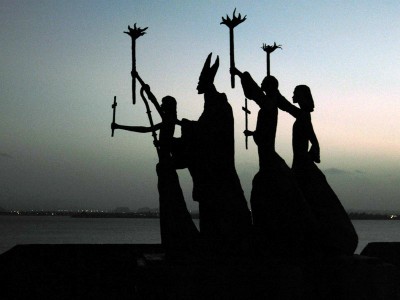 The long American political season, an exercise in naming demons and calling for their casting out, is upon us.  And yet each candidate is followed by those who find in him – or her – a particular mercy that touches their hearts.
In the rising and falling of the polls, in the awkward and stumbling words said upon the campaign trails, in the power awarded for verbal sword play, in the power of behind-the-scenes billionaires funding ads that may or may not be true, we are in the midst of the marketplace of demon-casting.  I watch and listen, sometimes in horror, sometimes in delight, praying for the future, of this nation, of the earth, our human home, and of Christianity in our relations with the world of belief and the demons we contend.
As Jesus said, we are all being salted with fire.
_______________________________________________________
Illustrations:
1.  Pope Francis, waving.    listed as a free image, Google Image.
2.  Pope Francis in Havana, PBS image, on Google.
3.  Death and Fire, by Paul Klee.  1940.  Bern. Switzerland.  Vanderbilt Divinity School Library, Art in the Christian Tradition.
4.  Long Walk to the Fire.  Unidentified Artist.  Late 20th c. Vanderbilt Divinity School Library, Art in the Christian Tradition.
5.  Monumento la Rogativa.  1971.  san Juan, Puerto Rico. Vanderbilt Divinity School Library, Art in the Christian Tradition.