My faith is a great weight hung on a small wire, as doth the spider hang her baby on a thin web . .
— Anne Sexton, in  Small Wire
Like a breath of fresh air, Doubting Thomas enters the over-lilyed atmosphere of Easter.  He's reliably among us on the Sunday after Easter — and on every Sunday.  He's part of us, steadily, reassuringly.  He anchors us.
Sitting next to every true believer in the Easter pews is a doubter, whose presence is dedicated to unanswered questions, and perhaps to love of someone who has no doubt.  Which is why Doubting Thomas was in that room:  he belonged to the group, those who believed, those who said they did but didn't, and those who had questions but were afraid to pipe up.  Churches are not communities of believers, but communities of people who have questions, who doubt, who hope, who come to find something out.
Thomas pipes up.  And the experiencing of Easter continues because he does.
Nothing about Easter was lily-scented, according to the stories.  First, it was the emptiness of the tomb, which hurt, and frightened them, and held out hope.  Then later, Peter was so undone he put his clothes on before jumping into the water.  Mary, weeping, heard her name and the command not to touch him.  Two who heard nothing familiar in Jesus' voice, were amazed by his hands breaking bread.  Resurrection, however it came to them, was terrifying, placing new demands on already emotionally exhausted people.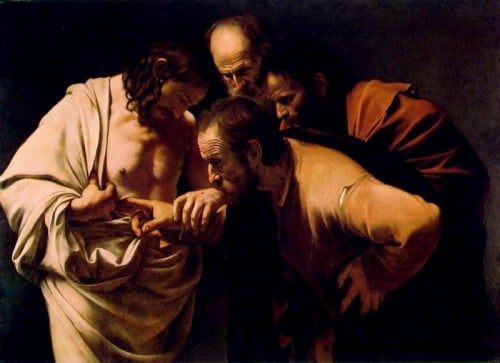 Then Thomas pipes up, and we cling to the well- known quality of his doubt.  Because really, who does not have questions?
Not that I want to touch those wounds.  Too much is made of them, they have become a fixation, visually, theologically, more than the things that are unseen:  the rising, the returning, the hope.  And yet, we give our hearts to one another more for wounds than for triumphs.  There's a stray dog in each of us that responds to the beaten dog in Jesus.  We rise to the call of pain remembered.
This seems to be what convinced Thomas: his doubt was not so much scientific as it was a matter of the heart – he could not find resurrection in the jumping joy of others, but he could find it in the sharing of remembered pain.
The most important words in this reading, then, are not at the end (blessed are those who have not seen yet believe) but at the beginning:    Jesus came and stood among them and said, "Peace be with you."   The peace of Christ is given to all of them, including Thomas in his doubting.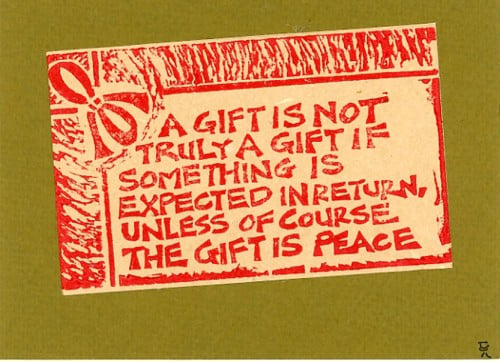 This peace Christ gives is not just for believers, and it does not separate believers from unbelievers.  The peace of Christ does not separate.  Everything about Christ joins people together, across all the separations: sin, judgment, defeat;  gender, culture, faith.
Believers are sown everywhere around the world, in fields full of intermingled people, those who have had experiences they cannot explain but fill them with such joy it can only be Easter, and those who remain unconvinced.  The peace of Christ is given to all the world.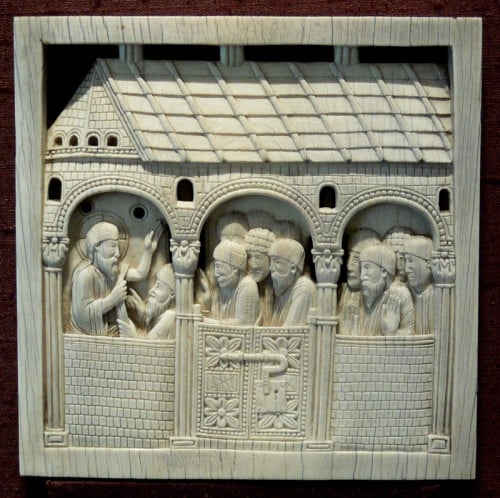 Thomas' name means twin.   Was he a twin?  John is such a careful writer, so taken with symbols, he cannot have drawn this portrait accidentally.   Is the twin also a skeptic?  Is he even more defiantly so, has he nothing to do with Jesus?  Is he living, or dead?  Has he been covered with wounds, and never healed – is he the root of Thomas' doubt?  Is the twin a true believer, and Thomas, for balance, skeptical?   And where is the twin?  Are we all, every one of us, Thomas' twin?
The great altar paintings of Europe all have an empty space at the table of the Last Supper, a place for us, the worshipper.   Has John 'painted' that space for us, as Thomas' twin?  And is this how we may come, at last, to have life in Christ's name?
Hope is the thing with feathers,
That perches in the soul,
And sings the tune without the words,
And never stops at all.
–Emily Dickinson
__________________________________________________
Illustrations:
1.  Doubting Thomas, Duccio, di Buoninsegna, 1308-1311, Museo dell'Opera del Duomo, Siena, Italy. Vanderbilt Divinity School Library, Art in the Christian Tradition.
2.  The Incredulity of St. Thomas, Caravaggio, Neues Palais, Potsdam, Germany, 1513. Vanderbilt Divinity School Library, Art in the Christian Tradition.
3.  The Gift of Peace. Vanderbilt Divinity School Library, Art in the Christian Tradition.
4.  Doubting Thomas, Magdeburg Cathedral, Ivory Carving, 962-973. Vanderbilt Divinity School Library, Art in the Christian Tradition.