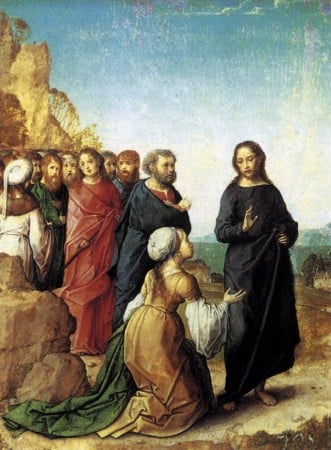 Interruptions.
I'm just enjoying one now, an NPR piece on Oliver Sacks, the neurologist who wrote so winsomely about the human mind, the oddest of our associations (The Man Who Mistook His Wife for a Hat) and what we can learn from our oddities about our conventional habits of thought. I delayed my work to hear a story that gave me pleasure. Now I'll have a glass of iced tea – and then, I'll get down to it. Till the next interruption.
Mostly, I don't think of the pleasant things as interruptions. I reserve that word for the ones that make unwanted demands on my time, my attention, my heart and mind. The phone rings, people wanting this, wanting that. And there are incoming texts. Sometimes I imagine shooting the phone.
The day begins with the interruptions of the alarm, and moves on to the phone, and the doorbell, people bringing packages, election leaflets, petitions. And there are the crises, major interrupters which arrive at unpredictable moments.
Jesus knew this frustration, the endless interference with his ability to rest, think, prepare, pray, focus his attention, brought about by human need, people wanting something from him to help their pain, fear, anxiety, hunger, sorrow, disbelief. Mark tells one of these stories, how Jesus went away, seeking some peace and quiet, but a foreign woman with a sick daughter broke in upon him and began begging. In his exasperation he protested, but she begged again. And he opened himself to her need. Then he went somewhere else, but a deaf man with a speech impediment came, and he had compassion and healed him. He begged them to keep quiet about this, but they bragged and bragged, and he was more and more beset. This was not what he wanted to be doing. Not, he said, what he had come to do.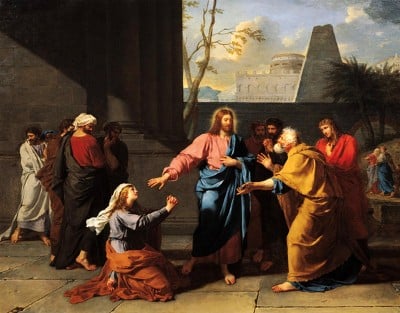 At the starting bell of the 2016 election campaigns, Americans have made it clear that interruptions are at the forefront of their political concern. A loud alarm is sounding about undocumented immigrants whose border crossings are a continual stream of interruptions in our national sense of order and control (fears of chaos at the borders produce rage in many), in the economy (rumors, about taxpayer costs for the education and health care of illegals, produce outrage in many), and in the fabric of our life together (many fear the undocumented as lawless, even violent, thieves). Donald Trump has soared in the polls, in part, because he articulates this outrage and promises to masterfully control and eliminate these interruptions. He even considers shooting to kill a reasonable part of his plan.
At this moment there are few ears listening to the pleas of the interrupters, pleas for help in their desperation, their need to flee escalating violence in their homelands, their hunger, poverty, and hopelessness.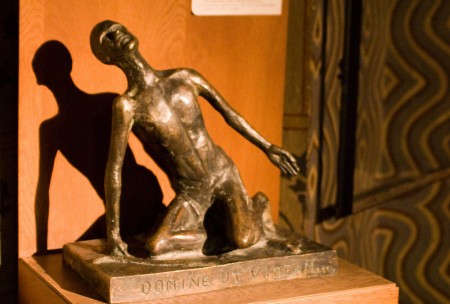 The irrationality of our fears does not matter to us right now. Nor does the fact that the work of undocumented people is sustaining our agricultural economy and many other industries, included construction, in which Trump is deeply invested.
A parallel deafness to the outcries of black Americans for a transformation in our police system is present in us and affects the campaign. We harbor similar fears and anxiety about the costs of welfare and Medicaid and the danger of lawlessness in black people, as in undocumented people.
It isn't easy to become merciful or welcoming to the needs of those we do not know. Jesus himself was trying to hide from such demands. The woman who was not from Israel but still begged for healing for her daughter, got a rebuff from an irritated Jesus, that he was having a hard enough time trying to help to his own people, without adding in waifs and strays from God-knows-where. But she beseeched him, saying even the dogs in Israel could eat the crumbs from their masters' tables, could she not receive crumbs from him? And Jesus' heart was moved.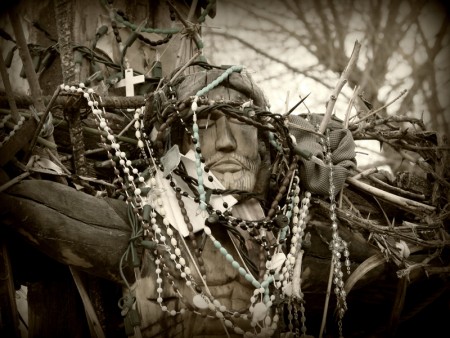 That's the difference, really. Our hearts, so far, remain unmoved. Meanwhile, we bother God endlessly with our requests, for healing, help, support, forgiveness, wisdom, understanding, even miracles. Our clamoring is endless, and God's peace is ragged from our interruptions. Yet we expect God to be available to our interruptions, to be present to our agenda, without concern for our own outsider status in the community of the people of God.
Outside? Outside all the languages in which our Scriptures were written. Outside all the nations in which those writers ever lived or wrote. Inside only in the citizenship of the Spirit, whose universality belongs to undocumented Mexicans, Hondurans, Guatemalans, Columbians, Brazilians – and Africans, Asians, Eastern Europeans, whose student and visitor visas ran out long ago, and who stay on for all the familiar reasons, earning their living in jobs we no longer want but still need done.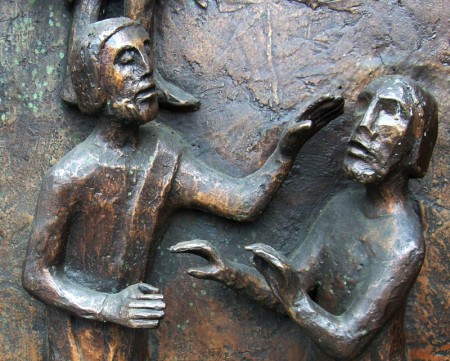 Who would Jesus be if he had not touched the lives of those who interrupted him? If he had only preached, offered bread and wine, and carried the cross to his death? If we could not offer him what is alien and undocumented in ourselves?
Frank Bruni, writing in the New York Times on August 25, has said of Trump, I don't see someone interested in serving God. I see someone interested in being God. But what God? Isn't this the voice of the Tempter who whispered to Jesus dreams of great power over the world? Perhaps Trump is the voice of temptation in the wilderness of American discomfort with a changing world. Or perhaps he is a mirror, and what we see and hear in him is our own reflection. Or perhaps, in an oddly abnormal neurological affliction. we are mistaking a president for a hat.
___________________________________________________________
Illustrations:
1. The Canaanite Woman Asks for Healing for Her Daughter, circa 1500, Juan de Flandes, Madrid, Spain. Vanderbilt Divinity School Library, Art in the Christian Tradition.
2. Christ Healing Canaanite Woman, 1784, Drouais, Jean-Germain, Louvre, Paris. Vanderbilt Divinity School Library, Art in the Christian Tradition.
3. Lord, That I Might See. 1970. Matyas Church, Budapest, Hungary. Vanderbilt Divinity School Library, Art in the Christian Tradition.
4. Crucifix. Sanctuario de Chimayo, N.M. Found in 1810. Vanderbilt Divinity School Library, Art in the Christian Tradition.
5. Healing the Sick , Henn, Ulrich, 2008, St. James Cathedral door, Seattle, WA. Vanderbilt Divinity School Library, Art in the Christian Tradition.