A news anchor of Oakland, California's Frank Somerville recently gave viewers a glimpse of his normal life, off the television set. This photo of him taking the braids out of his daughter's hair got an overwhelming response.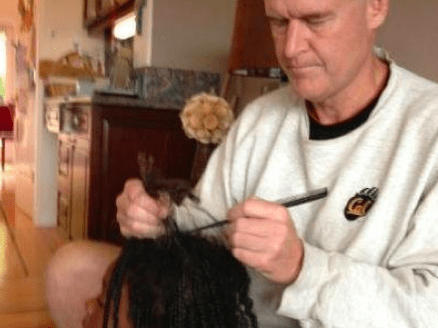 CNN did a segment on outpouring of support and appreciation that commenters on Frank's Facebook page showered on him.

In response he wrote:
"It's not often that I am speechless, but I am floored by the response to the picture I posted, and by how touching and personal many of them were. To me the picture shows a dad doing what a dad SHOULD do, and loving every minute of it. The birth of my first daughter, and adopting my youngest daughter, are the two best moments of my life, and I feel like the luckiest dad in the world that my family is interracial. I can't thank all of you enough. And remember CHANGE HAPPENS ONE PERSON AT A TIME!"
I just wanted to share this sweet story of parents' love for their children. What a touching celebration of life!
Read more on the Faith and Family Channel, follow me on Facebook and this blog on Twitter!