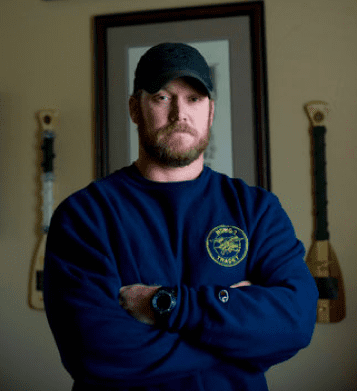 It breaks my heart to hear of the death of Chris Kyle.  Mom and Dad posted a tribute to him on her Facebook page:
Our thoughts and prayers go out to the family and many friends of former Navy SEAL Chris Kyle tonight. Todd and I first met Chris in Pella, Iowa, when he helped out with security for the premiere of the film "The Undefeated." And later we became friends with Chris when he was on "Stars Earn Stripes" with Todd. Chris was a wonderful man, a good friend, and a true American hero who loved our country and served honorably. He was loved and admired by so many, and he will never be forgotten.
Dad told me he had a wife and two kids, so please pray for them! I never met Chris, but my parents spoke so highly of him. And, on
Stars Earn Stripes
, do you remember 
he called my dad Rambo
?  I am just so sad to hear of his death.  He was a true American hero.
Also, read more on the Faith and Family Channel, fan me on Facebook and follow this blog on Twitter!