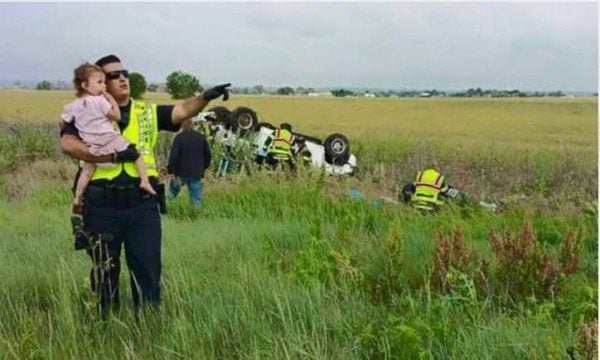 Nick Struck is a police officer in Brighton, Colorado, who showed himself a true hero.
He was one of many officers called to the scene of a terrible car crash. A mom, dad, and 4 kids were in an SUV when it blew a tire, lost control, and flipped over on the highway. All 6 people were thrown from the car.
A witness of the crash stayed nearby and snapped a picture and video of one officer holding a two-year-old girl who was rescued from the crash. Her dad was pronounced dead at the scene, and her mom and sister were life-flighted to the hospital.
When Officer Struck was handed the baby, she was soaked in gasoline and crying. He immediately thought of his little 2-year-old daughter at home. He tried the same thing he does when his girl is crying — and
started singing "Twinkle, Twinkle Little Star"
to the toddler.
It worked. She stopped crying and started rubbing his back with her little hand. He got her attention away from the crash scene and calmed her down.
On probably the worst day of her short life so far, this officer was a hero to this little girl. So glad to see law enforcement getting some good publicity!
Watch Officer Struck tell his story on page 2.