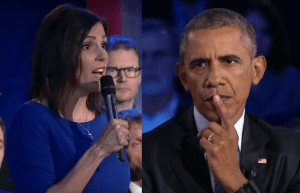 Taya Kyle, wife of American Sniper Chris Kyle, has experienced the effects of gun violence first hand.  In fact, as anyone who has read her heartbreaking story or seen the Award-winning film American Sniper knows, it was gun violence that made her a widow in the first place.  Yet last night at a CNN town hall with President Obama, Taya wasn't standing next to the president in solidarity for his anti-gun stance.  Instead, she took on the President face-to-face, asking him why he couldn't celebrate that violent crime rates have plummeted in the U.S. in recent years, and demanding that she have the right to protect her own family from the violence of criminals.
Watch her confront President Obama: 
Taya is spot on!  It is absurd and ridiculous to think that criminals will follow any gun law that is put in place.  All these laws will do will keep law-abiding citizens from being able to protect our own families, not to mention violate our 2nd Amendment rights!
President Obama and his liberal friends who have no understanding of responsible gun ownership need to leave their cushy ivory towers and step out into real America. They need to see firsthand how scary it feels to think you can't protect your own children if someone wanted to harm them.
Taya was right to point out that our murder rate in America is at an all-time low while our gun ownership rates are at an all-time high. I think those two might have something to do with each other, don't you?
Way to go, Taya!  You are such a strong role model for so many women in America, including me! Thank you for speaking truth to power last night gracefully but forcefully. And looking good while you did it! Keep fighting the good fights and standing up for women's rights to defend themselves and their family against lawbreakers who want to do us harm.
Buy my Mom's new devotional, Sweet Freedom, in bookstores everywhere!
Read more on the Patheos Faith and Family Channel, fan me on Facebook, follow me on Instagram and follow this blog on Twitter!