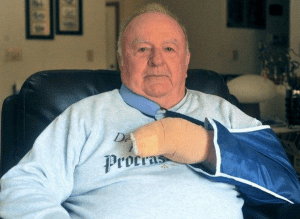 James Vernon is a hero!  This week the 75-year old veteran bravely put himself between a crazed teenager wielding two hunting knives and a library full of children, saving the children's lives!
The Blaze has the story:
According to the Pekin Daily Times, 19-year-old Dustin Brown walked into Morton Public Library in Illinois last week brandishing a hunting knife in each hand.

"I'm going to kill some people," Brown allegedly shouted.

But, as Brown would later tell police, Brown "failed [his] mission to kill everyone" thanks to efforts by Vernon.

The Pekin Daily Times reported that a group of 16 children in a homeschool chess club dove beneath a table once Brown entered the room. Vernon said he quickly tried to engage him in a conversation in order to calm him down and distract him from the children.

I gave [the children] the cue to get the heck out of there, and, boy, they did that! Quick, like rabbits," Vernon said.

That's when Vernon sprang into action.

"I should have hit his wrist. That's how you're trained, but it's been half a century," Vernon said. "First rule of combat: Be fast and vigorous."
Vernon was stabbed during the fight and sustained several injuries to his arms, but he was able to keep the teenager from injuring anyone else.
This man is a hero twice over!  Not only did he honorably serve in the military, but he has now saved a whole library full of children.  I am always amazed at the bravery and continued sense of duty of our veterans.
Thank God for James Vernon!
(Image via Twitter @danoroadblade)
Read more on the Patheos Faith and Family Channel, fan me on Facebook, follow me on Instagram and follow this blog on Twitter!