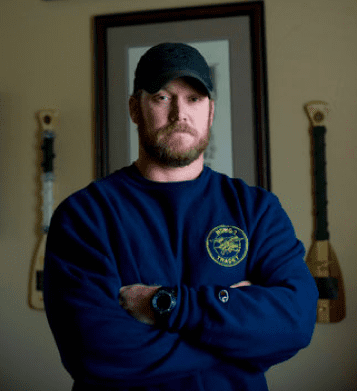 Mom isn't asking for cake and presents.
What does she want for her birthday yesterday? Well, she spent the day at the memorial service for Chris Kyle,  the "American Sniper" and Navy SEAL she and dad were lucky enough to get to know. He was killed last week at a shooting range by another former soldier. Here's what she posted:
Todd and I are in Dallas today to attend Chris Kyle's memorial and funeral service. I find it sad to see that flags aren't flying at half staff for this American hero. We're surrounded today by American patriots here in Texas – by Chris' fellow veterans and active duty warriors. In honor of them, I hope our commander in chief pays his respects in some gesture of condolence for their comrade in arms who sacrificed so much to keep him and all of us safe.

We may never know to what extent Chris kept us free or how many lives he saved by his brave actions in the line of fire. But his fellow warriors know how important he was. My son Track couldn't meet Chris when Todd and I first met him because Track was deployed to Iraq. Then when we got to know Chris even better, our son was deployed in Afghanistan. We've met a lot of people in recent years, and Track has been privileged to meet them as well. But he said about Chris, "Mom, he's the ONE person in the entire world I would be star-struck to meet. He's it."

God bless this great warrior. Let us keep his wife and children in our prayers, and may we never forget him or his sacrifice.
Later, she added:
It was a beautiful memorial service for Chris Kyle at Cowboys Stadium this afternoon. What a celebration of a great life! All in all, is there a finer human being who has crossed the 50-yard line star in Texas than Chris Kyle? Please click on the following link for information on how we can help out the families of Chris Kyle and Chad Littlefield. As patriotic Americans, this is a tangible way to show appreciation and support for good people. On a personal note, I thank you who've sent birthday greetings today, and it would be awesome if you'd join me in supporting the families of these heroes by helping them out!
Here are ideas on how we can remember and honor Chris Kyle.