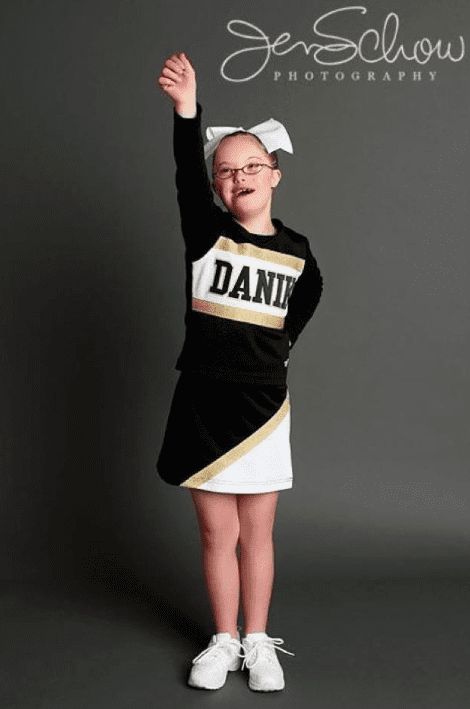 Thank you for all your great submissions of wonderful friends and family members who have Down Syndrome.  This has been a great way to celebrate the month.  And even though the month is almost over, we're not done yet!  We're working on a way to showcase more of your submissions.  In the meantime, enjoy this one:
Dear Bristol,

I want to introduce to our little "piece of heaven".  Mikayla R Wood was born in 2001 and joined 2 brothers and a sister.  We had thought that we were done having children as our next child was almost 8 years old. In my heart I knew there was someone missing.  We had looked at adopting and possibly fostering children.  Within a few months of investigating these options, I discovered I was pregnant.

We did not know that Mikayla had DS prior to her birth and I really think that I am glad that we did not know.  I think it would have been hard to know that she had DS and not just stress myself out worrying about it.

We all immediately fell in love with her when she was born and she has definitely been the center of attention since day one.

She adores her older brothers and sister and now she has another brother and sister as two of her siblings are now married.  She has them wrapped around her finger as well now.

It's funny but as our children were dating and considering marriage, one of the requirements for a suitable spouse was, "do they pass the Mikayla test"….meaning, does Mikayla love them and do they equally love Mikayla back.  We are glad to say that both new members passed the test.

Mikayla has been on an Adaptive Cheer Squad since we moved to Boise Idaho in 2006.  She absolutely LOVES it.  She loves being part of the team and performing.  The girl has no fear of performing in front of people.  She has a sweet smile that will light up the room.  She doesn't know a "stranger" and will talk to any and everyone she meets.  The first thing she does is stick out her hand and say "hi – I'm Mikayla.  What's your name?"  Usually closely followed by a hug.

She is so sweet and loving and has brought so much joy to our lives and everyone she meets.  We have met so many families of other children with DS and are thankful for the new  perspective that having a child with a disability brings.

Mikayla has also donated her beautiful blonde hair twice to Locks of Love.  The first time in 2009 and then again in the spring of 2013.

She also has a "sassy attitude" side of her as you can see by the attached photo.  That is her classic "pose" when she knows she is going to have her picture taken.

We have been blessed beyond measure by Mikayla joining our family and we can't imagine what our life would be without her.

Hope you have enjoyed her pictures and reading a little bit about her.  Would love to see her profiled on your blog and FB page. Thanks for listening to this proud mom.
Read more on the Patheos Faith and Family Channel, fan me on Facebook and follow this blog on Twitter!