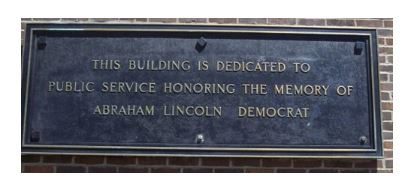 Check this out:
A public university in President Abraham Lincoln's home state of Illinois is adorned with a plaque that states Lincoln – arguably the most famous and influential president in American history – was a Democrat.

Lincoln was a Republican.

The plaque, located on a historic building that's part of Northeastern Illinois University in Chicago and installed in 1905, states: "This building is dedicated to public service honoring the memory of Abraham Lincoln Democrat."

When a picture of the memorial recently surfaced on social media sites, it quickly went viral, and prompted anger among many Republicans, who called the dedication not only inaccurate but also a prime example of revisionist history.
Next, they'll be saying Obama is a Republican.
Read more on the Patheos Faith and Family Channel, fan me on Facebook and follow this blog on Twitter!