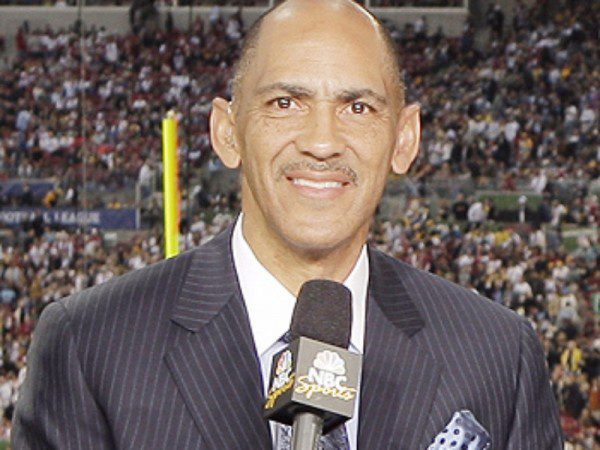 I've appreciated the comments and feedback from my Tony Dungy article earlier this week.  If you missed it, Coach Dungy has gotten heavily criticized for saying he wouldn't have drafted the first openly gay NFL player – no, not because of the player's sexuality but because he didn't think the player's skills were good enough to put up with all of the media attention.
The ensuing furor directed at Coach Dungy was hysterical.  People called him all sorts of names, accused him of not appreciating the plight of black Americans (um….?), and brazenly pointed to his son's suicide.  They said Coach Dungy had no reason to speak about…  well…  football.
Anyway, I thought what Mom said was actually spot on:
Looking at this personally, my family and I have been told certain event organizers would like us to participate in something but just can't because of the distractions I'd invite. I totally get it and I don't want to burden them with anything that takes focus off their mission. I don't whine that those people "uninviting" us are sexist or anti-conservative or anti-Christian. It is what it is, and in sports a coach needs to FOCUS on the goal, not unnecessary distractions! The key to victory on the field is keeping the main thing, the main thing.

(And, by the way, I think I know my gay friends well enough to know that not one of them would take offense with Coach Dungy's commonsense comments. In fact, from what they've told me, they're as sick and tired of the intolerant, politically correct thought police as I am. The small minority of uber-sensitive intolerant gays who make a big darn deal out of anything that can be spun up as "offensive" are really giving fellow members of their community a bad rap.)
I think she's right.  Also, I noticed this blog — by a gay who calls himself "Gay Patriot" — has the same sentiment:
Former Colts coach Tony Dungy recently did the worst thing you can do in Obama's America: He made a commonsense statement that accurately reflected reality.
He went on:
Predictably, the left responded with hate, outrage, and f-word-laced commentary.

Tony Dungy didn't say anything about Michael Sam's sexuality; just that the media circus surrounding him wad disruptive and that the symbol he represented to the gay activist left would make it impossible to treat him like any other player.
And, by going absolutely nanners because Dungy didn't say Michael Sam is the greatest athlete ever … the left is pretty much proving Dungy right.
I appreciate the comments from everyone on this topic — especially from people who are speaking out against the intolerance shown to someone who merely had the gall to answer a reporter's question about football.
Read more on the Faith and Family Channel, fan me on Facebook and follow this blog on Twitter!