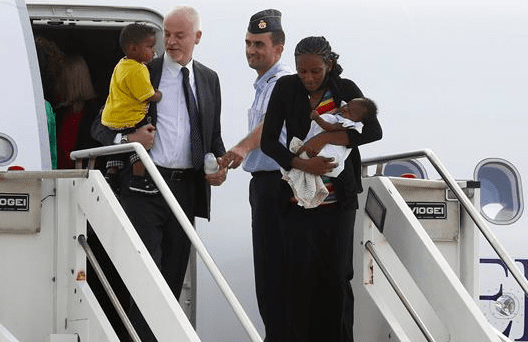 Wonderful news!!
I've written about Meriam Ibrahim here, here, here and here. Thank you to all of you who urged diplomatic action on her behalf, to save her life and the lives of her American children. As you remember, she was imprisoned because of her Christian faith.  Given the chance to renounce Christianity, she refused.  What amazing courage!
I'm so happy to tell you that she and her family are now safe and free in Italy!
The ACLJ reports:
After being under U.S. protection in the American Embassy in Khartoum for the last month, Meriam her two young American children Martin and Maya, and her American husband Daniel were flown out of Sudan on an Italian government plane, escorted by Italian personnel.

This is a huge victory for religious liberty.  Meriam, Martin, and Maya have gone from suffering on death row in a brutal prison because of Meriam's Christian faith to freedom in Italy.

It is believed that Meriam and her American family will be traveling to the U.S. in a matter of days, but today they are safe and free in Italy.

We are thankful for the Italian government's critical involvement in this case.
Fox News also reported on this great news!
Meriam Ibrahim, the Sudanese Christian woman who faced a death sentence for refusing to renounce her faith, has been flown to Italy on an Italian government jet, accompanied by that country's vice-minister for foreign affairs.

Reuters reported that Italian television broadcast images of Ibrahim, 27, arriving at Rome's Ciampino airport accompanied by her family and Italian politician Lapo Pistelli. Earlier, Pistelli had posted a picture on his Facebook page depicting himself with Ibrahim and her two children. The caption, translated from Italian, read "With Meriam, Maya, Martin and [Ibrahim's husband] Daniel, a few minutes from Rome. Mission accomplished."

Italian Prime Minister Matteo Renzi was among those who greeted the plane, calling it "a day of celebration."
At times like these, I am SO thankful for you guys, who were willing to pray and sign petitions on behalf of Meriam.  Thank you!!
Read more on the Faith and Family Channel, fan me on Facebook and follow this blog on Twitter!