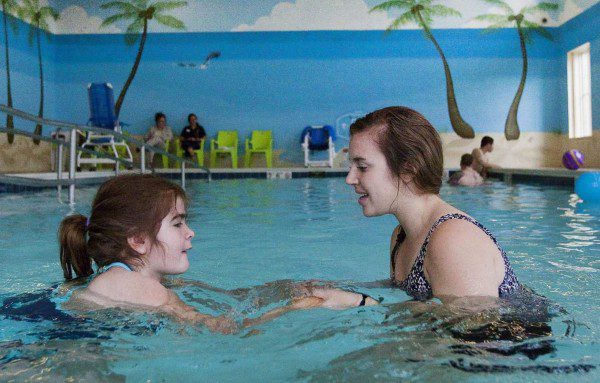 I've always been amazed at my mom and dad. They have been able to do amazing things — including careers and even a VP run — while still lovingly caring for my sweet brother Trig (and the rest of us!) I know it's been a tough road — one that Mom would say very quickly is a blessed road!
And it is. I love my brother so much it hurts, and I love him just the way he is. I wouldn't change him if I could!
For parents of kids with special needs, it gets tough.
When I wrote about how people with special needs should be able to hear the gospel, too, I came across the most amazing ministry!
Jill's House, an amazing place that was built to for special needs kids — so they can have a great time while giving their parents' a break.
Why is it called "Jill's House?" Well it all started with a girl named, naturally, Jill:
Jill's House is named after a very special young lady. In 1992, Jill was born a strong and healthy baby to her parents, Lon and Brenda Solomon. Unbeknownst to them, Jill was born with Dravet Syndrome – a rare seizure disorder.

At three months old, Jill started having multiple seizures every day. The Solomons' happy and peaceful life with three sons and a baby girl began to unravel. Lon and Brenda suffered tremendous stress and exhaustion. Sleepless nights and regular trips to the ER marked their lives.

The demanding, round-the-clock care of Jill left the Solomons physically and emotionally drained. Lon says, "It was like the laughter had been sucked out of our family." Brenda felt there was no light at the end of the tunnel.

Their life changed when a friend stepped in and introduced them to the concept of respite. Respite provided an occasional break for Lon and Brenda to spend time with their boys and with each other, or simply to sleep. The difference respite care made in their family – restoring hope, light and even laughter – planted a vital seed that eventually led the Solomons to found Jill's House in 2003. As Brenda says: "Jill's House wasn't built just to give parents a break. We built Jill's House because we wanted to build an exceptional place for these amazing children."

Although Jill's seizures are less frequent today, they left her severely brain damaged. She will always require 24-7 supervision. She is non-verbal and needs help with every aspect of her care. Of course, Jill's limitations do not keep her from expressing herself and enjoying life! Jill's smile lights up the room. She enjoys sorting mail and doing puzzles. Jill's favorite foods are tuna salad subs, guacamole and mom's breakfast casserole. She eagerly wakes up for school and puts on her red backpack. Jill loves her bedtime routine when her dad prays with her and tucks her into bed with her favorite blanket.

When Jill was a baby and struggling with frequent life-threatening seizures, it was Brenda's prayer that God would use Jill's life in a mighty way. Jill's House is an answer to that prayer and is making an impact for families across the United States.
In fact, her life is touching so many people. Here's just one amazing story of a mom with her kids and what the organization meant to them!
What an amazing ministry!!
To find out about Jill's House, click here and — of you are led — donate here.
Read more on the Faith and Family Channel, fan me on Facebook and follow this blog on Twitter!