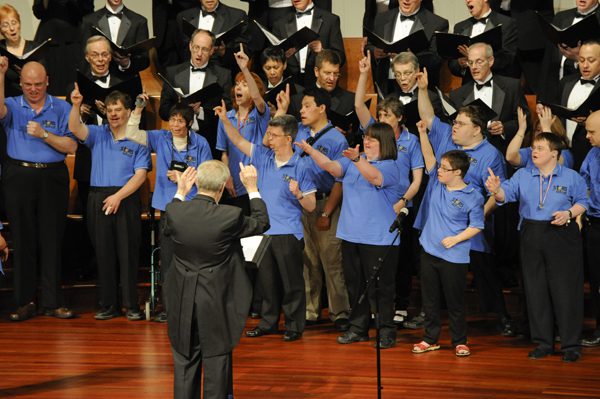 I came across this interesting Sarah Eekhoff Zylstra article today about church and people with special needs on The Gospel Coalition:
Thirteen-year-old Dylan Vegeais has curly blond hair, blue eyes, and autism. He loves music and makes up his own songs. He can name all 43 types of butterflies at the zoo exhibit and can tell you who made which escalator in the local mall.

He has also been diagnosed with cerebral palsy, hydrocephalus (a buildup of fluid inside the skull), and oral aversion. He's prone to seizures.

In most Sunday school classrooms, Dylan would have a difficult time.

But when Dylan steps into his room at College Church in Wheaton, Illinois, he's approached by Victor, a volunteer with a great voice and a guitar.

Victor starts in on "This Little Light of Mine" and pretty soon, Dylan's holding up his finger-light.

Dylan's classroom is special. It has the usual table and chairs along with brightly colored toys. But Velcro holds the door shut—one of the kids is a runner, and the Velcro slows him down enough to let a volunteer catch him before he escapes, teacher Shelley Swanson said. The room is meant for STARS—College Church's name for those with intellectual and developmental disabilities—who don't fit well into a traditional classroom.

This room is part of a growing trend among churches to minister to those with disabilities, said Mike Dobes, supervisor of church relations at Joni and Friends.

"The amount of churches we are connecting to is growing on an annual basis," he said. "There is some huge growth happening with networks, because churches get to learn from each other. . . . But if you compare that to how many churches there are, [churches with disability ministries] are still in the vast minority. Estimates are that 80 percent to 85 percent of churches don't have any level of special needs ministry."

Those with intellectual or developmental disabilities can be a hidden minority in a congregation. But their need to hear the gospel is the same as anyone else's.

"We want to maximize their ability to learn about Jesus," said Dawn Clark, who recently stepped down after 12 years of leading the STARS program. "If it works better in inclusion [classrooms], great. If it works better in a self-contained classroom, great. Socialization is important, and we can do that in different ways. But if we include everyone in the class but aren't able to teach them all about Jesus, then we're not doing it right."

The STARS ministry at College Church—which offers programming from kindergarten to adults—has more than tripled during Clark's tenure. It started in the late 1960s with one child and one volunteer who saw this child needed a different way to learn about Jesus, Clark said.

"She went to the elders and got a classroom for this one child, so she could learn about Jesus," Clark said. "The class had 10 students in it by the '70s." Today, the STARS program includes more than 150 families.
I would say most of us go to smaller churches where this is just a normal part of worship.  We might not have a "special needs" ministry, but we do go to church and worship with people who have disabilities.  Maybe we're missing out on something by not reaching out to then more deliberately?
Zlystra points out a few churches who do it right.  In addition to College Church, she writes about "Jill's House," a ministry run by McLean Bible Church in Virginia that sounds so amazing I did a separate post on it.
Click here to read the amazing story of Jill…  her parents…  and a loving church.
But first, watch College Church's video about their amazing ministry:
Read more on the Faith and Family Channel, fan me on Facebook and follow this blog on Twitter!